By: Neeraj Rajput
Till long, Indians were dismayed while remembering the nail-biting final match of the 1986 Sharjah Cup cricket tournament in UAE in which Pakistani batsman Javed Miandad had smashed a six on the last ball (full toss) of Indian pacer Chetan Sharma to lift the trophy.
But for the past decade, Indians don't remember that finale; instead, the host country is seen as a moderate Muslim country of Burj Khalifa, affluent Sheikhs, grand Hindu temples, and 'Indo-Abrahamic' members whose rulers have a special bonding with the Indian Prime Minister Narendra Modi.
So it didn't come as a surprise when PM Modi, on his successful tour of France, made a quick stop over in Abu Dhabi, the capital of UAE. This was PM Modi's fifth state visit to UAE after assuming power in Delhi in 2014.
After the meeting of PM Modi with the President of the United Arab Emirates (UAE), His Highness Sheikh Mohamed bin Zayed Al Nahyan, both countries released a joint statement that stated, "The leaders agreed to further strengthen bilateral collaboration to strengthen maritime security and connectivity in the region to promote prosperity in India, the UAE, and the shared neighborhood. They also agreed to enhance defense exchanges, sharing of experiences, training, and capacity building."
Stop-over at Abu Dhabi was not a decision made in haste; it was well calculated. A month before the PM's Paris and Abu Dhabi visit, the navies of all three countries, India, France, and UAE, had conducted the maiden maritime exercise in the Gulf of Aman.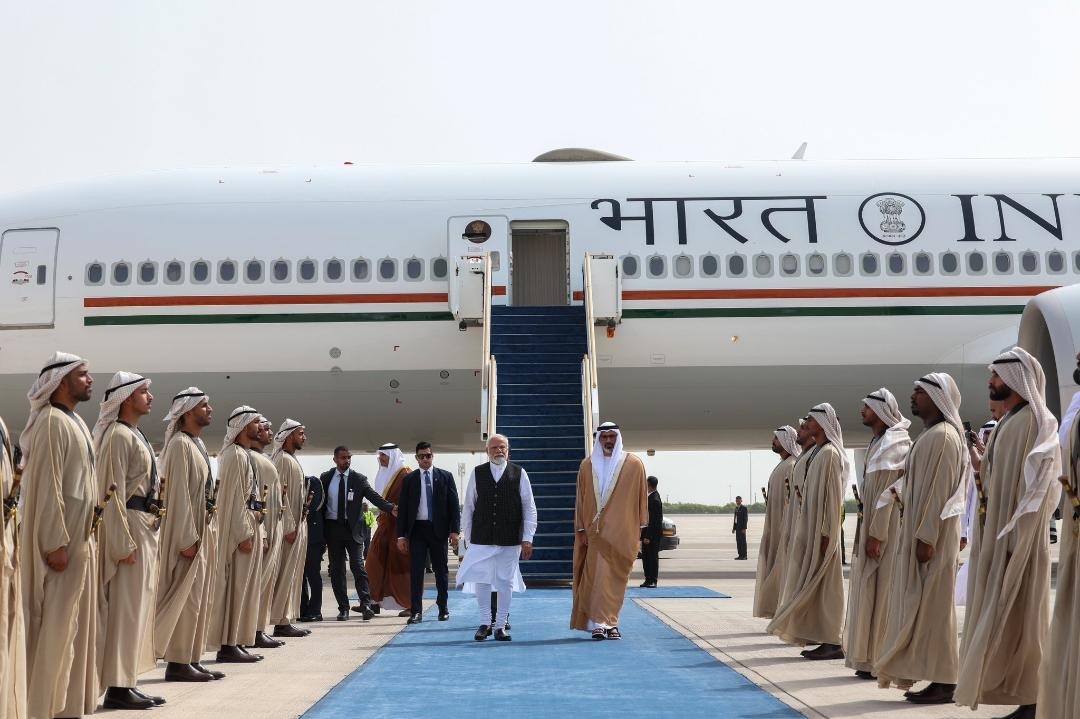 India's INS Tarkash warship, French ship Surcouf and the maritime patrol aircraft of UAE participated in this two-day exercise (8-9th June). Both the ships of India and France had helicopters too integrated with them.
French Rafale fighters, too, took part in this exercise. France, along with another Gulf (powerful) country Saudi Arabia are in the line to join the 'Indo-Abrahamic Alliance,' which was formed last year.
India, Israel, and UAE (along with the US) are part of the newly formed 'I2U2' forum, which some strategic experts have termed as the 'Gulf Quad' while others as the 'Indo-Abrahamic alliance.'
Monotheistic religions like Islam (UAE), Christianity (USA), and Judaism (Israel) are Abrahamic faiths. After the first virtual meet of I2U2 in July last year (2022), the Alliance released a statement to cooperate on "joint investments and new initiatives in water, energy, transportation, space, health, and food security.
But why is India having so much interest in the Gulf and West Asia? "India's parleys with Gulf countries including UAE is to counter (isolate) Pakistan which in the name of Islam had long carried the bogey of Kashmir," says Col Danvir Singh, a well-known Delhi-based strategic analyst in conversation with EurAsian Times.
"India has brought both UAE and Israel on board, and soon Saudi Arabia will also be part of this forum, so who will need Pakistan" adds Col Danvir.
For a long time, Pakistan and Gulf (Islamic) countries had attempted to corner India in various global platforms like Organisations of Islamic Countries (OIC).
The Pakistani military had deputed its formations for the security of Mecca and Medina (in Saudi Arabia), the two most sacred places for Muslims. Islamic countries were wary of Israel for discreting its holy sites.
"But that fear of ("Israel) has withered now since Israel and UAE both have initiated diplomatic relations and are now part of I2U2", says Col Danvir.
Pakistan was also the biggest contributor to the Islamic Military Coalition formed by 41 Muslim countries. The counter-terrorism Coalition headed by former Pakistani Army Chief Gen Raheel Sharif was formed against ISIS.
But now, IS hardly has any presence in the Middle East, so the need for that Coalition has also diminished.
India-UAE Flourishing Ties
On Saturday, India UAE joint statement also came heavily on terrorism, particularly cross-border, which India has been reeling from the last couple of decades from Pakistan.
The statement read, "The leaders (PM Modi and His Highness) reaffirmed their joint commitment to the fight against extremism and terrorism, including cross-border terrorism, in all forms, at both the regional and international levels. They agreed to further deepen their bilateral cooperation in the fight against terrorism, terrorist financing, and extremism."
Due to close proximity with UAE, it's always believed that the underworld don and prime accused of the 1993 Mumbai serial blast, Dawood Ibrahim, had to run away from Dubai to shift permanently to Karachi (Pakistan).
UAE had come hard on terror financing too (including Hawala), which till the last decade was considered the main hub for anti-India activities.
"More than the geopolitics, it is the geo-economics which is becoming more important today," says Col Danvir.
As per the joint statement, India-UAE trade rose to  $85b in 2022, making the UAE India's third-largest trading partner for 2022-23 and India's second-largest export destination.
India is the UAE's second-largest trading partner." On the other hand, Pakistan has been facing acute economic turmoil. While in 2014, the UAE-Pakistan trade was $9b, in 2019, UAE had to deposit $3 billion in the State Bank of Pakistan to enhance the bank's liquidity and foreign currency reserves.
UAE has to funnel huge amounts into the Pakistan Assistance Programme for various socio-economic drives. Relations between the two Islamic countries also soared after Pakistan came close to Qatar, an arch-rival of the UAE.
Going beyond dollars, both India and UAE signed a trade pact on Saturday, allowing them to pay in their domestic currencies–rupee and dirham. Both countries also agreed to work on alternatives to the SWIFT (Society for Worldwide Interbank Financial Telecommunication) system.
Neeraj Rajput is a Senior War-journalist with more than two decades of multimedia experience in defense, conflict, security, strategic affairs & geopolitics.
Please mail us at etdesk (at) eurasiantimes.com
The author tweets at @neeraj_rajput