At least seven countries have shown interest in India's homegrown Tejas Light Combat Aircraft (LCA), the Indian Defense Ministry informed the Parliament in a statement on August 5.
---
Minister of State for Defense Ajay Bhatt, in a written response to the questions raised by Shrimati Queen Oja and other parliamentarians, said that Hindustan Aeronautics Limited (HAL) has responded to the Request for Proposal (RFP) issued by the Royal Malaysian Air Force (RMAF) for 18 Fighter Lead in Trainer – Light Combat Aircraft (FLIT-LCA) offering the LCA Tejas twin-seater variant.
Bhatt's written reply stated that several other countries also had evinced interest in the indigenous fighter. "Other countries which have evinced interest in TEJAS aircraft are: Argentina, Australia, Egypt, the US, Indonesia, and the Philippines," said Bhatt.
Media Hype Surrounding Tejas
The Indian media is gaga over Bhatt's written response, reporting that the US and Australia have shown interest in the indigenously built Tejas LCA. Still, the fact is, Tejas has not managed to bag a single export deal so far.
'Knock-Off' Of US B-2 Spirit? Russia's 1st Stealth Bomber Design Surfaces Online; Experts Decode Tupolev PAK DA
Recent reports show that the US and Australia have not accepted India's Tejas aircraft.
Last month, The New Indian Express reported that top Australian defense officials had informally communicated to India that Australia might not accept India's government-to-government (G2G) defense deal offer for the supply of home-built LCA twin-seat Lead-in Fighter Trainer (LIFT) aircraft.
There has been no formal announcement either from India or Australia.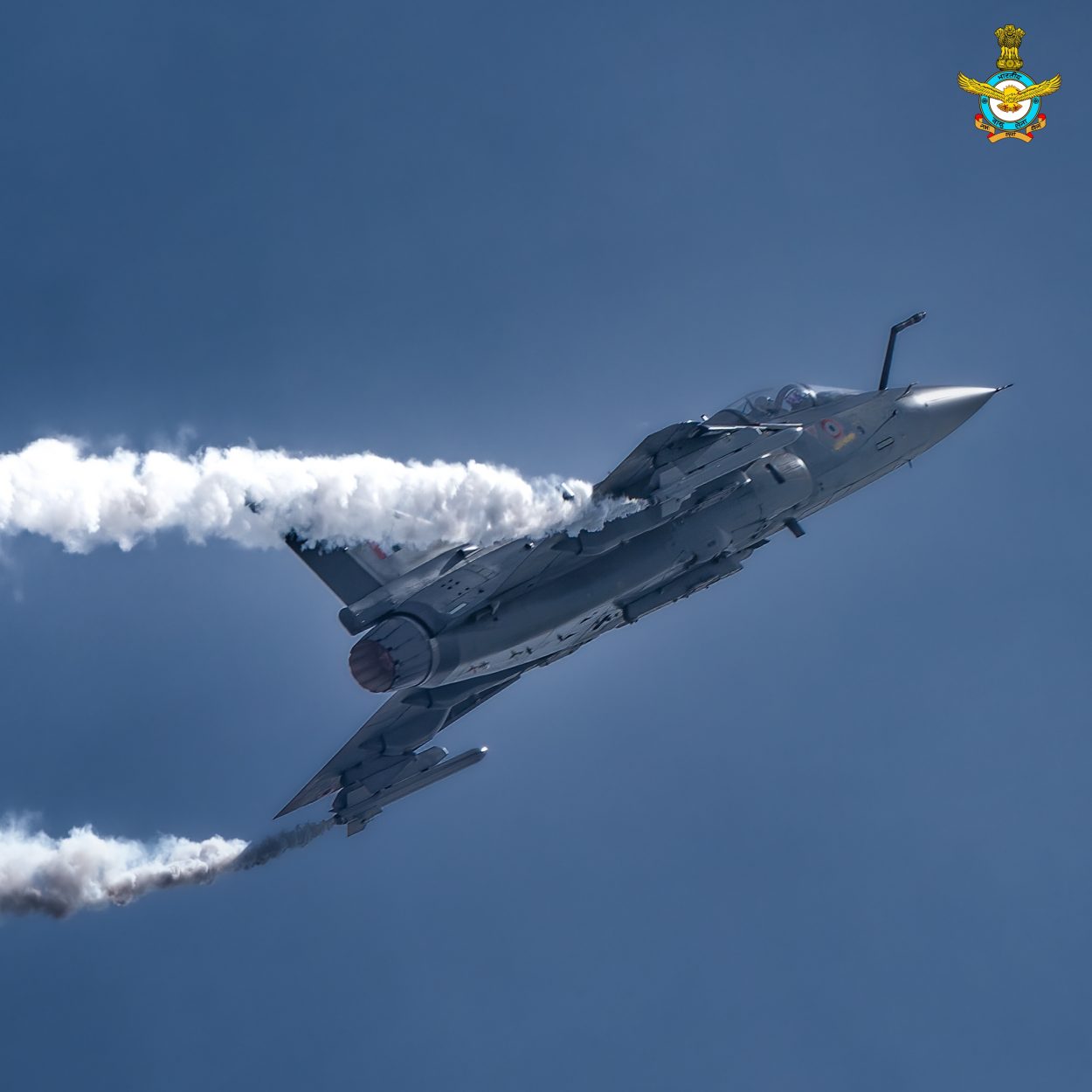 In September 2021, HAL responded to the Request for Information (RFI) by the Royal Australian Air Force for procurement of future LIFT aircraft to replace its existing fleet of 33 'Hawk MK-127 LIFT aircraft of the British Aerospace and Engineering (BAE) Systems.
In the RAAF tender, LCA Tejas competes with the T-7A Red Hawk trainer that Boeing and Swedish Saab jointly develop; M-346 of the Italian aerospace major Leonardo; and Korea Aerospace Industries (KAI) T-50 that has been co-developed with Lockheed Martin.
In addition, BAE had also proposed its upgraded Hawk. In February, the company was awarded a contract worth $1.5 billion to upgrade the RAAF's existing fleet of Hawk MK-127, suggesting India is now out of the race to win the Australian LIFT Aircraft contract.
Before Australia, India had offered the LCA Tejas' LIFT variant to the US Navy in 2020 in response to the global RFI issued by the US Naval Air Systems Command (NAVAIR) to procure a new trainer to replace its fleet of Boeing T-45 Goshawks.
However, a previous EurAsian Times report had noted that US Navy would be less inclined toward buying the LCA LIFT after the Indian Navy rejected the LCA in 2016 for being too heavy.
The latest reports suggest that the T-7B Red Hawk, an American/Swedish advanced jet trainer produced by Boeing in partnership with Saab, is competing with offerings from Leonardo and Lockheed Martin to replace the Navy's current T-45 Goshawk advanced jet trainer.
Even the UAE had shown interest in Tejas LCA in 2018. However, in February, the UAE Defense Ministry announced that it was buying L-15 training and combat aircraft from the China National Aero-Technology Import & Export Corporation (CATIC), which was seen as a snub to Tejas.
While the L-15 and the Tejas aircraft are not strictly comparable, it is essential to note that the L-15 made its debut at the Dubai Air Show in November 2021. In the same event, the LCA Tejas performed some impressive aerial maneuvers, drawing appreciation from the Emiratis.
Therefore, it is unclear why the UAE did not consider the LIFT variant of Tejas, based on the Tejas' latest Mk1A variant, after having shown strong interest in the aircraft initially.
EurAsian Times spoke to experts to understand why Tejas is failing to bag export deals.
Indian Defense Analyst Girish Linganna thinks that the 'open' architecture of the Tejas Mk1A could be one of the reasons.
The open architecture computer systems allow the HAL Tejas to incorporate Russian and Western armaments, giving an edge to the Indian-made light fighter. However, Linganna explained that "open architecture means that there is still much left to be desired after successfully procuring a Tejas. However, this is left to the client."
"The positive is that depending upon global relationships and needs, one may go for either Russian or Western armaments. However, this also relegates a hidden cost versus other offerings," noted Linganna.
"Additionally, the Indian Air Force is only now embracing the Tejas Mk1A. So, compared to similarly placed Korean Aerospace Industries and Lockheed Martin's Golden Eagle, it lacks operators that also goes against it," Linganna said.
While the Indian-made Tejas is struggling to find customers, the JF-17, jointly developed by Pakistan and China, has been exported to three countries, including Myanmar and Nigeria.
When asked about this, Linganna said, "Regarding Myanmar and Nigeria, their respective deals were closed in 2015 and 2014. Then, Tejas was hardly ready, let alone for export. We must remember that although we had a squadron operational, full operational clearance came in 2019 only."
Also, per recent media reports, Argentina could soon be the latest addition to the list of foreign customers of JF-17. In May, a delegation of the Argentine Air Force comprising pilots and technicians visited China for a complete technical evaluation of the J-17 fighter aircraft. It was believed that India had also pitched its Tejas LCA.
However, the presence of British-made components in the aircraft appears to be a significant obstacle for Tejas, just like the French Dassault Super Etendard aircraft that Argentina intended to purchase but was unable to because of the arms embargo over the British-made MK6 ejection seat used in the aircraft.
"Pakistan and China are backing the JF-17 fighters. China has a lot of experience supporting exported products and a good reputation," Veteran IAF fighter pilot Squadron Leader Vijainder K. Thakur told EurAsian Times while noting that "Tejas exports are being backed up by HAL, which is yet to build a market reputation."
Furthermore, Thakur said that because of cost and technology access constraints, the potential export customers of Tejas differ from those of aircraft like the JF-17. "Countries that have invested in the JF-17 likely cannot afford the Tejas," Thakur said.
'Knock-Off' Of US B-2 Spirit? Russia's 1st Stealth Bomber Design Surfaces Online; Experts Decode Tupolev PAK DA
Hopes Still Alive For India
Nevertheless, India continues to persevere, as other export avenues remain where LCA Tejas may emerge successfully.
For example, India appears to be in talks with the Egyptian Air Force about a potential deal to sell Tejas Mk1A, as part of which India has offered to set up joint production facilities for the aircraft, as per a recent EurAsian Times report.
Furthermore, Tejas MK-1A has reportedly emerged as one of the final contenders for the Royal Malaysian Air Force's (RMAF's) contract for light fighter aircraft, besides the Turkish-made Hurjet and the Korean-made F-50.
Tejas may have an advantage in the case of the RMAF contract because of its relatively low per-unit cost and HAL's offer of the package deal, which includes setting up a maintenance, repair, and overhaul (MRO) facility in Malaysia for its fleet of Russian-made Sukhoi Su-30 fighter jets.