Russia is inching closer to replacing its aging R-36 Intercontinental Ballistic Missile (ICBM) fleet with superheavy missiles that can carry hypersonic glide vehicles.
The new ICBMs which are to be deployed in a few months from now would act as a major deterrence against NATO countries. The announcement assumes significance as tensions between Russia and the military bloc have peaked in recent times.
In 2022, the Russian Strategic Missile Forces (SMF) will begin replacing existing Voyevoda ICBMs or the R-36M2 with the new R-28 Sarmat missiles, said SMF Commander Colonel-General Sergey Karakayev, as reported by TASS.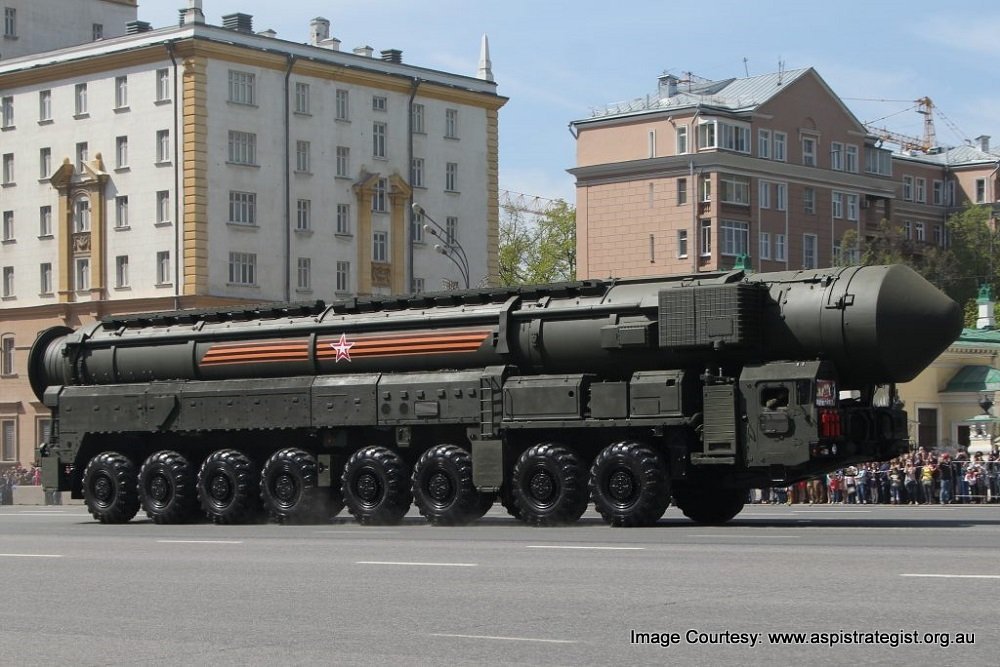 "Starting in 2022, the heavy-class Silo-based Voyevoda Missile System will be gradually phased out and replaced by Sarmat," Karakayev said in an interview with the Krasnaya Zvezda newspaper on December 17.
The RS-28 Sarmat was first developed in the early 2000s. On July 21, 2011, Russia completed research and development of the Sarmat ICBM after giving production contracts to Makeyev Design Bureau and NPO Mash in early 2011.
@nukestrat @SecDef Commander of the ?? Strategic Missile Forces General Sergei Karakaev has announced the RS-28 hypersonic heavy ICBM Sarmat, which is nicknamed Satan-2 by NATO & said 2 be large enough to take out the Texas or France is due to go into service by the end of 2022. pic.twitter.com/5OgxYx4SoC

— Alan Abdo (@AlanAbdo13) December 16, 2021
The missile's initial prototype was constructed in late 2015, and two years later Russia conducted its first silo ejection test of the Sarmat in December 2017, which reportedly identified technical flaws in the launch system.
Two more silo ejection tests were supposedly successful in March and May 2018. With 50 missiles on order, the RS-28 was supposed to go into service in 2018. The Sarmat missile is now scheduled to enter service in 2022, following several technical delays.
The first Sarmat intercontinental ballistic missile (ICBM) regiment will enter service in late 2022 in Uzhur, Russia where the infrastructure at the Uzhur Rocket Division is already complete, Karakayev had earlier informed TASS.
A More Lethal ICBM
After the United States withdrew from the Anti-Ballistic Missile Treaty that was signed with Russia in 1972, both sides have been upgrading their respective missile fleets.
While withdrawing from the treaty in 2001, then-US President George W. Bush had claimed that the hostility that kept both countries on high alert had died with the collapse of the Soviet Union. Ironically, following America's exit, work on Sarmat ICBM picked up.
The Sarmat is one of six new strategic weapons in development in Russia that President Vladimir Putin had announced in his state of the nation speech in 2018. It is set to replace R-36M2 Voevoda missiles, which have been in service since the late 1960 and have aged enough to be decommissioned.
This super-advanced ICBM, with a range of over 18,000 kilometers, is said to be part of Russia's nuclear modernization program, which President Putin unveiled in 2018, as previously reported by the EurAsian Times.
??? #Russia to test fire worlds most powerful ICBM The RS-28 Sarmat (SS-X-30 Satan II) in 2021 with maximum range of 18,000 km

Satan 2 will join combat duty in 2022#NASA pic.twitter.com/rUJ3M3buWq

— Dailyaz (@dailyaz1) May 5, 2021
According to reports, the defense ministry had already begun acquiring serially made missiles. The Sarmat is Russia's largest nuclear weapon and one of six new weapons of mass destruction disclosed by Putin in 2018.
Avangard, Tsirkon, Poseidon, Kinzhal, and a nuclear-propelled cruise missile are the other five missiles. Tsirkon or Zircon, a hypersonic missile, too had made news a few weeks ago when it was tested by the Russian Navy from a submarine.
It weighs 208.1 tons, with a payload of over 10 tons and fuel of 178 tons. Up to 10 heavy or 15 light MIRV warheads, an undisclosed number of Avangard hypersonic glide vehicles (HGVs), or a combination of warheads and enormous amounts of anti-ballistic missile countermeasures could be carried.
The mainstay of this ICBM which makes it exponentially more capable and lethal than its predecessor is that the RS-28 Sarmat ICBM can deliver a 10-ton multiple independently targetable reentry vehicles to any point in the world.
A missile containing MRVs would be launched in a high-altitude ballistic trajectory toward the target. Individual warheads would strike distinct targets within a very limited ballistic "footprint", or many warheads from the same missile would strike the same target, increasing the likelihood of destroying that target completely.
It has the ability to fly into uncharted territory and avoid missile defense zones. According to TASS, it can fly across the North and South Poles and approach targets from directions not intended for interception.
The fact that the Sarmat can carry a variety of reentry vehicles, including hypersonic Avangard gliders, is particularly concerning for the US military. Putin had earlier claimed that this ICBM could breach any defense in the world, perceived as a subtle message to the US and its western allies.
The Russian Ministry of Defense had earlier said that the missile is the country's response to the US Prompt Global Strike system.
American Prompt Global Strike System
Moscow views Washington's ongoing effort to create missile defense systems as "dangerous and destabilizing", which is also one of the reasons Russia is working on the Avangard hypersonic glide vehicle (HGV) that can be carried as a multiple independently targetable reentry vehicle (MIRV) payload by Sarmat ICBM.
"The unrestricted pursuit of missile defense has spurred Russia to create several new types of nuclear options to strike the US, and pushed China to build and upgrade its nuclear arsenal," said Laura Grego, co-director of the Union of Concerned Scientists' global security program in February this year.
In recent times, support has grown within American lawmakers for efforts to develop a long-range rapid attack capability, as well as other initiatives to produce extremely fast hypersonic missiles.
The United States has come up with the Prompt Global Strike System which could deliver a precision-guided conventional weapon airstrike anywhere in the world.
Prompt strike weapons are not envisioned to be a replacement for nuclear weapons, but rather an augmentation to the US' existing conventional capabilities. Officials claim that the long-range systems will give a "niche" capability, with a small number of warheads directed at a few key targets.
However, some analysts are concerned that opponents could misinterpret the launch of a missile with conventional warheads and conclude that the rockets are carrying nuclear weapons.
The Pentagon is looking into a number of devices that might give the country long-range strike capability, according to a US Naval Institute (USNI) report that was published earlier this year.
In any case, nuclear or conventional, the American effort at augmenting long-range rapid attack capability raises many eyebrows in countries that remain adverse to it with Russia being no exception.
Both United States and Russia now possess advanced striking capabilities and the possession of such weapon systems could create meaningful deterrence between the West and Russia.
The deterrence becomes an indispensable proposition given that Russia remains averse to expanding NATO presence in its neighborhood and the US considers Russian activities in the Eurasian region as coercive.