The United Arab Emirates (UAE) is looking to procure military hardware from South Korea and China in the face of an increased threat from Iran-backed Houthi rebels.
As part of the diversification in procurement, the UAE has recently shifted its attention to the Asian defense industry. However, its preference for Chinese and South Korean equipment appears to be growing.
South Korea's Defense Minister Suh Wook recently met his UAE counterpart Mohammad Ahmed Al Bowardi in Seoul to discuss arms industry collaboration and other related issues, Yonhap Agency reported.
The highlight of this meeting, however, was the visit to Korea Aerospace Industries, 440 km south of Seoul. The UAE reportedly expressed its interest in South Korea's T-50 trainer jet, KF-21 fighter aircraft, light-armed helicopter, and next-generation helicopter satellite system.
This meeting was significant as it comes two months after the UAE signed a preliminary agreement to buy a mid-range surface-to-air missile system (M-SAM) from South Korea. The Cheongung II M-SAM, to be sold to UAE soon, is a key component of South Korea's multi-layered anti-missile defense system.
Suh thanked the UAE's Minister of State for Defense for the decision and promised that South Korea would continue to assist the UAE military in acquiring related operational capabilities.
H.E. Mohammed bin Ahmed Al Bowardi, Minister of State for Defence Affairs headed a high-level delegation of senior officers and officials of #UAE Ministry of Defence, at the official invitation of H.E. Suh Wook, Minister of Defence of the Republic of South Korea
#ROKMND@ROK_MND pic.twitter.com/GpsTQk33rE

— وزارة الدفاع |MOD UAE (@modgovae) March 18, 2022
Further, Al Bowardi lauded South Korea's defense industrial capabilities, reiterating that cooperation in the arms sector is a high priority in the two nations' unique strategic alliance.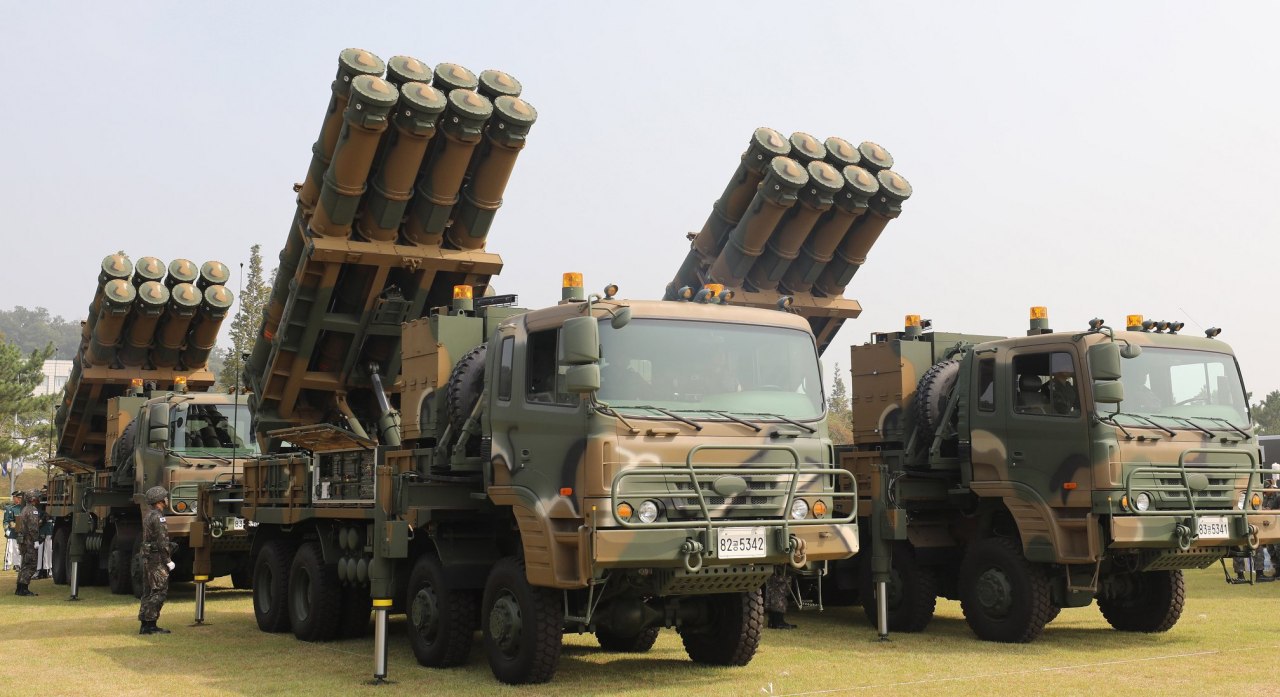 This could indicate that the UAE anticipates signing additional arms deals with South Korea in the future, as the demand to strengthen operational capabilities grows in response to Houthi rebel attacks on key infrastructure.
Starting in January this year, the Houthis have been attacking with drones and missiles, endangering oil facilities and the security of the two kingdoms — the UAE and Saudi Arabia. While the UAE has strengthened its relationship with South Korea and China, it could be debated whether it is at the expense of India.
Emirati Interest In Chinese, Korean Systems
The UAE had expressed interest in India's Tejas Light Combat Aircraft (LCA) in 2018, but no significant progress was made after that. It is unclear why the UAE did not pursue talks with India after initially showing interest.
In 2018, Nirmala Sitharaman, the then-defense minister, and her UAE counterpart Mohammed Ahmed Al Bowardi Al Falacy met to discuss the requisite issues. The Emirati minister was on an official visit to India at the time and toured the facilities of Hindustan Aeronautics Ltd (HAL) and Bharat Electronics Ltd (BEL), The Economic Times had reported.
The UAE minister had also visited the Aircraft and Systems Testing Establishment, which conducts pre-induction flight testing of Indin Air Force's combat jets, airborne systems, and weapon stores. These high-level visits had hinted that Abu Dhabi was keen on India's indigenous fighter jet.
However, in an unexpected move, the UAE Defense Ministry announced last month that it would soon ink a contract with China National Aero-Technology Import & Export Corporation (CATIC) for the purchase of L-15 Trainer and Light combat aircraft, with the option of purchasing another 36 aircraft later, EurAsian Times had reported.
The Hongdu L-15 is a two-seat, twin-engine supersonic platform described by Chinese media as a "star model." It was created in response to the high demand for training pilots and was unveiled in November last year.
On the other hand, Tejas has a trainer variant that could be deployed soon. The aircraft's LIFT (Lead-in Fighter Trainer) variant, according to reports, is based on the Tejas MK-1A, which the Indian Air Force has already ordered and is expecting to receive soon.
The UAE chose recently the Chinese LCA over the Indian Tejas, which was aggressively marketed in various defense exhibitions platforms, including the Dubai Air Show 2021,  where it performed "breathtaking maneuvers".
Furthermore, the UAE has now chosen to lean towards the South Korean T-50 trainer aircraft which is South Korea's first indigenous supersonic Light Combat aircraft and trainer. The T-50 is designed to train pilots for current and next-generation fighter jets, including improved F-16s, F-22s, and the F-35 joint strike fighter.
The UAE's choice of South Korean weapons goes beyond aircraft that it is keenly exploring. In 2020, the Gulf country had also expressed its interest in the Indian Akash missile. However, it ended up negotiating an agreement with South Korea earlier this year for its Cheongung II KM-SAM mid-range surface-to-air missiles.
Thus, pulling the plug on any potential talks with India on Akash missiles — a weapon it has put up for sale to partners.
This comes in the backdrop of a growing partnership between New Delhi and Abu Dhabi, which was formalized in 2017 with the signing of a Comprehensive Strategic Partnership Agreement.
The UAE has also been praised for its role as a mediator between India and Pakistan. Additionally, a Free Trade Agreement was recently inked by India and the United Arab Emirates.
Snub To India?
Indian Defense Ministry gave 954 export authorizations for various weapons and sub-systems in 2021, up from 829 in 2020 to explore new markets. LCA Tejas and BrahMos cruise missiles are two systems that have become the cornerstone of India's defense export. It recently sold BrahMos cruise missiles to the Philippines. However, the Tejas Light combat aircraft is yet to find a buyer.
Additionally, the Union Cabinet led by Prime Minister Narendra Modi had approved the sale of Akash missile systems to friendly foreign countries in December 2020.
It also established a high-powered council to expedite the licensing of military gear exports. India has set a goal to reach $5 billion in defense exports by 2024 but the pattern set by the UAE could be disheartening to that objective.
#India has signed its first comprehensive trade agreement in a decade.
* The India – #UAE free trade agreement is the fastest to be negotiated between any two countries in appox 3 months.

— Maha Siddiqui (@SiddiquiMaha) February 18, 2022
Commenting on the development, Squadron Leader Vijainder K Thakur (Retd), a military analyst and former IAF Jaguar pilot said, "UAE's preference for South Korea's Cheongung II missile system over India's Akash missile system is based on performance. The Cheongung II system was developed with technical support from Almaz-Antey and Fakel. The system is based on Russia's 9M96 missile used with the S-350E and S-400 missile systems. The Akash missile is not in the same league as the 9M96.
Similarly, the South Korean TA-50, which Korea Aerospace Industries (KAI) developed with Lockheed Martin, is a more versatile aircraft than the LCA. It's powered by the same engine that powers the LCA, GE F404. From the outset, it was designed as a high-performance trainer, unlike the LCA which was meant to be an F-16 class fighter but is now being offered as a Lead In-Flight Trainer (LIFT) because of performance shortfalls! Also, the TA-50 has been in service longer and has proven itself well in its role."
Defense expert Nitin J Ticku clarified further – "A trainer aircraft is different from a Light Combat Aircraft in the way that it is not designed for combat but could be outfitted with some firepower for basic operations. It does not have an advanced engine or the range required for combat. The UAE seems to be looking for Advanced trainers primarily, as could be seen in its deal with China for L-15 and now with its interest in the South Korean T-50.
India's LCA Tejas is meant for combat, unlike the L-15 and T-50 which are designed for training fighter pilots for advanced jets. So if the UAE floated a tender for acquiring a Light fighter, LCA Tejas would definitely emerge as a top contender as it has in the case of Malaysia.
Further, even India uses ATJ Hawks for training purposes and not LCA Tejas. The comparison, therefore, is not tenable. However, India is in the process of developing its own LIFT trainer so down the line, that could be compared with these Chinese and South Korean trainers.
In my opinion, it does not qualify as a snub to Tejas or India's defense export potential. In fact, India is a very young player as far as defense exports are concerned. Its equipment, too, will pick up with time with LCA Tejas & BrahMos leading the pack"