South Korea's pursuit of developing its stealth fighter aircraft, the KF-21 Boramae, is proceeding well despite some hiccups. The country expects the jet to become a critical component of its arsenal for tackling increasing North Korean threats. 
Earlier, EurAsian Times reported that South Korea's other fighter aircraft – FA-50, was facing issues that led the Philippines Air Force to ground the South Korean jets. 
The Philippine Air Force confirmed later that its non-operational FA-50 PH fighters were undergoing scheduled maintenance. In simpler words, they were grounded.
FA-50 is often called a challenger to India's LCA Tejas, while KF-21 is compared to India's AMCA aircraft & Tejas MK2. Both fighters are vying for global defense deals, but it is India that is looking for its debut export order.
Meanwhile, South Korea's Defense Minister, Lee Jong-sup, recently voiced hope on September 28 that the nation's indigenous KF-21 fighter, currently under development, will play a "great" role in thwarting evolving North Korean threats. 
The fighter, developed by Korea Aerospace Industries Ltd. (KAI), completed its maiden flight in July. However, the test was conducted without any official ceremony because there were doubts about the flight's success.
In addition, five more prototypes are scheduled to enter the flying test campaign in October, as previously reported by the EurAsian Times. The campaign will include 2,000 flights, and development is expected to be finished in 2026. 
Jong-sup made the comments during a ceremony commemorating the inaugural flight of the jet at KAI's factory at Sacheon. The 8.8 trillion won ($6.15 billion) project aims to boost the country's air power by replacing the aging F-4 and F-5 fighter fleet.
"I am thankful to KAI, the Defense Acquisition Program Administration (DAPA), the Air Force, related companies, academia, and research institutes that have dedicated themselves to developing the KF-21 fighter," Jong-sup said.
He emphasized that the KF-21 will be a crucial component of air defense that rules future battlefields and will be essential in repelling North Korean attacks. KAI has also presented a mockup of a carrier-borne version of the KF-21 during DX Korea 2022.
High-ranking representatives from Seoul, including DAPA Minister Eom Dong-hwan, Air Force Chief of Staff Gen. Jung Sang-hwa, and Indonesia's Deputy Defense Minister Muhammad Herindra, were at the ceremony.
"A success in developing a Korean-style fighter means South Korea will become an advanced country that uses its homegrown aircraft for training Air Force pilots and defending its territorial air," a DAPA official said. 
DAPA Chief Eom Dong-hwan revealed that the KF-21 fighter jet is scheduled to reach supersonic speeds during a flight test in the first quarter of next year. 
Although the aircraft's development has garnered praise, Indonesia, a partner country, has been slow to provide finances on schedule, which has posed a substantial impediment to the project.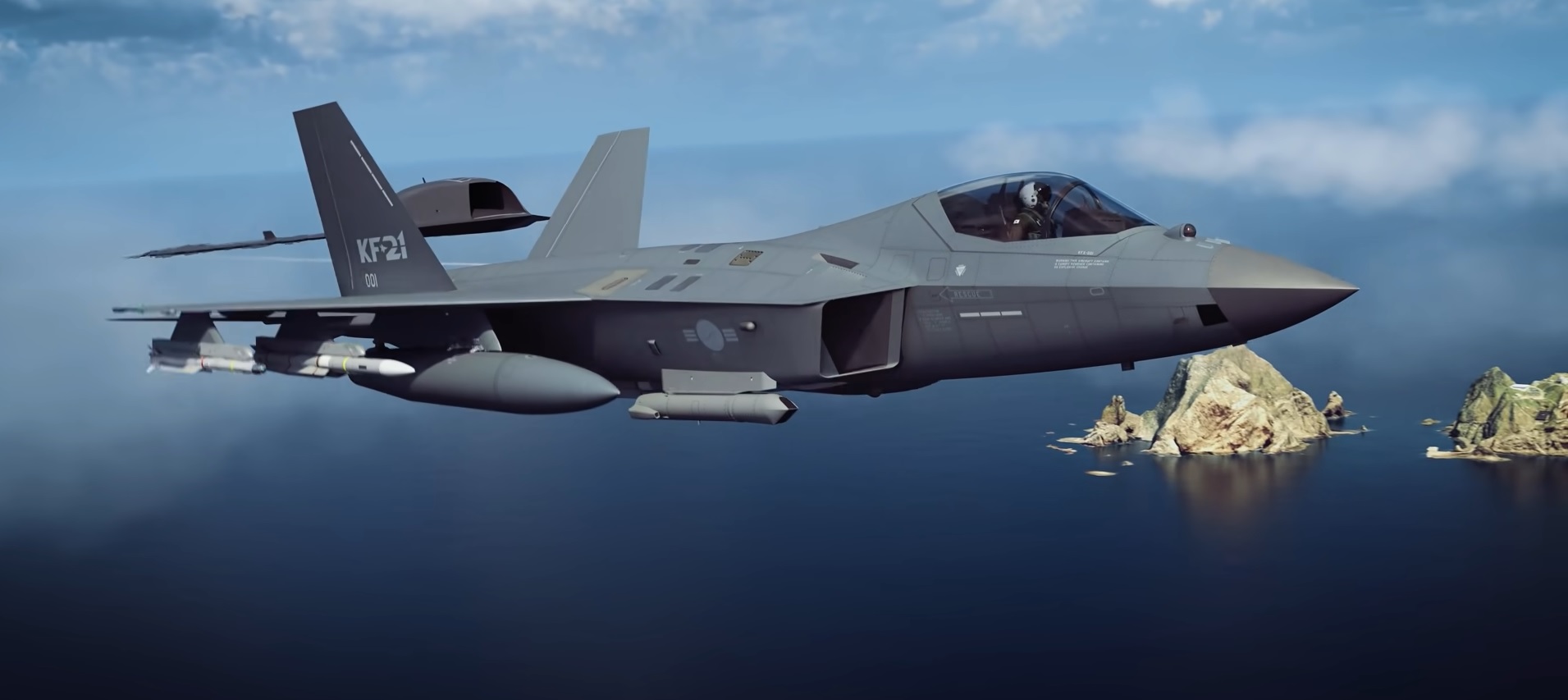 Challenges For K-21
The top representative from Indonesia, a partner nation in the KF-X project, was present at the event, demonstrating the nation's dedication to continuing its involvement in the fighter acquisition program.
However, the country's involvement in the project has frequently come under fire due to its continued overdue payments for its part in the aircraft's development.
Jakarta has consented to bear 20% of the development costs and contribute 30% of its share "in-kind." Even though the agreement was struck, the nation has not paid payments since 2017.
Regarding Indonesia's "in-kind" contributions, Dong-hwan stated that Jakarta has not yet specified which item it would pick to pay its proportionate share of the development costs. There has been persistent speculation that the nation would provide palm oil, its primary export product. 
South Korea obtained repeated promises from various Indonesian officials, including its president, Joko Widodo, to settle the matter. However, Indonesia has not adhered to a repayment timetable negotiated upon by both countries in November 2021.
As of July, the country reportedly fell $557 million short of its contribution. "Indonesia has not clearly explained when it would make the overdue payments, but the overall atmosphere is very positive," says Dong-hwan. "Though they may not make the payments all at once, we expect them to proceed gradually," he added.
On the other hand, deputy defense minister M Herindra seemed optimistic about the KF-21; however, he did not mention the payment status. He said that "the Korea Aerospace Industries or KAI KF-21 Boramae fighter program remains of strategic value to the Southeast Asian country."
During his visit, the deputy defense minister met with the 37 Indonesian engineers assigned at KAI as a part of the joint development program and expressed his expectation that by the end of this year, there would be 100 Indonesians working on the program.
"Indonesia remains committed to supporting the sustainability of the joint development of the KFX/IFX combat aircraft program and increasing cooperation in the defense sector between the Indonesian government and [South Korea]," said Herindra.
Seoul is anticipated to receive 120 jets, while Indonesia will receive 50, with the former hoping to sell to other countries. Nevertheless, South Korea is optimistic about Indonesia's participation and expects the aircraft to be a great success in the export market.