India and Pakistan have been at loggerheads for as long as one can remember, with the two neighbours fighting a total of four wars since the partition of British India in 1947.
However, while scores of soldiers have tragically lost their lives in the conflicts between the two warring sides, there have been many examples where both sides have taken prisoners of war.
UK' Sixth-Gen Fighter Jet Will Infuse £25 Billion, 20,000 Jobs Into The British Economy, But Can The Country Afford It?
In 2019, Indian Air Force's Wing Commander Abhinandan Varthaman was held captive by Pakistan after his MiG-21 Bison was shot down in a dogfight over the Line of Control (LoC), the de facto border between India and Pakistan in Kashmir.
Following the shooting down of his Russian-origin jet, Abhinandan safely ejected only to descend down to Horran village approximately 7 kilometres off the LoC, where a violent mob of villagers captured and pounded him till he was rescued by the Pakistani Army.
The 37-year-old Indian pilot showed immense bravery by swallowing his documents and refusing to share any mission details. After intense 60 hours, he was handed back to the Indian government.
Such calm and resilience in the face of adversity . Prayers for our brave pilot #AbhinandanVarthaman . Hope for his safe return. #AbhinandanMyHero

— Emraan Hashmi (@emraanhashmi) February 28, 2019
During an interrogation video filmed by the Pakistani Army, he said,
"I would like to put this on record. And I will not change my statement if I go back to my country also. The officers of the Pakistani Army have looked after me very well. They are thorough gentlemen, starting from the captain who rescued me from the mob, and from his jawans, soldiers and thereafter the officers of the unit which I was taken to,"
This is what I would expect my Army to behave as and I am very impressed by the Pakistani Army."
Following which when asked if he liked his tea, the Indian officer said, "The tea is fantastic, thank you."
While the Indian pilot was released by the Pakistani Army as a gesture of peace, not many are aware that the incident might indeed be a return of favour which was owed to an Indian soldier during the Bangladesh liberation war.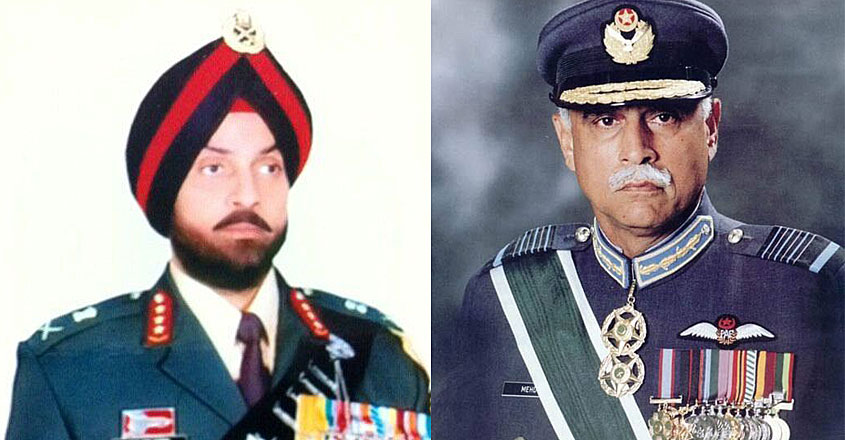 In the November of 1971, Captain HS Panag, Adjutant (officer responsible for operational staff work) of the 4th Battalion of the Sikh regiment (4 Sikh) was a part of a historic conflict which saw four Pakistani F-86 Sabres carrying out a high dive attack on their positions.
Soon after, the conflict was joined by IAF Folland Gnat fighter jets, which took the fight to the Sabres and shot down three Sabres, out of which one pilot's parachutes drifted towards the camp of irate Indian soldiers, as described by Panag.
"One of the parachutes with the pilot drifted towards our defences. Our troops rushed out of the trenches towards the descending parachute. Fearing, that our jawans may assault the pilot in the heat of the moment, I also ran towards him as fast as I possibly could," said Panag.
Fortunately for the Pakistani Pilot, Panag was able to get to him before a potential casualty could have happened at the hands of the Indian soldiers.
"When I was a stone's throw away, three to four of our jawans had already knocked the pilot down and had started hitting him with rifle butts. More soldiers were running to join them. I shouted at them to stop. I had to physically move the jawans away and shield the pilot by lying down over him. I calmed down the jawans and assured the pilot that he was safe"
The pilot was tall and fit; he was shaken up and had a cut on his forehead, but put up a brave face." said Panag. Upon inspection, the Pilot's name was ascertained to be Flight Lieutenant Parvaiz Qureshi Mehdi, who was the Squadron Commander of 14 Squadron Pakistani Air Force based at Dacca (now Dhaka).
As per standard procedure, Panag took Mehdi to the battalion headquarters where was treated. Panag also recovered Mehdi's wife's photograph from his pocket and made a list of his belongings which included a watch, a 9 mm pistol, 30 rounds of ammunition and his survival kit
"I ordered a cup of tea for him and began his formal interrogation, I told him that he was now a prisoner of war (PoW) and would be treated as per Geneva Conventions,"
His conduct, despite the shock of being shot down and taken PoW, was that of a very brave man — stoic and dignified. Apparently, Mehdi was unaware that his plane was shot down by the Gnats and thought that it was the ground fire that downed his plane.
Mehdi was the first prisoner of war of the 1971 war and remained imprisoned by India for a period of one-and-a-half years before he was released back to Pakistan.
He, later on, went to become an Air Chief Marshal and the Chief of Pakistan Air Force, a feat which he would not have been able to make had he not been saved by an enemy acting as a friend, HS Panag, who himself retired as a Lieutenant General of the Indian Army having won the Param Vishisht Seva Medal (PVSM) and Ati Vishisht Seva Medal (AVSM) military awards.
"He (Mehdi) did not say a word, but I could read his eyes clearly, and it felt like he wanted to thank me (for saving his life)," says Panag, while reflecting on his memory of the day he interrogated Mehdi.
The incident bears uncanny resemblances to the Abhinandan's release from Pakistan almost half a decade later, and it fits well to say that the "tea offered" to war prisoner Mehdi by his saviour Panag was a 'fantastic' one.