An East African country could become the next foreign customer of Indian arms. A delegation from Tanzania, led by the country's defense minister, Dr. Stergomena Lawrence Tax, visited the manufacturing facilities of Bharat Dynamics Limited (BDL) on August 29.
The minister was accompanied by senior officials from the Tanzanian Armed Forces, the Indian Defense Advisor accredited to Tanzania and officials from the Indian Ministry of Defense.
The Tanzanian delegation was briefed about the products that BDL is offering for exports, which included the "Anti-Tank Guided Missiles, Surface to Air Missiles, Underwater weapons, Counter Measure Dispensing System, Drone delivered bombs, and Drone delivered missiles," as per the company's press release.
Honoured by the visit of HE Dr Stergomena Lawrence Tax, Defence Minister,Tanzania at BDL today.The visit will further strengthen Defence Cooperation existing between India and Tanzania and will give a fillip to export of 'Made in India' defence products. pic.twitter.com/5X1jD2MQG4

— Bharat Dynamics Limited (@bharat_dynamics) August 27, 2022
Commodore Siddharth Mishra (Retd), CMD, BDL, expressed that the visit will further strengthen the Defense Cooperation between India and Tanzania and give a fillip to the realization of various export orders for the company.
In addition to BDL's products, a display of products and equipment by other Defense Public Sector Undertakings (PSUs), private industry, and start-ups were also organized at BDL.
Weapons Offered For Export To Tanzania
Anti-Tank Guided Missiles 
BDL is known to offer three Anti-Tank Guided Missiles (ATGMs), namely the Milan 2T, Konkurs-M, and Nag.
The Milan 2T and Konkurs-M are second-generation ATGMs produced by BDL under the European MBDA Missile Systems license and a Russian Original Equipment Manufacturer (OEM).
The Milan 2T can be launched from the ground and vehicle-born launchers, and the Konkurs-M can also be launched from ground-based launchers and a BMP-II tank. The Milan 2T has a range of 1850 meters, while the Konkurs-M covers a range between 75 and 4000 meters with a flight time of 19 seconds.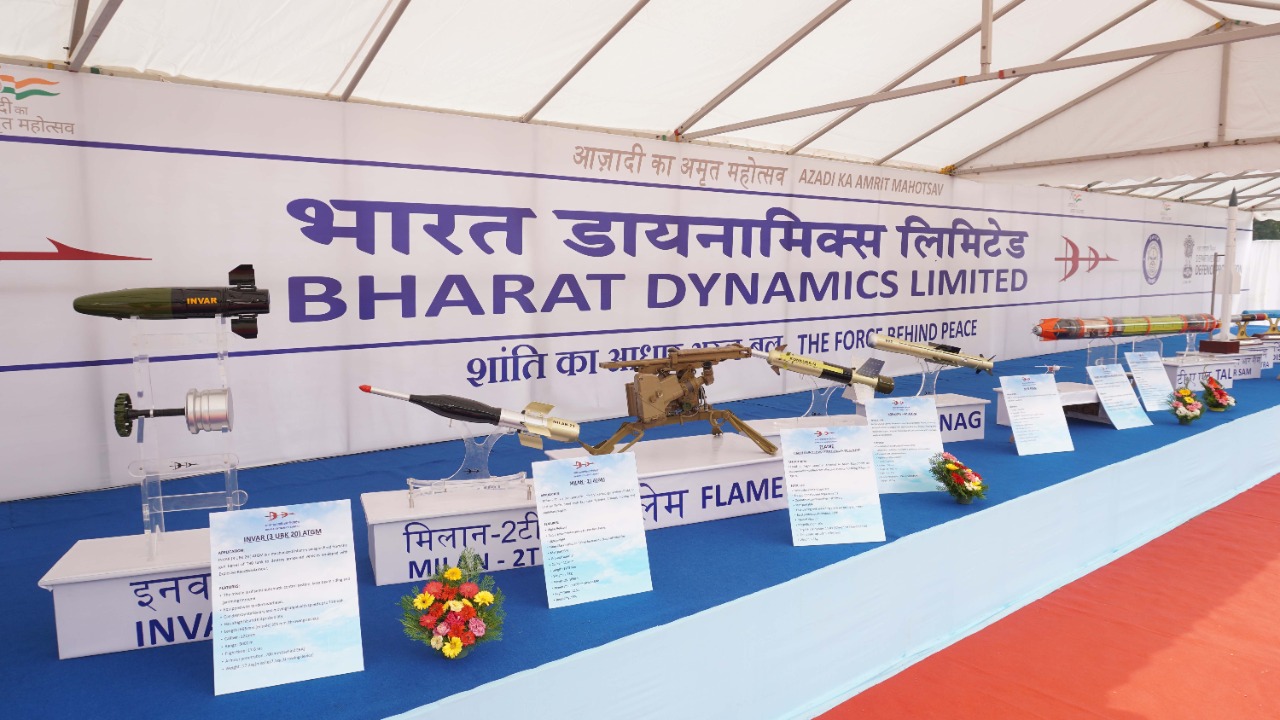 Nag is an indigenously developed third-generation, all-weather ATGM in the land and air-launched versions. When launched from land, the missile can hit targets up to a range of four kilometers, while its strike range, when launched from an air-based platform, is seven kilometers.
The above ATGMs can be deployed against moving or stationary armored vehicles equipped with Explosive Reactive Armour (ERA).
Surface-to-Air Missiles 
The Surface-to-Air (SAM) missiles offered by BDL include the Akash Missile System and the Medium Range Surface-to-Air Missile (MRSAM).
The Akash is an all-weather, mid-range SAM system developed by India's state-owned Defense Research and Development Organisation (DRDO).
The entire system consists of a launcher, a control center, an integral mission guidance system, an arming and explosion mechanism, a multifunctional fire control radar, and a digital autopilot. It also possesses command, control, communication, and intelligence (C4I) centers.
Every Akash battery comes with four 3-Dimensional passive electronically scanned array (PESA) radars and four self-propelled launchers. Each of the launchers has three missiles, with all missiles being interconnected. The battery itself also has a control center and a battery-level radar called Rajendra.
The missiles can carry either conventional or nuclear warheads weighing up to 60 kilograms and destroy targets within a range of 30 to 35 kilometers. Also, the missiles can be launched from static or mobile platforms, including battle and wheeled tanks.
Akash missile systems can engage several targets simultaneously and destroy maneuvering targets like unmanned aerial vehicles (UAVs), cruise missiles, missiles launched from choppers, and fighter aircraft.
The missiles can fly at supersonic speeds ranging from Mach 2.8 to 3.5 and reportedly have a kill probability of 88%, increasing to 98.5% by launching the second missile five seconds after launching the first one.
The MRSAM is a land-based version of the Barak-8 missile developed by India's DRDO in collaboration with Israel Aerospace Industries (IAI).
It can travel at supersonic speeds and engage multiple targets simultaneously at ranges of 70 kilometers.
The MRSAM can be deployed against various airborne threats such as missiles, aircraft, guided bombs, and helicopters.
Underwater Weapons
BDL also produces a lightweight torpedo called the Torpedo Advanced Lightweight (TAL) and a heavy-weight torpedo called the Varunastra. Both the torpedoes are indigenously developed by India's Naval Science and Technological Laboratory (NSTL).
The torpedoes are electrically propelled, and while the Varunastra can only be launched from a ship, the TAL can be launched from a ship and a helicopter. The TAL has a range of 19 kilometers, a top speed of up to 61.1 kilometers per hour, and an operating depth of 450 meters. The torpedo can carry a warhead weighing 50 kilograms.
Whereas the Varunastra has a range of 40 kilometers, can travel at a speed of up to 70 kilometers per hour, and dive to a maximum depth of 400 meters. It can carry a warhead weighing 250 kilograms.
Drone-Launched Weapons
In May 2022, BDL showcased an armed quadcopter drone during the Bharat Drone Mahotsav 2022. Together with the quadcopter, the company put on display the drone-launched JISNU-M semi-active laser homing missile of two types, one of 1 kilogram and the other weighing 3.5 kilograms.
Apart from that, the BDL's drone can also be armed with an anti-armor missile with a top attack capability that can engage targets at a maximum range of 1 kilometer.
Also, in last year's Dubai Air Show, the company showcased a one-kilogram class drone-launched bomb equipped with 730gms controlled fragmentation warhead activated by impact. The bomb is 65mm caliber with a length of 325mm.
Bharat Dynamics Limited @CMDBDL is striding towards intelligent & autonomous drone launched precision attack capability. Includes stand off laser guided missiles and accurate free fall munition via a variety of drones. Unveiled as a first in India for UAVs of this class. pic.twitter.com/VCEMCr9CL5

— Sameer Joshi (@joe_sameer) May 28, 2022
A 1.5-kilogram precision-guided missile can also be launched from a drone. It has a range of one kilometer and uses MEMS-IMU for the mid-course guidance and semi-active laser homing guidance system at the terminal stage.
The missile is armed with a 300gm anti-personal anti-material multi-purpose (HEAT+HEF) warhead that can be used to strike troop concentrations or soft-skinned vehicles.
India, Tanzania Security Cooperation
The latest visit by the Tanzanian defense minister to India comes after India's Deputy National Security Adviser Vikram Misri visited Tanzania in May to strengthen defense ties with the East African nation, which has a long coastline along the strategic Indian Ocean Region (IOR), where India is considered a net security provider.
During his visit, Misri discussed a security partnership with the top leadership of Tanzania, which included enhancing maritime security cooperation and exporting Indian defense products to meet Tanzania's defense requirements.
Apart from his visit to the BDL's manufacturing facilities, the Tanzanian defense minister also held bilateral talks with his Indian counterpart, Rajnath Singh.
The two sides agreed to set up a Task Force to prepare a five year 'future road map' to enhance defense cooperation between both countries and to hold the next Joint Defense Cooperation meeting in Tanzania.
The Indian Defense Minister also invited his Tanzanian counterpart to the India-Africa Defense Dialogue and DefExpo, scheduled to be held in Gandhinagar, Gujarat, between October 18-22, 2022.
India aims to expand its security profile in the region of the Western Indian Ocean and East Africa, as part of which New Delhi is seeking enhanced defense cooperation with Tanzania in the backdrop of China's increasing forays into the IOR.
In June, Tanzanian President Samia Suluhu Hassan announced the decision to revive a Beijing-backed Bagamoyo Port project in the country, which was stalled for years reportedly due to the Tanzania's frustration over conditions presented by China.
Reports suggest that Tanzania's decision to revive the port project with China has created a potential headache for New Delhi, as there are fears that Beijing could use the port for military purposes and project power in the West Indian Ocean, from where almost 60% of India's trade comes.