Taiwan Air Force has received the first indigenously produced T-5 Brave Eagle advanced jet trainer, amid tensions with China. 
According to local media reports, the plane took off from Taichung's Ching Chuan Kang Air Base on November 29 and landed at Taitung's Chihhang Air Base. After touching down, the new jet was given a water salute.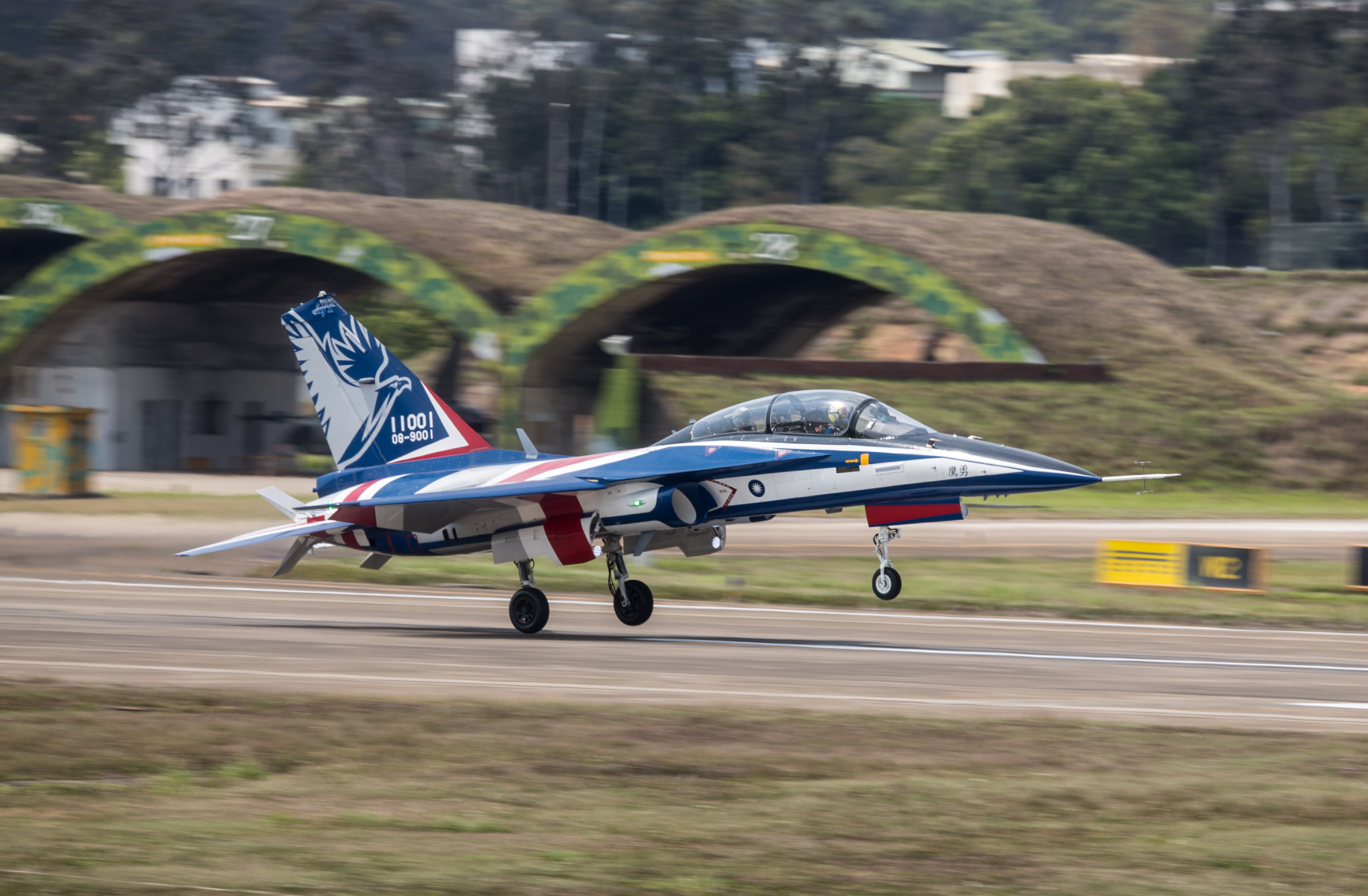 Developed by Taiwan's Aerospace Industrial Development Corporation, the jet trainer flew for the first time in June, and two more planes will be ready by the end of this month. More than 60 T-5 Brave Eagle jets will be delivered between 2022 and 2026.  
The first of 66 #BraveEagle jet trainers took to the skies near #Taiwan's Taichung Thursday. https://t.co/rTvSRfRiDc pic.twitter.com/cXVh8YFWjz

— Taiwan News (@TaiwanNews886) October 21, 2021
Taiwan's aging F-5s are set to be replaced by the Brave Eagle planes. According to the Ministry of National Defense (MND), a detachment of F-5E instructors has been stationed at Tainan Air Force Base since July 2020 to undertake Brave Eagle jet training.
According to reports, the second mass-produced plane, designated 11004, took to the air for the first time in Taichung recently. It has not yet left the manufacturer because the fuselage still has a yellow anti-rust primer on it and is accompanied by a prototype "11001". 
T-5 Brave Eagle – Taiwan's First Indigenous Jet
The Taiwan Air Force, officially called the Republic of China Air Force (ROCAF), aims to purchase 66 twin-engine planes for $2 billion from Aerospace Industrial Development Corporation to replace its accident-prone F-5s.
The aircraft is intended to give RoCAF pilots advanced flying training. It's also capable of carrying out air-to-ground attacks.
The aircraft's integrated flight training system will allow trainee pilots to obtain effective combat skills in a short amount of time. The aircraft's aerodynamic shape has been optimized to reduce drag and increase the angle of attack while boosting flight performance.
The wing cross-section was also redesigned to reduce approach velocity and boost aircraft stability at low speeds.
The rear fuselage and the aerofoil were modified in order to lessen the aircraft's landing speed. The parting line was elevated to improve the trainer's fuel capacity, allowing for longer flight times and greater range. Moreover, the jet trainer's main landing gear was changed to improve ground taxiing stability. 
2 #BraveEagle prototypes flying together marked another step of #indigenous advanced jet trainer (AJT) program. We look forward to the upcoming operational test by #ROCAF. #SelfRelianceinDefence. pic.twitter.com/WwEwyrFqiY

— 國防部 Ministry of National Defense, R.O.C. ?? (@MoNDefense) March 3, 2021
"The AJT was considered one of the world's most advanced trainers because of its fully digitized cockpit and software designed to simulate a lead-in fighter trainer capable of firing missiles, allowing it to calibrate its training courses more precisely," Su Tzu-yun, a research fellow at the military-affiliated Institute for National Defense and Security Research was quoted as saying by SCMP.
According to the defense ministry, Taiwanese companies manufacture 55 percent of the T-5's components. The goal is to get to 100%, to further strengthen industrial autonomy. Many foreign-made components, particularly the American engines, are used in the Brave Eagle.
The F125s engines are provided to Taiwan as part of a government-to-government agreement. When Beijing threatened Honeywell with sanctions over the transfer in 2019, the business just shrugged and stated it had nothing to do with the deal. 
Honeywell describes itself as a "component-provider" that "doesn't really decide where the technologies are employed". Furthermore, Honeywell and Taiwanese firm International Turbine Engine Company collaborated on the F125's development.
The Taiwanese firm keeps its know-how. There have been suggestions that the Brave Eagle will ultimately be powered by locally built engines. 
Meanwhile, the T-5 can help Taiwan's defense not only by aiding in the training of pilots for other fighter types, but also by engaging in combat missions, as it is widely assumed that the aircraft has some latent combat capability and would fight alongside F-CK-1s, F-16s, and Mirage 2000s in a wartime scenario.
Taiwan has been facing constant threats and intimidation from China's PLA Air Force in the form of airspace violations in recent times, forcing the self-governing island to enhance its defense capabilities.