The UK Ministry of Defense (MoD) is considering providing RAF Eurofighter Typhoon Tranche 1 fighter aircraft to European MiG-29 operators so that the Soviet-era plane can be forwarded to Ukraine.
After Ukrainian President Volodymyr Zelenskyy first visited the United Kingdom and delivered an emotionally charged address to the British Parliament, there were speculations that the UK could transfer the Eurofighter Typhoon Tranche 1 combat jets from its inventory to Kyiv.
Later, the UK announced that it was prepared to train Ukrainian pilots on fighter jets in the Royal Air Force (RAF). Following the announcement, British Prime Minister Rishi Sunak asked his Defense Secretary Ben Wallace to investigate whether planes could be delivered to the Ukrainian Air Force.
Although the 10 Downing Street or the Royal Air Force stopped short of specifying which combat aircraft would be used for training Ukrainian soldiers, military experts predicted that the RAF would use the Eurofighter Typhoon Tranche 1 jet.
However, the transfer of fighter jets did not seem imminent because Sunak stated that it was meant to be a "long-term solution rather than a short-term capability."
Despite ruling out the direct delivery of the Tranche 1 jets to Ukraine, citing logistical issues, UK armed forces minister James Heappey recognized the prospective aircraft handover to MiG-29 operators during a British defense committee meeting.
He claimed that several nations are "having this debate" and that the UK is "definitely" looking at the issue. This refers to the momentum building among East European militaries that still operate the Soviet-legacy MiG-29 warplanes.
The fact that the Tranche 1 fleet will be retired by the RAF in 2025 amounts to a considerable maintenance drawback for any third-party operator considering they accept UK's offer.
On his part, Heappey did not disclose specifics on how the plan would materialize or whether the British officials were in talks with their European counterparts on the issue.
The Ukrainian Air Force is predominantly composed of Soviet-era fighters like the Su-24, Su-25, Su-27, and MiG-29s, to name a few. Of these, the MiG-29 has proved to be the most combat-capable.
Although they all own MiG-29 aircraft, Slovakia, Poland, and Bulgaria have refrained from offering any to Ukraine. However, with Russian troops intensifying their assault and Ukraine not getting any breakthrough on its western fighter jet demand, positive signs are emerging from NATO's MiG-29 operators.
Ukraine Could Get Fighter Jets From NATO, But Only Soviet Warplanes
Although the discussions about the transfer of MiG-29 fighter jets to Ukraine from NATO operators have been taking place for a while, a political breakthrough may have just emerged, with Slovakian and Polish governments hinting at a willingness to make the extensive transfer to Kyiv.
Prime Minister Mateusz Morawiecki stated that Ukraine might be supplied with MiG-29 fighters during the next four to six weeks or by April, Ukraine Pravda reported. "The delivery of the MiG-29 fighters to Ukraine could be conducted within the next four to six weeks," he said.
The Polish president, Andrzej Duda, previously declared that Warsaw is prepared to provide Ukraine with its MiG-29 fighters as part of the international coalition. At the time, he also hoped that the F-16s would soon be given to Ukraine. Later, the country confirmed that it would supply Ukraine with MiG-29s, but only a few of them.
"The rest of the MiG-29 fighters that are in service in the Air Forces of Poland – we are ready to send these fighters to Ukraine, and I am sure that Ukraine will be ready to use them right away," Duda stated. According to reports, the Polish Air Force has nearly 30 aircraft of this type.
According to reports, Poland has 29 MiG-29 combat aircraft in its inventory. Of these, 12 were inherited from the Soviet Union in 1991, 10 were acquired from the Czech Republic in 1996, and Germany supplied 22 in 2003. After losses, Warsaw still owns 29 MiGs.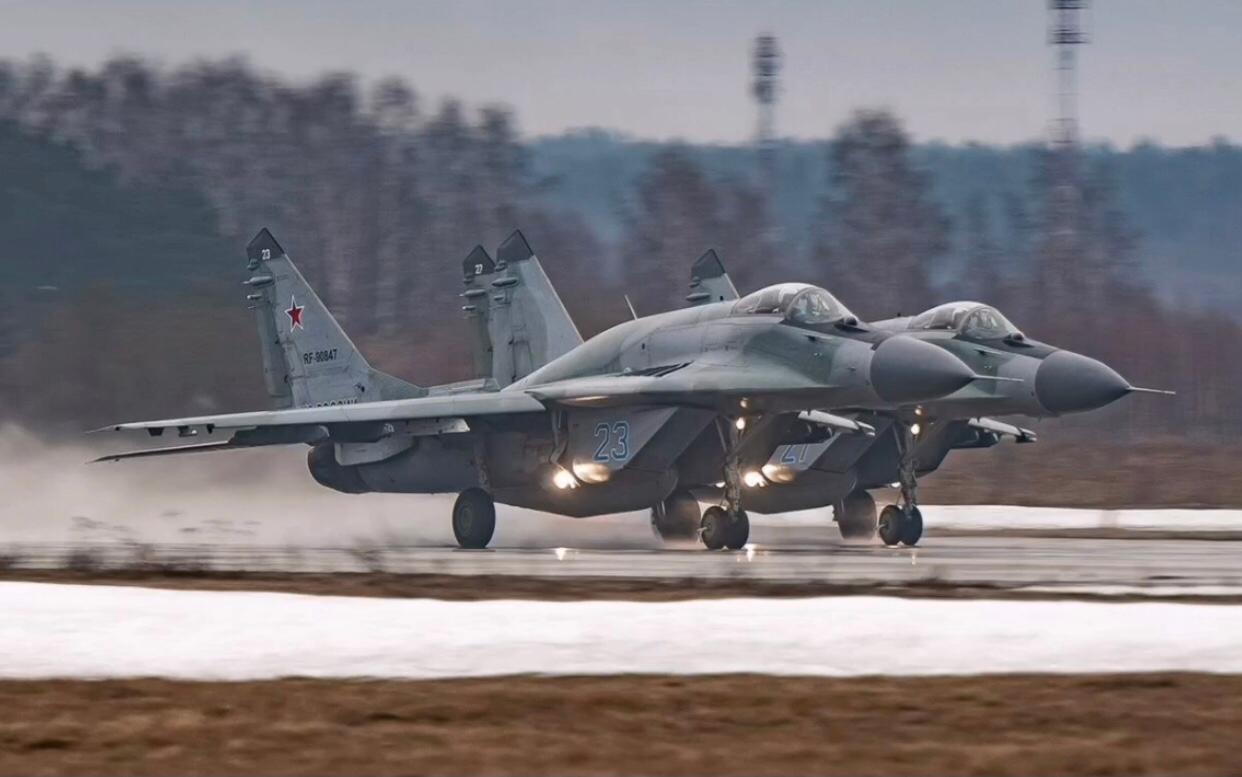 Besides Poland, Slovakia is also willing to arm Kyiv with MiG-29 fighters. Slovakia's defense minister, Jaroslav Nad, said last week that his country must decide whether to send a fleet of 11 retired MiG-29 fighter jets to Ukraine, not all of which are in operational condition.
"I think it is time to make a decision," Nad said on Facebook. "People are dying in Ukraine; we can help them. There is no room for Slovak politicking."
Further, Nad said he had spoken with Poland's defense minister, who informed him that Warsaw would consent to a joint procedure to transfer MiG-29 aircraft to Ukraine.
Earlier, there were reports that the US would backfill Polish inventory if the country transferred MiG-29s to Kyiv.
On March 6 last year, the US Secretary of State Antony Blinken said on a visit to Moldova, "We are looking actively now at the question of airplanes that Poland may provide to Ukraine and looking at how we might be able to backfill should Poland decide to supply those planes. I can't speak to a timeline, but I can just say we're looking at it very, very actively."
Later that month, the Pentagon rejected any such proposal for fear of provoking Russia or escalation between Moscow and NATO countries. Some NATO nations view any donation of powerful warplanes as exceptionally provocative. In the first year of the current conflict, Ukraine has only been able to acquire 18 Sukhoi Su-25 subsonic attack jets from Macedonia and Bulgaria.
However, with Ukraine intensifying its pleas for western-grade fighter jets, it focuses on filling Kyiv's arsenal with Soviet-era warplanes. A transfer of MiG-29 fighter jet may be more tenable than a western-grade fighter like the US-made F-16 or the British Eurofighter Typhoon jets that Ukrainian officials are lobbying for.
Contact the author at sakshi.tiwari9555 (at) gmail.com