Russia's state-owned Rostec corporation has claimed to have developed an artificial intelligence-enabled (AI-enabled) communication system for its fifth-generation Su-57 stealth aircraft.
"Ruselectronics holding of the Rostec State Corporation has developed a set of onboard digital communication tools using artificial intelligence technologies. The equipment is designed for fifth-generation aircraft. Its use will improve the quality of information transfer between aircraft and ground complexes," the corporation said.
The communication system is developed by the specialists of NPP Polet, which is a part of Ruselectronics. It operates in the high (HF) and very high frequency (VHF) ranges.
It uses cognitive radio technology – a dynamic method of programming or configuring -which enables a communication system to use the best wireless channels in its vicinity, thereby making it immune to interference.
"The equipment ensures the reliability of information transmission due to noise-immune coding, interleaving of symbols in the message, common time synchronization in signal processing, the possibility of simultaneous transmission of messages over parallel channels, increasing the range of stable communication, as well as the use of artificial intelligence technologies," the corporation further said.
Aleksey Komyakov, General Director of NPP Polet, noted that the development of radio electronics is becoming a decisive factor influencing the formation of fifth-generation aircraft. Such onboard digital communication systems are widely used to transmit messages between aircraft avionics and ground services.
"Our new complex is an initiative developed and is planned for implementation as part of the S-111 communications complex," Komyakov said.
The system includes computing devices, interleavers and deinterleavers, HF antenna matching devices, digital signal processing units, error-correcting coding, decoding devices, and a global navigation satellite system signal receiver with an antenna and a digital signal processing and synchronization bus.
The patent for this system was presented at the Moscow International Salon of Inventions and Innovative Technologies "Archimedes-2023," and it won a gold medal.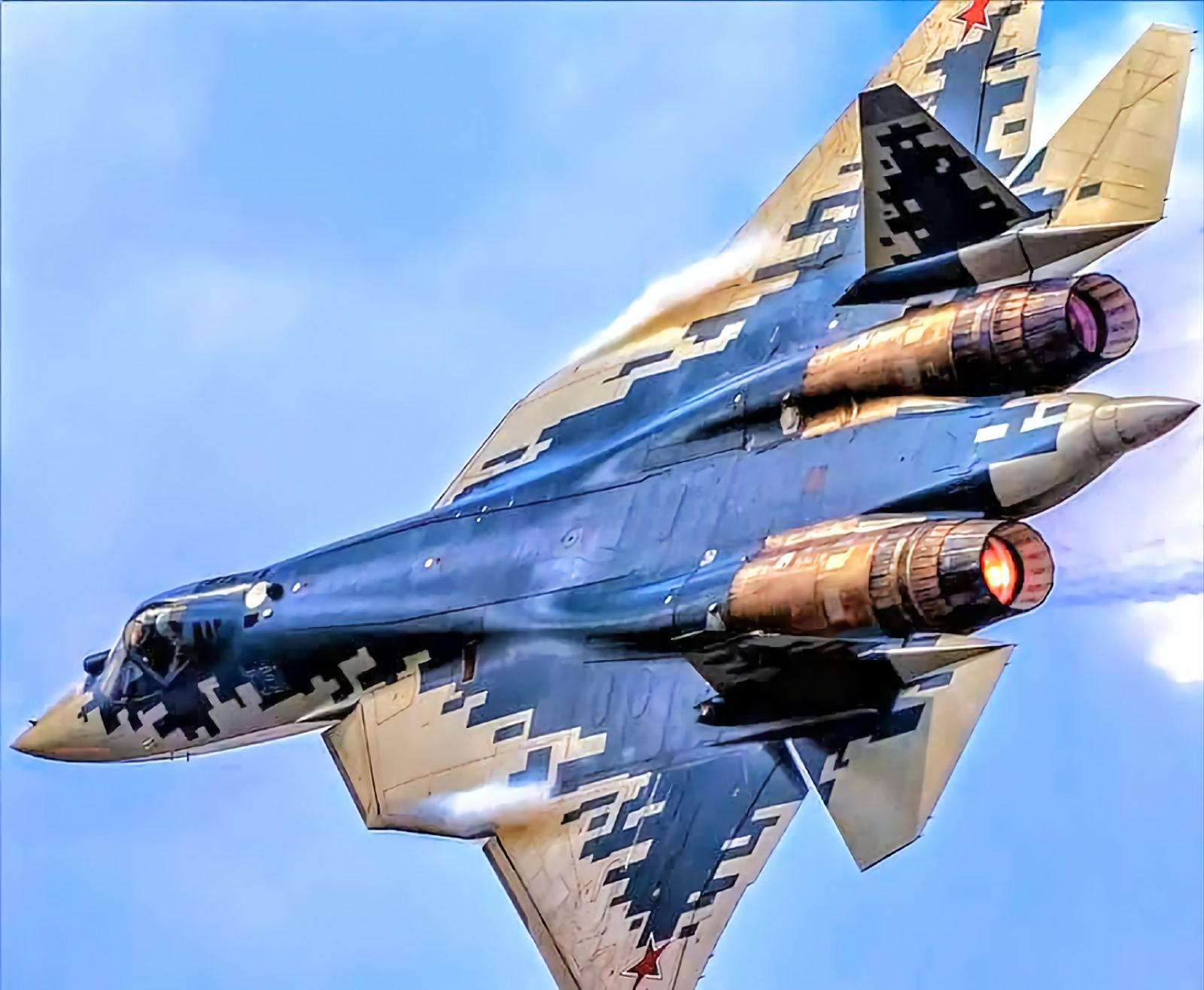 Virtual AI Co-Pilot For Su-57 Stealth Fighter
Russian President Vladimir Putin has been pushing for the indigenous development of Artificial Intelligence, and this also covers the application of AI-based technologies in its most advanced Su-57 fighter jet.
Russia continues to enhance its fifth-generation fighter capabilities, as part of which it is known to be developing multiple AI-enabled systems.
For instance, in October last year, a modernized version of the Su-57, called the Su-57M, undertook a test flight to check the working of a new AI-based system that would act as a virtual co-pilot by gathering data from the aircraft's numerous sensors, and provide crucial information to the human pilot.
Reports suggest that such an AI-based virtual co-pilot system could help ensure faster decision-making for the pilots.
According to the state-owned TASS news agency, this AI system would assume some of the pilot's tasks, such as piloting and preparations for using weapons.
Experts suggest that artificial intelligence is poised to play an increasingly important role in the operation of modern fighter jets, thereby expanding the aircraft's capabilities and survivability. Such AI-enabled systems will most likely find use in sixth-generation fighter jets.
Russia's Sixth-Gen Fighter Development Program
As EurAsian Times reported, Russia's sixth-generation aircraft will be developed based on its Su-57 fighter jet.
Yuri Slyusar, the Director General of the United Aircraft Corporation (UAC), part of Russia's state-owned defense conglomerate, said in September last year that the fifth-generation Su-57 fighter is a step toward the sixth-generation aircraft.
Russia revealed in 2016 that it is working on a new sixth-generation fighter aircraft based on the designs proposed by the country's Sukhoi design bureau.
The then Commander of the Russian Aerospace Forces, Viktor Bondarev, said that a sixth-generation fighter was being developed in manned and unmanned versions.
Since then, Russian defense officials have been known to test hardware elements designed for the sixth-generation fighter on the prototype versions of the Su-57, dubbed 'PAK FA' (Prospective Airborne Complex of Frontline Aviation) fighters. These include flight and navigation systems, advanced electronic warfare, and radar systems.
According to a senior official from the Concern Radio-Electronic Technologies (KRET), a subsidiary of Rostec State Corporation, which is known to be developing these particular hardware elements, the sixth-generation fighters will be fitted with a unified electronic warfare system, which will serve as radar, an electronic warfare system, a data transmission system and as communications equipment.
It will also function as a navigation system and an Identification Friend or Foe (IFF) transponder.
The Russian approach to the sixth-generation fighter development is similar to the one opted for by the US for its Next Generation Air Dominance (NGAD) fighter.
The Pentagon stated in its FY2023 Budget request that there would be a two-way 'technology transfer' between the US Air Force's fifth-generation F-22 Raptor and the NGAD.