On June 9, US officials disclosed that the military alliance between Iran and Russia is expanding, as Tehran is assisting Moscow in establishing a drone manufacturing plant. 
In recent months, Russia has utilized Iranian-manufactured drones to carry out multiple attacks on Ukraine. These strikes have targeted various locations, including civilian areas, buildings, and electrical infrastructure, intending to damage Ukrainian morale.
Additionally, as Russia's weapon supplies have dwindled, Iran has emerged as a significant provider of military assistance to Russia. US officials said that Russia is seeking its drone manufacturing facility for producing attack drones. 
The factory, expected to be operational next year, will be located in the Yelabuga region, east of Moscow. According to John Kirby, the spokesperson for the National Security Council, Tehran is assisting Moscow by providing the materials for the plant.
The ambitions to build a drone manufacturing factory have been known for some time. In February, media reports published information on probable drone manufacturing plans in Yelabuga. In early April, the White House released a satellite picture showing the likely location of the plant.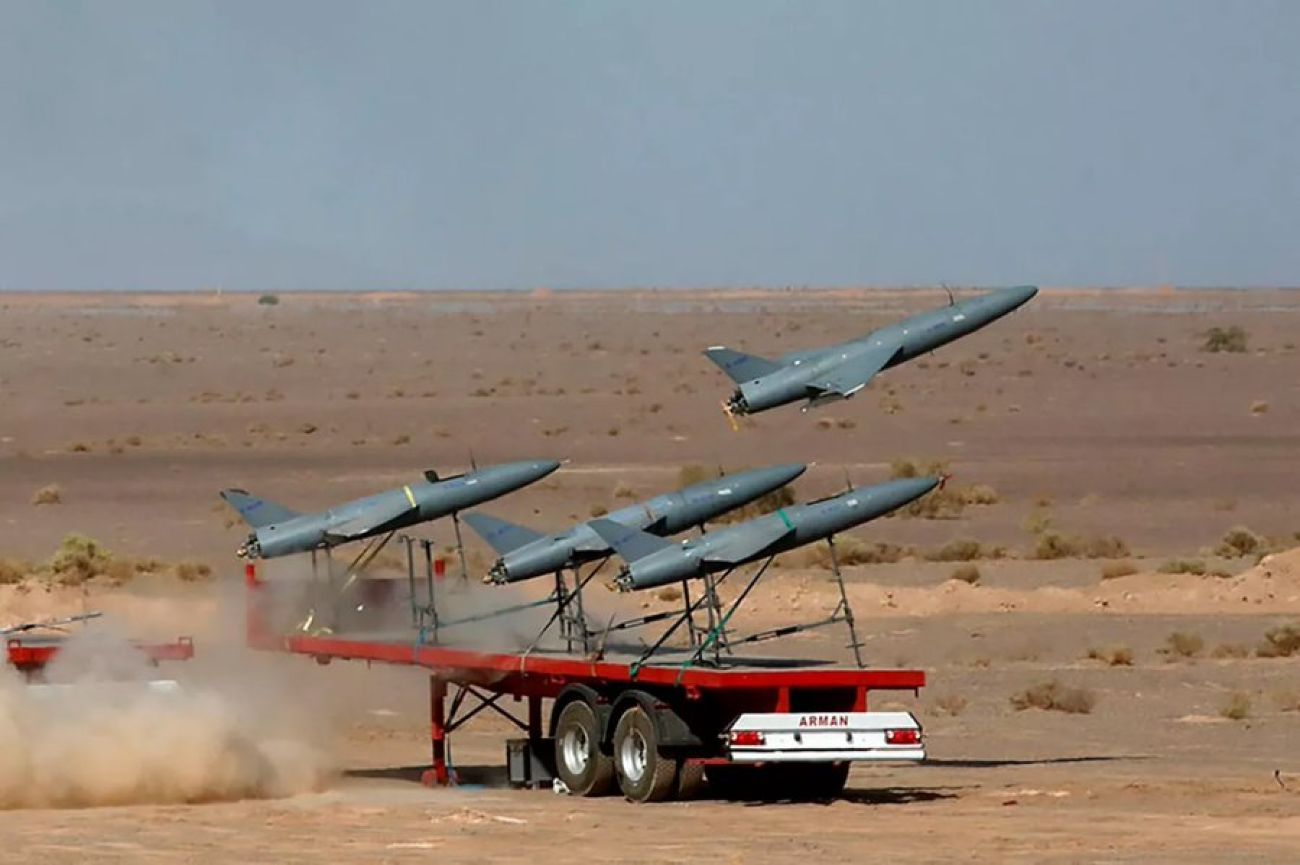 In December, the US government officially stated that Tehran and Moscow might establish a drone production line in Russia for the Ukraine war. Thus, the new information implies that the project in Tatarstan's Yelabuga region has advanced past the idea stage.
Ukraine's Center of National Resistance has explained that Iran has been arming Russia with drones via air and sea routes for several months. Russian forces have utilized Iranian-made drones such as Mohajer, Shahed-131, and Shahed-136 to target Ukrainian energy and civilian infrastructure.
As per the White House, Russian ships are transporting drones from Amirabad, Iran, across the Caspian Sea to Makhachkala, Russia. 
From these points, the drones are transported to two different bases: northeast of Ukraine and east of Ukraine. These drones are subsequently employed in targeted attacks against Ukrainian assets.
Meanwhile, French President Emmanuel Macron held a phone conversation with his Iranian counterpart, Ebrahim Raisi, calling Tehran to stop supporting Russia in the Ukrainian conflict, the French media reported, citing the Elysee Palace.
In the phone call, Macron urged Tehran to "immediately end" the support it is providing to Moscow while warning of "the serious consequences, both in terms of security and humanitarian aspects, of Iran's drone deliveries to Russia," the statement read, as quoted by state-owned Radio France Internationale.
Earlier on Saturday, Deputy Chief of Staff for Political Affairs to Iran's President Mohammad Jamshidi said that Raisi held a 1.5-hour phone talk with Macron, discussing the development of ties between Tehran and Paris.
Russia Supplying Military Equipment To Iran
The growing partnership between Moscow and Iran benefits both countries. Both Iran and Russia are facing severe international sanctions. 
According to John Kirby, spokesperson for the National Security Council, Moscow has been providing Iran with advanced military equipment, surpassing previous levels in complexity and cost.
Kirby stated that Russia has been extending unprecedented defense cooperation to Iran, encompassing missiles, electronics, and air defense systems. 
Furthermore, Tehran is already in the process of receiving Su-35 fighter jets from Russia, further highlighting the deepening military ties between the two nations.
Kirby went on to say that Iran is actively pursuing the acquisition of further military equipment from Russia, which includes attack helicopters, radars, and YAK-130 combat trainer aircraft. The value of the equipment Iran is seeking amounts to billions of dollars.
US officials have stressed that the transfer of drones by Moscow and Tehran represents a violation of the arms embargo outlined in UN Resolution 2231.
"This is a full-scale defense partnership that is harmful to Ukraine, Iran's neighbors, and the international community. We are continuing to use all the tools at our disposal to expose and disrupt these activities, including by sharing this with the public — and we are prepared to do more," Kirby noted. 
Nonetheless, the release of declassified information by American officials increases pressure on Iran and creates obstacles to the completion of the drone manufacturing project. 
Kirby mentioned that the United States plans to issue a new advisory to assist global businesses in ensuring that their actions do not inadvertently support Iran's drone program. The objective is to prevent unintended contributions to Iran's military capabilities in the drone domain.
In recent months, the United States, the European Union, and the United Kingdom have already implemented regulations to disrupt the supply of drone components to Russia and Iran.
These measures are intended to restrict the flow of materials that could contribute to the production of drones used in military operations.
Even so, a crucial aspect of the United States' strategy in supporting Ukraine is hindering Russia's access to new military equipment and replenishing its diminished stockpile. 
An essential element of this effort involves impeding trade between Russia and Iran. Limiting the flow of military equipment between these two countries aims to curtail Russia's military capabilities and prevent further escalation of the conflict in Ukraine.