The South Korean Navy is speeding up the development of its next-generation light aircraft carrier, LPX-II, a move that is likely to irk communist North Korea led by Kim Jong-un
Once completed, South Korea could become one of the very few nations to field a dedicated aircraft carrier.
In 2019, South Korea displayed its newly procured F-35 stealth jets to mark the Armed Forces Day while President Moon Jae-in attempted to ease anxieties that his policy of engagement with North Korea may be shrinking.
President Moon marked the founding of the South Korean military at a ceremony at an airbase that showcased four of the eight F-35A jets delivered to Seoul. Forty of the stealth jets are to be delivered by 2021.
Experts talking to the EurAsian Times believe that F-35 stealth and a new aircraft carrier can endanger North Korea's defense systems. Together with these US-made fighter jets, the LPX-II could pose a serious threat to North Korea, Nitin J Ticku told ET.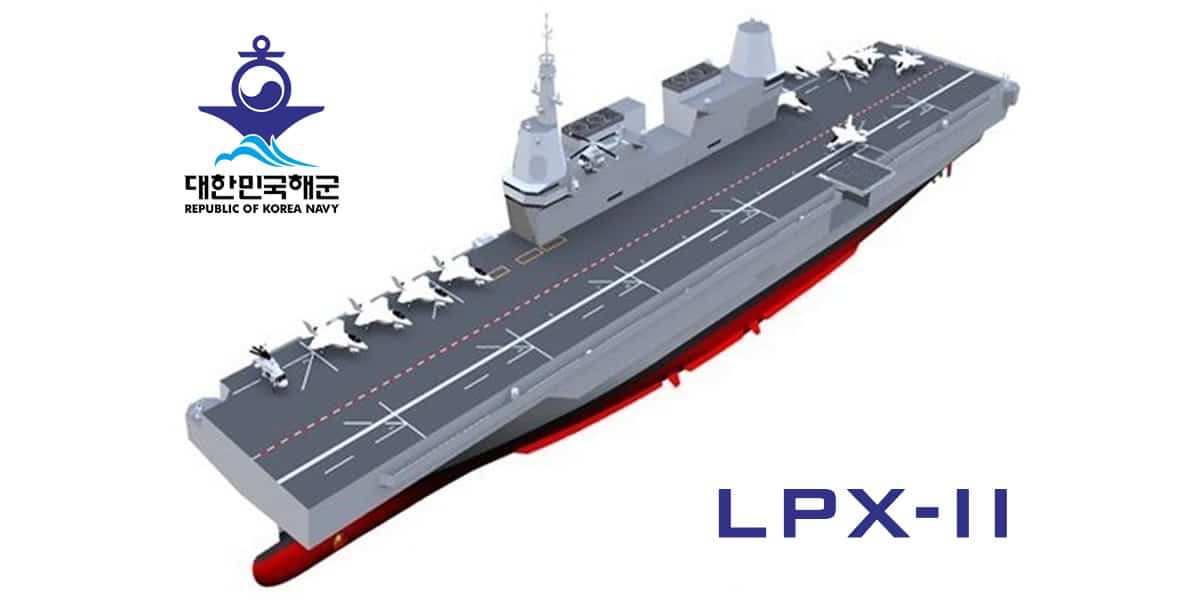 The LPX-II platform coupled with its KF-X next-gen, indigenous fighter jets puts Seoul on an elite list of military powers that can develop its own fighter jets.
Similar to the F-35s, South Korea has built the KF-X fighter, part of a joint South Korean-Indonesian project. It is the country's second indigenously built and designed fighter, after the T-50 supersonic trainer aircraft that can also serve in a light combat role.
If everything goes as planned, the KF-X fighter jet developed by South Korea's Korea Aerospace Industries (KAI) could even complete with the best of 4.5 gen jets in the market including Rafales, Typhoons, Super Hornets and the Su-35s.
Additionally, many experts believe that in the coming years, the aircraft will give a stiff challenge to Turkish TF-X, the Indian LCA Tejas and the Pakistani-Chinese JF-17.
India LCA Tejas, Pakistani-Chinese JF-17 and South Korean KF-X fighter jet are already competing for the Malaysian fighter jet contract.
Indian LCA Tejas Or Pakistani JF-17: Who Is Winning The Malaysian Fighter Jet Contract?
According to defense portal Janes, South Korea's Joint Chief of Staff (JCS) has requested the inclusion of the carrier's design in the Ministry of Defence (MND)'s mid-term plans for the years 2021-25.
It might take at least 10 years to complete the program. This includes an initial three years for the formulation of basic design, a further seven years for the detailed design and construction. 
Depending on its success on sea trials, the LPX-II program is expected to be operational by 2030-31.
The LPX-II Program 
The LPX-II program is part of South Korea's new, more capable amphibious assault carrier.
In 2019, the country came up with a five-year defense plan and a lofty development plan known as the Navy Vision 2045. This plan entails the acquisition of its first aircraft carrier- the LPX -II by the early 2030s by the Republic of Korean Navy (ROKN).
The LPX or the 'Landing Platform eXperimental' is a light aircraft carrier. It is expected to accommodate around 20 F-35B STOVL (short take-off and vertical landing) variants.
The carrier, to be developed by Hyundai Heavy Industries (HHI), would have a displacement of 30,000-35,000 tons.
In its earlier plan, the LPX-II was visualized as an amphibious assault platform, capable of launching South Korea's marines and navy personnel into the sea and to the shore, from its deck.
In its new configuration as a dedicated aircraft carrier, the LPX-II could offer South Korea many more advantages.
On its completion, it can support operations of helicopters and short take-off and vertical landing (STOVL) aircraft like the Lockheed Martin F-35B Lightning II Joint Strike Fighter. 
South Korea is scheduled to receive 20 of the most advanced carrier-capable stealth aircraft F-35Bs along with the conventional take-off stealth fighters F-35As.
Along with it, Seoul is also working on an 'Arsenal Ship'. A mobile missile platform, it is capable of saturated cruise missile strikes against targets located both on land and sea. South Korea is deriving this from its existing KDX-II destroyer design.
Most Of US' Global Military Deployment Is Shifting From Europe To Asia; What's Driving The Change?
In addition, Hyundai Heavy Industries is working on developing a second revision of the KDX-III Sejong the Great-class destroyer. It is expected to be equipped with Raytheon's advanced RIM-161 ship-based missile defense system.
Japan also operates two ships capable of launching and receiving F-35B stealth fighters. The Izumo-class multi-purpose destroyers are Japan Maritime Self-Defence Force (JMSDF)'s helicopter carriers.
The Izumo class are the largest surface combatants for the JMSDF and can operate the F-35 Lightning aircraft after modifications.