The Ukrainian military is set to lay its hands on South Korea's Chiron man-portable air defense system (MANPADS), as per a recent report by a Czech daily newspaper, iDnes.
South Korea will indirectly supply approximately $2.9 billion worth of arms to Ukraine through the Czech Republic. The US will reportedly finance the arms supply.
"The Americans will pay for the weapons – rocket launchers and cannon ammunition worth billions of dollars (sources of the editorial office speak of approximately three billion dollars, i.e., about seventy-five billion crowns in conversion)," reported iDnes on September 29.
The weapons will primarily include the South Korean Chiron (KP-SAM Shingung) MANPADS, according to iDnes.
Chiron (KP-SAM Shingung)
Produced by the South Korean aerospace and defense company, LIG Nex1, the Chiron MANPADS is intended to protect troops in the forward area from low-flying threats. Known in South Korea as 'Shingung,' it is marketed internationally as Chiron.
The development of the system began in 1995, and it entered service in South Korea in 2005. Apart from that, the Chiron is also used by the armed forces of Indonesia and Peru.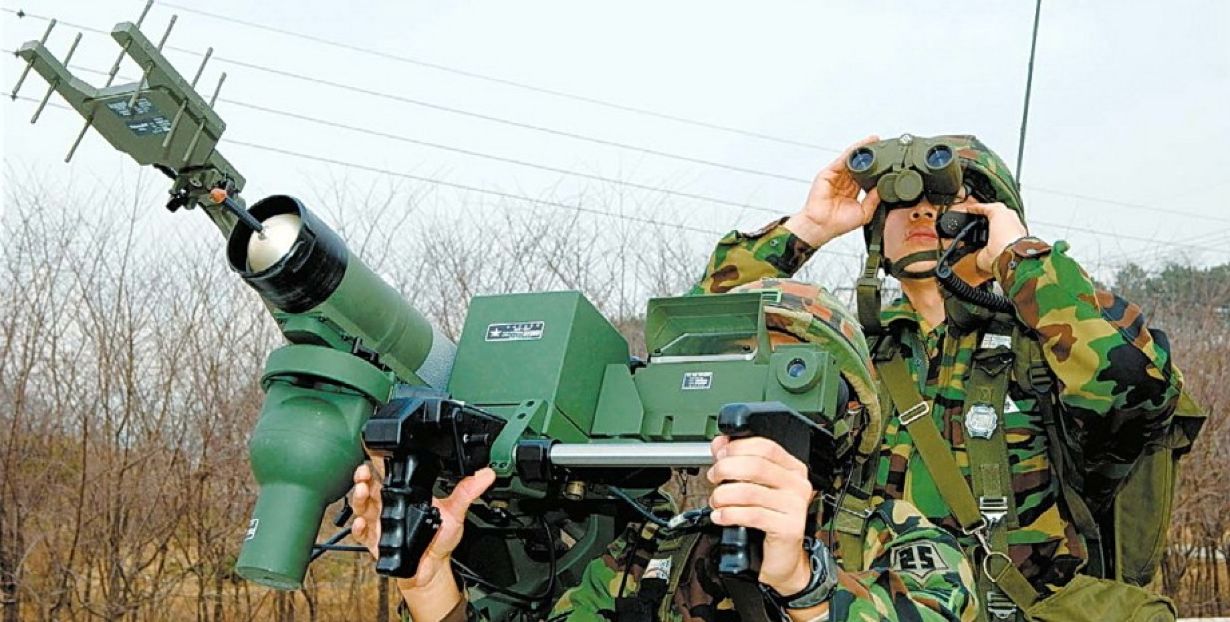 The MANPADS can be used to destroy fixed-wing aircraft, rotary-wing aircraft, helicopters, Unmanned Aerial Vehicles (UAVs), and cruise missiles from around seven kilometers. Its probability of hitting non-maneuvering targets is said to be 90%.
The Chiron's surface-to-air missile (SAM) features an integrated friend or foe (IFF) system. It is equipped with a two-color (IR/UV) seeker, which enables the missile to negate the impact of infrared countermeasures (IRCM) employed by low-flying aircraft.
According to South Korea's Agency for Defense Development, the missile is superior to the American FIM-92 Stinger and the French Mistral in hit probability, price, and portability, making it invaluable in the field.
The Chiron will be the latest addition to Ukraine's ever-growing arsenal of MANPADS that has played a significant role in the ongoing Ukraine war. Russia and Ukraine have employed MANPADS to a great extent in their air-denial strategy against each other.
For example, Russia's Commander-in-Chief of the Ground Forces, Oleg Salyukov, said in an interview on September 30 that one-third of Ukrainian fighter jets were shot down using Igla-S and Verba MANPADS.
Also, a retired-Russian fighter pilot admitted the effectiveness of Ukrainian MANPADS in a recent interview with EurAsian Times.
"Most of our Su-35s, Su-24s, and Su-34s have been hit while flying at low altitudes," a retired Russian pilot told EurAsian Times, who requested anonymity.
Therefore, since the onset of the war in February, thousands of MANPADS of different types from several countries have been supplied to the Ukrainian forces across the country, with more on their way. For example, the US government has committed to providing Ukraine with over 1,400 Stinger anti-aircraft systems.
Likewise, the South Korean Chiron MANPADS was also sought after by Ukraine for a long time. However, Seoul was unwilling to supply the system because of South Korea's "principled stance" on not providing lethal military equipment to the war-torn country.
South Korea Had Turned Down Ukraine's Request For Chiron MANPADS 
In April, South Korea reportedly turned down a Ukrainian request for the anti-aircraft system. The request was made by the Ukrainian defense minister Oleksiy Reznikov in a call with his South Korean counterpart Suh Wook.
However, "Minister Suh politely repeated the South Korean government's principled stance that its aid is confined to non-lethal materials," a South Korean defense ministry official told This Week in Asia.
Shortly after that, President Zelensky also appealed to the South Korean lawmakers for arms, citing the country's national history by recalling how the international community helped South Korea during the 1950-53 Korean War.
"South Korea has various weapons that are required to protect us from Russian tanks, ships, and missiles," Zelensky said through an interpreter. "Please help us to stand up against invaders," he said in his appeal.
It appears that Seoul has finally decided to accommodate Ukraine's request, albeit through indirect means.
However, Ukraine's request was not confined to the Chiron MANPADS, according to Kim Jong-dae, a military expert and former lawmaker of the pro-labor Justice Party, who said that Ukraine wanted South Korea's Cheongung II midrange surface-to-air missiles (M-SAM) system.
The Cheongung II SAMs are based on the technology from the 9M96 missile used on Russian S-350E and S-400 missile systems. The missile can engage incoming enemy aircraft and ballistic missiles at an altitude below 40 kilometers.
Furthermore, the missiles are said to have anti-electronic warfare capabilities to keep functioning, despite jamming.
This would be a very advanced high-tier air defense system for Ukraine, and Kyiv's interest in the system is understandable.
As EurAsian Times has discussed at great length, the forward-deployed medium and long-range air defenses force the enemy fighter jets to fly at altitudes below 4500 meters, right into the range of the man-portable air defense systems (MANPADS). Without these, the MANPADS will be rendered useless.