The lesson from the ongoing war in Ukraine is that drones, costing not even one percent of a fifth generation of fighter aircraft, can create problems for South Korea in more senses than one seems to have been well realized by the North Korean strongman Kim Jong-un.
And he very effectively applied that lesson on December 26 by ordering five unmanned aerial vehicles that cross the border and enter South Korean airspace. One of them entered the northern end of a 3.7km (2.2 miles) radius no-fly zone around South Korea's Presidential office in Seoul.
That these drones were not detected and brought down by the South Korean armed forces even though they flew over South Korean territory for hours is a serious matter. They were over the densely populated city of Seoul and residential areas along the western inter-Korean border for hours. And, all the five returned unharmed to the North.
Experts imagine what would have been consequences had these drones carried chemical and biological weapons. "For example, the release of 1 to 2 kilograms of anthrax along the route the one drone took into northern Seoul could kill tens of thousands of people or far more and create a major medical crisis in the ROK," points out Bruce Bennett, a senior defense analyst at the Rand Corporation, a US policy think tank.
"North Korea potentially could fly several dozen armed drones into the ROK (South Korea) Presidential Office or National Assembly or an oil refinery, causing serious damage," Bennett adds.
He said neither a state-of-the-art fighter jet nor an intercontinental ballistic missile killed top Iranian general Qassem Soleimani in Baghdad three years ago. It was a strike by an MQ-9 Reaper drone.
Although it would take a long time for North Korea to be able to copy anything close to such a high-level operation, South Korea should never underestimate what Pyongyang can ― and hopes to do ― with drone technology, Bennett suggests.
Understandably South Korea's relatively new President, Yoon Suk-yeol, is under tremendous domestic pressure. South Korean media has criticized how "Drone incursions have laid bare the South's insufficient readiness to detect, track and shoot down such small drones."
And this drone incursion has come at a time when  South Korea's air defenses are otherwise criticized as inadequate against the growing threats from North Korea, which is developing its ballistic missile technologies, including test-launching an unprecedented number of missiles last year.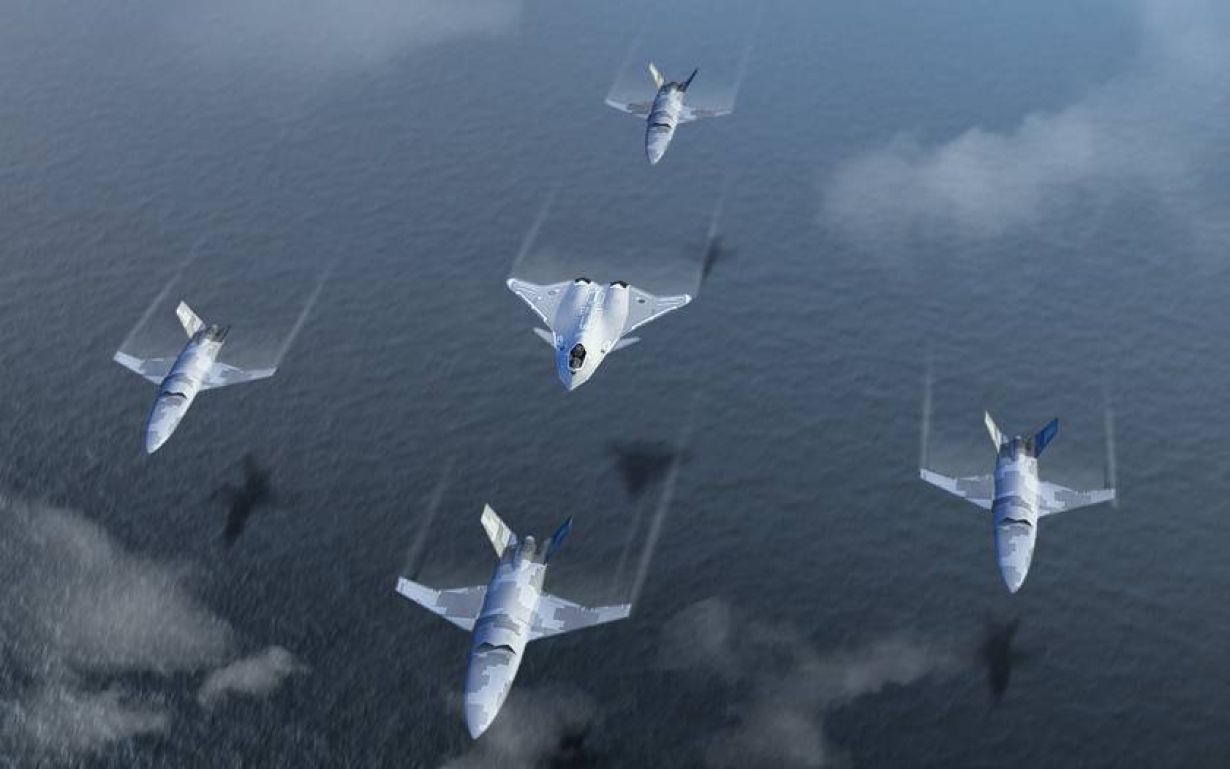 Predictably, North Korea's latest drone infiltration and public criticism that the government did not respond appropriately to the provocation have resulted in President Yoon Suk-yeol's approval rating falling. His disapproval rating was as high as 57.2 percent.
And this is even though President Yoon, unlike his predecessor Moon Jae-in, is a hardliner against North Korea and has adopted an explicit "tit for tat" policy when responding to North Korean aggression.
Soon after the North Korean drone incursion, South Korea retaliated by sending one of its drones into the North for the first time and vowed to send two or three more for every future North Korean drone incursion. This follows Yoon's "three-for-one" strategy: South Korea must retaliate with at least three times as much force as North Korea, missiles or drones.
President Yoon has also ordered his defense minister Lee Jong-sup to establish "a comprehensive drone command" that performs multipurpose missions, including surveillance, reconnaissance, and electronic warfare. He has also called for a system to mass-produce stealth drones with a plan to invest 560 billion won ($441 million) into bolstering counter-drone capabilities over the next five years, including the deployment of a laser weapon system.
It may be noted that though South Korea's Army has operated two drone squadrons within its Ground Operations Command since 2018, they were primarily designed to prepare for future warfare.
It has been in the pilot phase. But, the proposed new drone command will operate "at the strategic and operational level that is different from the existing drone battle level," the South Korean Defense Ministry said in a media release. It will "carry out operations in all areas beyond the army's command level."
Most importantly, President Yoon has threatened to suspend a 2018 inter-Korean military pact with Pyongyang if drones violate his country's airspace again.
"He instructed the national security office to consider suspending the validity of the military agreement if North Korea stages another provocation invading our territory," presidential press secretary Kim Eun-Hye told a briefing. It also highlighted how North Korea violated that agreement 17 times, including 15 times since October last year.
The 2018 deal, sealed on the sidelines of a summit between North Korean leader Kim Jong Un and former South Korean President Moon Jae-in, called for ceasing "all hostile acts," establishing buffer zones on the land, in the sea, and the air between the two Koreas and a suspension of hostile activities. It included a no-fly zone around the border and removing landmines and guard posts within the heavily fortified Demilitarized Zone (DMZ).
The agreement included the suspension of mutually hostile activities, demilitarization of the Joint Security Area (JSA), trial removal of guard posts inside the DMZ, joint recovery of Korean War remains, and shared use of the Han River estuary.
On the ground, the two sides agreed to completely cease artillery drills and field training exercises at the regimental level and above within 5 kilometers (3 miles) of the Military Demarcation Line (MDL).
At sea, the two sides installed covers on the barrels of naval guns and coastal artillery and closed gunports in a buffer zone north of Deokjeok Island and south of Cho Island off the peninsula's western coast and north of Sokcho and south of Tongcheon on the eastern coast. They also ceased all live-fire and maritime maneuver exercises within the zone.
In the air, the two Koreas established no-fly zones for different kinds of aircraft along the MDL. For unmanned aerial vehicles (UAVs), the no-fly zone is set at 15 kilometers from the MDL in the east and 10 kilometers in the west.
The intrusion of five UAVs into the airspace above the greater Seoul area on December 26 violated the comprehensive military agreement. As pointed out, North Korea has violated the September 19 military agreement 17 times.
Incidentally, South Korea admits it has violated the September 19 military agreement twice, but that has been while responding to North Korean violations.
Be that as it may, Yoon's threat to abandon the 2018 pact could mean the return of live-fire drills in the former no-fly zone and propaganda broadcasts across the border. And that, in turn, will further give the North Korean dictator another excuse to strengthen his weaponization programs.
As it is, soon after sending drones to South Korea, Kim Jong-un unveiled new goals for the country's military for 2023.
Understandably, the weaponization program would include more tactical nuclear weapons, a new intercontinental ballistic missile, hypersonic gliding flight warheads, nuclear-powered submarines, and a reconnaissance satellite if the five-year plan laid out at a Workers' Party (North Korea's ruling party) Congress in early 2021 is anything to go by.
Secondly, when one talks of a drone command, it will be a fundamental change from the previous plan of 2018 ( the pilot project)  in the sense that South Korean UAVs or drones should not now confine themselves within South Korea and operate over the whole Korean Peninsula.
The 2018 – pilot project was supposed to implement a "proactive deterrence strategy" against the increasingly complex and multidimensional military threats that North Korea presents. The UAVs were to facilitate prompt and accurate assessment of such threats and conduct ISR (surveillance and reconnaissance) collection missions. But, the present situation warrants a change in that approach.
Of course, warfare on the Korean Peninsula has constantly been beset by difficulties resulting from the complex terrain. High and steep mountains, often covered with woodland and also much affected by seasonal changes, are not an easy battlefield to cope with.
This setting maximizes the utility of UAV operations, which can be conducted even within narrow and confined valleys, providing on-scene commanders with the intelligence they require to identify tactical targets and avoid miscalculations in close-range combat situations.
However, President Yoon's drone command could have a potential impact on the 1953 Armistice-Agreement that suspended the Korean War (the war has not ended, technically speaking, as an armistice agreement is not a peace agreement) and has maintained an uneasy peace on the peninsula for seven decades, some Korean military analysts argue.
Once the South is comfortable with intruding into the North, there are legal issues to be considered in determining rules of engagement (ROE) due to the division of the Korean Peninsula.
The North is a habitual violator of agreements and commitments, but how can the South do the same and be in the dubious company of the North? So runs the argument. "So we find ourselves at the same level as the North Koreans."
In other words, the drone command could create a diplomatic headache for Yoon.
Author and veteran journalist Prakash Nanda has been commenting on politics, foreign policy on strategic affairs for nearly three decades. A former National Fellow of the Indian Council for Historical Research and recipient of the Seoul Peace Prize Scholarship, he is also a Distinguished Fellow at the Institute of Peace and Conflict Studies.
CONTACT: prakash.nanda (at) hotmail.com