South Korea has made a concerted effort to sell its indigenous light combat aircraft, FA-50,  to various countries in recent years. The aircraft called Fighting Eagle is developed by Korea Aerospace Industries (KAI) in partnership with US defense giant Lockheed Martin.
Stealth Fighters, Satellite-Hunting Missiles – India Likely To Acquire 'Highly Advanced' Russian Miliary Hardware
South Korea's Defense Acquisition Program Administration (DAPA) released a statement saying that KAI is in talks with the Slovakian government to sell 10 FA-50 domestic trainer jets for $500 million.
According to Korea Herald, KAI is expected to sign an agreement with Slovakia's state-run defense firm LOTN on November 3 (Hungarian time) to ensure seamless bilateral collaboration in its efforts to export domestic FA-50 fighters.
Minister Kang Eun-ho of DAPA will attend the signing ceremony in Budapest, Hungary's capital. The summit between South Korean President Moon Jae-in and his counterparts from four central European countries — Hungary, the Czech Republic, Poland, and Slovakia — will take place in Budapest on November 4.
With JF-17 Out, India's HAL Tejas, S.Korean FA-50 FighIt it Out For Malaysian Military Aircraft Tender
Slovakia's Interest In Korean Aircraft
Slovakia has been seeking a defense partnership for its aging fleet of L-39 trainer aircraft. South Korea is expected to issue a request for proposals by next year.
Last month, the FA-50 received global attention when President Moon flew in it for the first time during a defense exhibition, demonstrating his faith in the warplane.
Tejas Mk-2 – India's New SuperFighter Is Now One Of Top 4 Light Combat Aircraft In The World Along With 'Idol' Saab Gripen
In his speech at the defense expo, he said that the purpose of developing a robust military is to promote peace. He went on to say that South Korea should step up its efforts to become a global leader in the defense industry.
The Korean Air Force has already inducted this fighter jet and is now pitching it to the global market. The DAPA awarded Korea Aerospace Industries a $600 million contract in December 2011 for the production and supply of 20 FA-50 aircraft to the ROKAF by 2014.
In May 2013, DAPA signed a one billion dollar follow-on serial production deal with KAI for the FA-50 aircraft.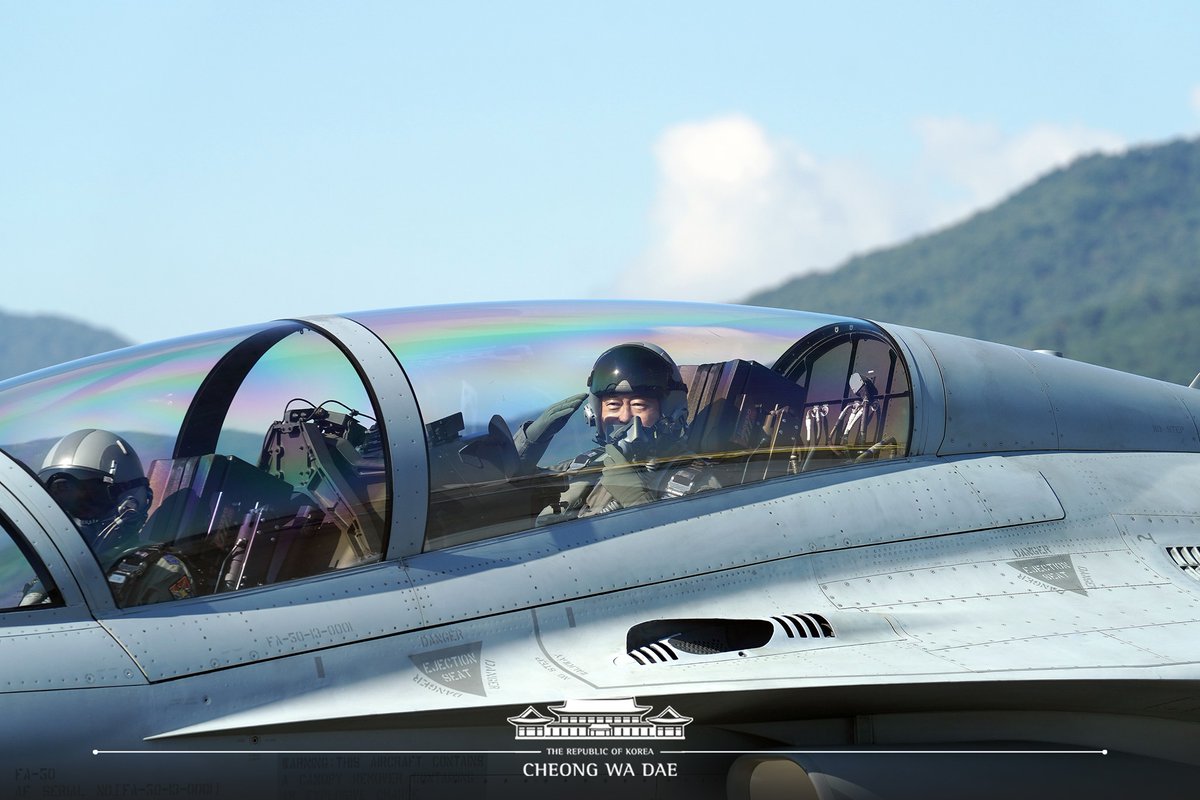 The planes were first delivered in 2013. The FA-50 is a supersonic advanced light attack platform based on the T-50 supersonic advanced trainer platform that is both affordable and effective.
The T-50 family of aircraft includes supersonic trainers, light combat aircraft, and multirole fighters, and the FA-50 is one of them. The "TA-50" is the name of the light combat aircraft variant, while the "FA-50" is the name of the multirole fighter variant.
The FA-50 Fighting Eagle is the lighter variant of the T-50 Golden Eagle. Produced along similar lines to the Yak-130 and M-346, the Golden Eagle has an internal General Dynamics M197 20 mm three-barrel Gatling-gun and seven external stations.
A weapon load of up to 4.5 tonnes can be carried by the FA-50 aircraft. The fighter jet can be armed with AIM-9 Sidewinder short-range air-to-air missiles, AGM-65 Maverick air-to-ground tactical missiles (AGM), GBU-38/B Joint Direct Attack Munitions (JDAM), CBU-105 Sensor Fused Weapon (SFW), Mk-82 Low Drag General Purpose (LDGP) bombs, and Cluster Bomb Units (CBUs).
An internal three-barrel 20mm Gatling gun and an LAU-3/A 19-tube 2.75′′ rocket launcher for launching Folding-Fin Aerial Rockets are also installed on the aircraft (FFAR).
The KAI FA-50 is powered by a General Electric F404-GE-102 turbofan engine with an afterburner that produces 17,700lbf of thrust. A dual-channel full authority digital engine control (FADEC) system regulates the engine's performance.
Export Potential Of FA-50 Fighting Eagle
The FA-50 is viewed as a viable aircraft for several developing countries' Air Force fleets. Some of them have already acquired this aircraft, while others are still evaluating it for their Air Force.
"Pushing Law Of Physics" – Northrop Grumman's New Long-Range Stealth Fighter Aircraft Breaks Cover?
The aircraft's first combat experience came in the Battle of Marawi in the Philippines when it was deployed against Islamic State-affiliated terrorists.
In December 2013, Iraq announced the purchase of 24 FA-50 jets designated T-50IQ from South Korea.
In March 2014, the Philippines approved a $420 million deal to deliver 12 FA-50A multi-purpose fighters to the Philippine Air Force (PAF). Its other variant, the T-50, has been exported to Indonesia and Thailand as well.
JF-17 Thunder Block III Variant To 'Outflank' Russian MiG & Sukhoi Fighters For Azeri Air Force Contract — Reports
Malaysia, the United Arab Emirates, Vietnam, Croatia, Colombia, and Peru are among the potential future customers for this aircraft. Meanwhile, Argentina's plan to purchase FA-50 has been blocked by the British government, as reported by The EurAsian Times.