Russia plans to present its prospective S-500 Prometey (Prometheus) air defense systems in the international arms market by 2030, Alexander Mikheev, the head of Russia's state arms exporter Rosoboronexport, told Sputnik.
The S-500 missile system, which was tested last month, could put the US' most advanced stealth fighters like F-35 and F-22 at greater risk. The S-500 missiles can also shoot down all kinds of missiles, including ICBMs and hypersonic ones, according to Russian military experts.
First S-500 deliveries to the Russian armed forces are scheduled for the end of the year.
"We plan to introduce the S-500 air defense missile system on the global market by 2030," Mikheev said at the Army-2021 military forum.
The S-500 Prometey is a next-generation surface-to-air missile system with a range of around 600 kilometers (370 miles), designed for intercepting and destroying intercontinental ballistic missiles, as well as hypersonic cruise missiles and aircraft.
According to top Russian military officials that EurAsian Times earlier quoted, the S-500 will not replace the existing systems but will supplement them.
The system is expected to support the already vast air defense layers of Russia, which includes S-400, S-300, and a vast inventory of short-medium range surface-to-air missile (SAM) systems.
Earlier, experts said that Russia's S-500 systems would be capable of intercepting hypersonic missiles of the US Long-Range Hypersonic Weapon (LRHW) that is presently under development.
Popular Mechanics magazine reported that the US army's new LRHW will allow it to stage a strike on Russia in the event of a conflict. The maximum speed of the warhead is expected to be 17 times higher than the speed of the sound, making it possible to hit targets located at a distance of up to 2,700 kilometers (1,677 miles).
"Russia's new anti-aircraft missile system S-500 Prometheus is capable of intercepting maneuvering hypersonic aerospace attack vehicles flying at even higher speeds. Therefore, the … LRHW is in the category of targets that S-500 hits with a high probability," the experts said.
According to Nitin J Ticu, a defense expert with the EurAsian Times, the Russian S-500 has been developed to neutralize NATO's advanced stealth aircraft, including F-35 Lighting II and F-22 Raptor.
He further adds that the S-500s can detect and engage up to 10 ballistic hypersonic targets simultaneously but its actual engangement with the F-22 Raptor can only be conceptualized but not really predicted. 
India's S-400 Deal With Russia
Russia's S-400 Triumf is one of the world's most powerful air defense systems. The S-400 missiles are set to arrive in India by the end of 2021.
The S-400 system was developed by Almaz Central Design Bureau of Russia and has strong specifications. It integrates a multifunction radar with autonomous detection and targeting systems, anti-aircraft missile systems, launchers, and a command and control center.
Not only can the system engage all types of aerial targets, such as aircraft, unmanned aerial vehicles (UAVs), and ballistic and cruise missiles, but it can do so simultaneously. It can engage up to 36 targets within the range of 400 km, up to 30 km above surface level. It also has the ability to fire three types of missiles to create a layered defense.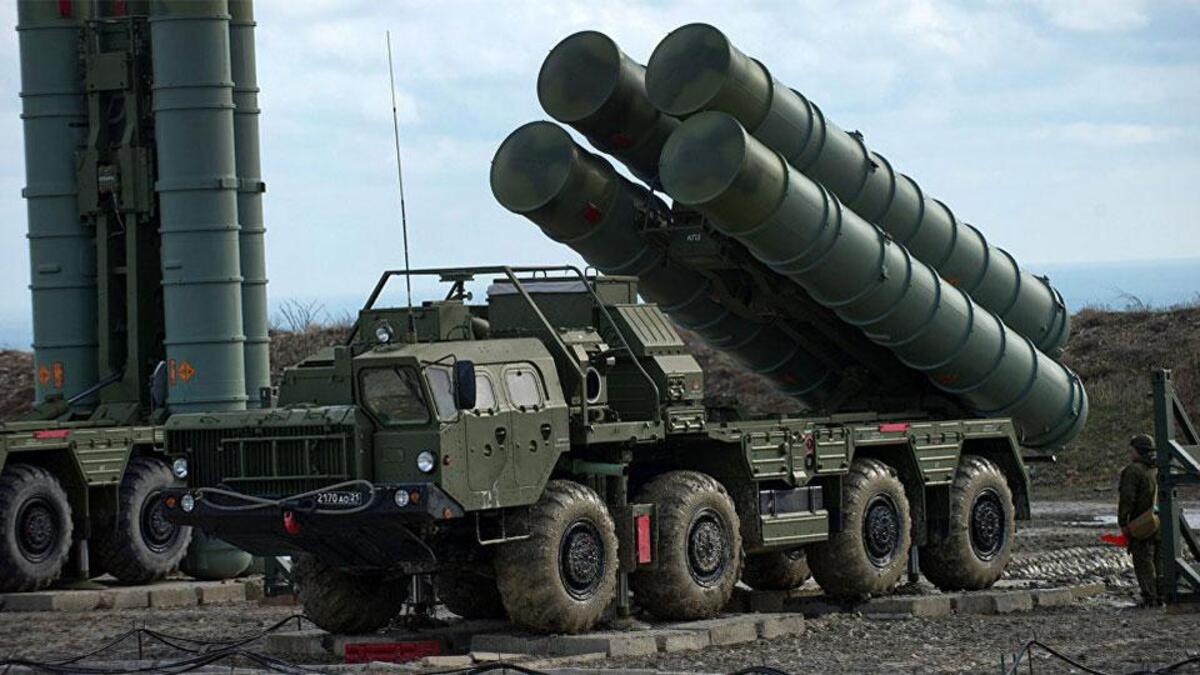 The system uses four new missile types, in addition to the missiles of the S-300PMU system of which this one is an improvement. The first missile designed for the system was the 48N6DM (48N6E3). It has a powerful propulsion system and is an improved variant of the 48N6M. It has a range of 250 km and can strike down airborne targets within this range.
The second missile, the 40N6, has a claimed range of 400 km and uses active radar homing. It can be launched against several high-value targets such as AWACS, J-STARS, EA-6B support jammers among others.
The system can also launch 9M96E and 9M96E2 medium-range ground-to-air missiles. These are both designed for direct impact and can strike fast-moving targets with high hit probability. These include fighter aircraft as well. Their maximum ranges are 120km each.
Why Is The US Unhappy
India had signed a $5.43 billion deal with Russia in October 2018 for five S-400 regiments. Vyacheslav Dzirkaln, the deputy CEO of the air and space defense company Almaz-Antey, said that Russia will begin to deliver the surface-to-air missile (SAM) defense system S-400 by the end of 2021.
He also said that the first group of Indian specialists has completed its training with the system while the second group is still undergoing it.
India is likely to deploy the S-400 regiments close to its China and/or Pakistan border.
However, India buying these high-tech missiles from Russia has not gone down well with the US. Under the Countering Americas' Adversaries Through Sanctions Act (CAATSA), which came into effect after allegations of Russia meddling in the 2016 US Presidential Elections, there is a provision that requires the imposition of sanctions on any nation that has significant transactions with the Russian defense industry.
The US' adversaries like China, as well as its allies, like Turkey, have both faced sanctions. Ankara, a NATO member, had drawn Washington's wrath following its acquisition of S-400 missile systems from Russia and was expelled from US F-35 Joint Strike.
Analysts say the radars attached to the S-400 system are capable of detecting even stealth fighters like US F-35 Lightning II.
In India's case, however, there are high chances of a sanctions waiver. The context of India's defense imports is important in this consideration.
Traditionally, Russia had been the No. 1 arms supplier to India and accounted for about 80% of India's weapons imports until the early 1990s. But Moscow's share in the Indian defense acquisition has fallen to 56% now, while the US' share has gone up significantly. This is a good trajectory from Washington's point of view.
Additionally, India and the US are aligned on multiple issues and share geopolitical groups such as Quadrilateral Security Dialogue or QUAD. Putting sanctions on India will lead to friction in these areas. More importantly, putting sanctions on India would just make it more reliant on Russia for arms imports.
The global demand for the Russian S-400 is high. Currently, Russian and China deploy the missile system. Turkey has acquired it but has not deployed it yet. There are also reports of Saudi Arabia showing interest in procuring the S-400 system from Russia. Algeria was believed to have deployed it in 2019.
— With inputs from Shreya Mundhra and Sputnik International