After nearly a year-long dilly-dallying, the Biden administration has finally decided to arm Ukraine with long-range ATACMS missiles with multiple cluster munitions instead of a single warhead, informed sources told the Western media.
US President Joe Biden is known to have overcome his lingering hesitation about transferring the long-range ATCAMS. Since last year, Ukrainian officials have been pleading for the ATACMS to hit supply lines, airbases, and rail networks behind Russia's front lines.
According to several reports, including in The Wall Street Journal, a small number of ATACMS will be sent in the coming weeks, and more could be provided later. The United States has developed around 4,000 ATACMS in total, including a version with a unitary warhead and many varieties of cluster munitions.
Ukrainian President Volodymyr Zelensky was reportedly informed of the decision on his latest visit to Washington, although the decision was allegedly made before he even embarked on this trip. The White House is currently dithering to publicly announce that the ATACMS have been set aside for Kyiv's forces.
The hesitation to publicly announce the shipment could likely result from the Russian Ministry of Foreign Affairs warning that supplying longer-range missiles to Kyiv would cross a "red line" and that the US would be seen as "a party to the conflict" in Ukraine.
ATACMS has become a bone of contention as it can strike targets 300 kilometers away. However, adding the lethal cluster munitions would make it significantly more powerful.
Earlier, a report in Reuters dated September 11 indicated that the US was considering shipping either or both Army Tactical Missile Systems (ATACMS) or Guided Multiple Launch Rocket System (GMLRS) missiles with a 45-mile range packed with cluster bombs after observing the success of cluster munitions delivered in 155 mm artillery rounds.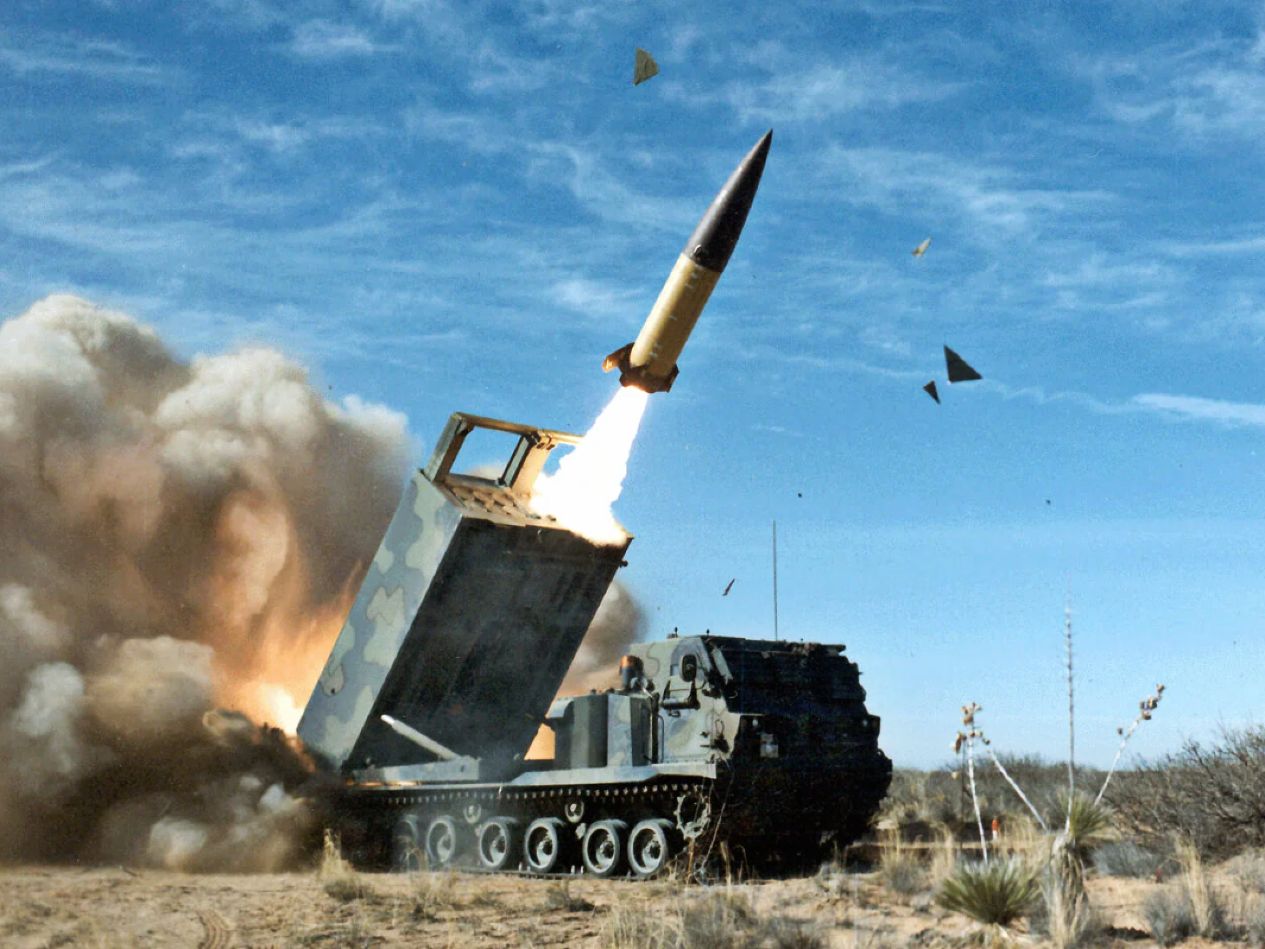 With several hundred "mini-bombs" (also known as sub-munitions), cluster bombs are weapons intended to be dispersed across huge areas. These tiny bomblets or sub-munitions make no distinction between military or civilian targets and cause massive collateral damage.
As of now, Ukraine has 155 mm artillery with a maximum range of 18 miles and the capacity to carry up to 48 bomblets. The ATACMS, which is likely heading to Ukraine now, would propel around 300 or more bomblets, causing more extensive damage to the target where it lands.
Ukraine only has one type of cluster munitions supplied by the United States, the 155 mm rounds that were announced in July. The new weapons would supplement Ukraine's existing 45-mile-range GMLRS rounds, a variation of which blasts out more than 100,000-pointed tungsten pieces but no bomblets.
Employing Lockheed Martin's (LMT.N) ATACMS, which come in various configurations, some of which can fly four times the range of GMLRS, could change how the battlefield is in Kyiv's favor. More importantly, cluster munitions are highly effective against area targets such as infantry, artillery, and vehicle convoys, so the combination would likely be lethal against the Russians.
Although Ukraine has the Anglo-French Storm Shadow/SCALP-EG long-range missiles employed to hit strategic Russian targets, they haven't towered over the need to acquire the American ATACMS.
Indian Army tankman and military expert Colonel Rajendra Bhaduri told EurAsian Times, "Ukrainian forces have suffered heavily in manpower and equipment including critical western supplied tanks and ICVs. ATACMS will give the Ukrainians standoff range to hit Russian targets, thus avoiding their damage.
Cluster ammunition is probably intended to restrict Russian ground forces from expanding their gains by littering the front with bomblets, which will remain a hazard for Russian infantrymen. The idea is to up the ante by the Americans, which will hurt the Ukrainians more even though it may serve American geopolitical interests against Russia."
It is well known that neither the UK nor France have an unlimited supply of missiles they can spare for Ukraine. Ukraine's lack of long-range strike capability due to running out of Storm Shadow missiles or its Su-24M launch platform could be one reason why the US is again considering supplying ATACMS after withholding them for so long.
ATACMS Is Affordable, Convenient To Use Over Storm Shadow
Ukraine used Storm Shadow long-range missiles in a strike against the Russian Black Sea Fleet headquarters in Sevastopol on September 22. Several photos and videos surfaced on social media showing the moment when the Ukrainian Storm Shadow slammed through the roof of the Russian Black Sea Headquarters building.
Fired by the Su-24 platform, these missiles have been employed multiple times to target the Russian BSF in occupied Crimea. However, despite their utility and super long range of about 500 kilometers, the ATACMS enjoys several advantages when conducting frequent long-range attacks.
Slowed down and zoomed-in footage of the Ukrainian Storm Shadow/SCALP ALCM slamming into (and through) the roof of the Russian Black Sea Fleet headquarters. pic.twitter.com/c8mas1OzAg

— OSINTtechnical (@Osinttechnical) September 22, 2023
For instance, a Storm Shadow missile costs about $3.2 million, significantly more expensive than an ATACMS missile, which costs US$1.5 million. Moreover, compared to the Su-24M launch platform of the Storm Shadow, the HIMARS launch platform of the ATACMS is also significantly affordable.
ATACMS is also more convenient since the HIMARS can launch it anywhere. Unlike a mobile HIMARS, the Su-24M operates from an airbase that is easier to locate and can quickly strike. There have been instances where Russia has attempted to obliterate the Storm Shadow carriers.
Even though the M270 HIMARS that carry ATACMS only have one launch tube, they look identical to the six-tube M142 HIMARS launchers that Ukraine has already received. A single missile is housed inside an ATACMS launch container, with a top with a six-circle pattern similar to an MLRS rocket. The ruse makes it more difficult for enemy intelligence to identify it as a high-value target.
Since the ATACMS launchers are highly challenging to find and destroy, the supply of ATACMS to Ukraine will present a significant challenge to Russian forces. The extended range of the ATACMS is expected to be used by Ukrainian forces to hit all along the front line rather than well behind it, and adding cluster munitions to it will make it all the more lethal.
According to military experts, just four M270 HIMARS with ATACMS can cover 1,000 kilometers of the battlefield. In addition, using the US and NATO's airborne and space-based ISR capabilities, Ukrainian forces will be able to identify any encampment of Russian troops or equipment along the whole front line and swiftly eliminate it with ATACMS launches.
Indian Air Force veteran and military expert Squadron Leader Vijainder K. Thakur earlier explained, "Russia's vaunted air defense systems will be forced to move back to stay out of ATACMS range to an extent where it will likely not be possible for Russia to exercise air dominance along the battlefront."
The pushback, according to Thakur, "will allow Ukrainian attack fighters and helicopters to operate closer to the battlefront and provide close air support to Ukrainian troops, something that they cannot do now."
Due to the constant threat of missile assaults from Ukrainian fighters, Russian armed helicopter operations along the front lines, essential in repelling the Ukrainian counteroffensive thus far, will lose their sheen. When Ukraine deploys its F-16s operationally, Russia's air superiority might vanish.
To keep them out of the range of the ATACMS, Russia will be compelled to relocate its supply depots and field headquarters farther back from the front lines. Russian supply lines will consequently be more exposed to attacks from Ukrainian rocket and barrel artillery, attack helicopters, FPV, and lingering kamikaze drones.
Contact the author at sakshi.tiwari9555 (at) gmail.com