The economic isolation of Russia and China has forced them to drop the dollar as the most favored currency of trade and enter deals to use national currencies – Yuan and Ruble – especially with the member countries of the Shanghai Cooperation Organization (SCO).
Russian President Vladimir Putin asserted the manifold increase in the country's trade with the SCO countries in yuan and ruble while addressing the virtual summit of SCO.
The summit conducted virtually under the leadership of India saw Iran, another close ally of Russia, getting full member status of the grouping.
Russian President Vladimir Putin said that the country has completely shunned the US dollar and was settling its account with China in rubles and yuan and is encouraging other SCO member countries to clear their payments through these two currencies.
"Russia will continue to strengthen ties with SCO member states, and these ties are becoming stronger and stronger. The trade between Russia and SCO countries increased by more than 37 percent last year. It reached a record high of 263 billion dollars. In January-April of this year, it increased by 35 percent more," Russian President Vladimir Putin said in his virtual address at the SCO summit chaired by India.
Russia has been invited to severe economic sanctions from the Western country after he led his country to invade Ukraine. The sanctions have weakened the Russian economy, and only a few countries have continued trade with Russia.
Russia has retaliated by 'de-dollarizing' its trade and expanding the use of national currencies and mutual settlement with its other overseas trading partners. "For example, more than 80 percent of commercial transactions between Russia and China are being done in rubles and yuan," he said.
The SCO was formed by China, Russia, and four Central Asian countries, Uzbekistan, Kazakhstan, Tajikistan, and Kyrgyzstan, in 2001 to limit Western influence in the region. Pakistan and India became members in 2017. The group is becoming more important for China and Russia as their relations with the West deteriorate.
In February 2022, members of the China-led Shanghai Cooperation Organization (SCO) – a bloc that consists of China, Russia, India, Pakistan, Uzbekistan, Kazakhstan, Tajikistan, and Kyrgyzstan – agreed to increase the use of their national currencies in trade between the countries.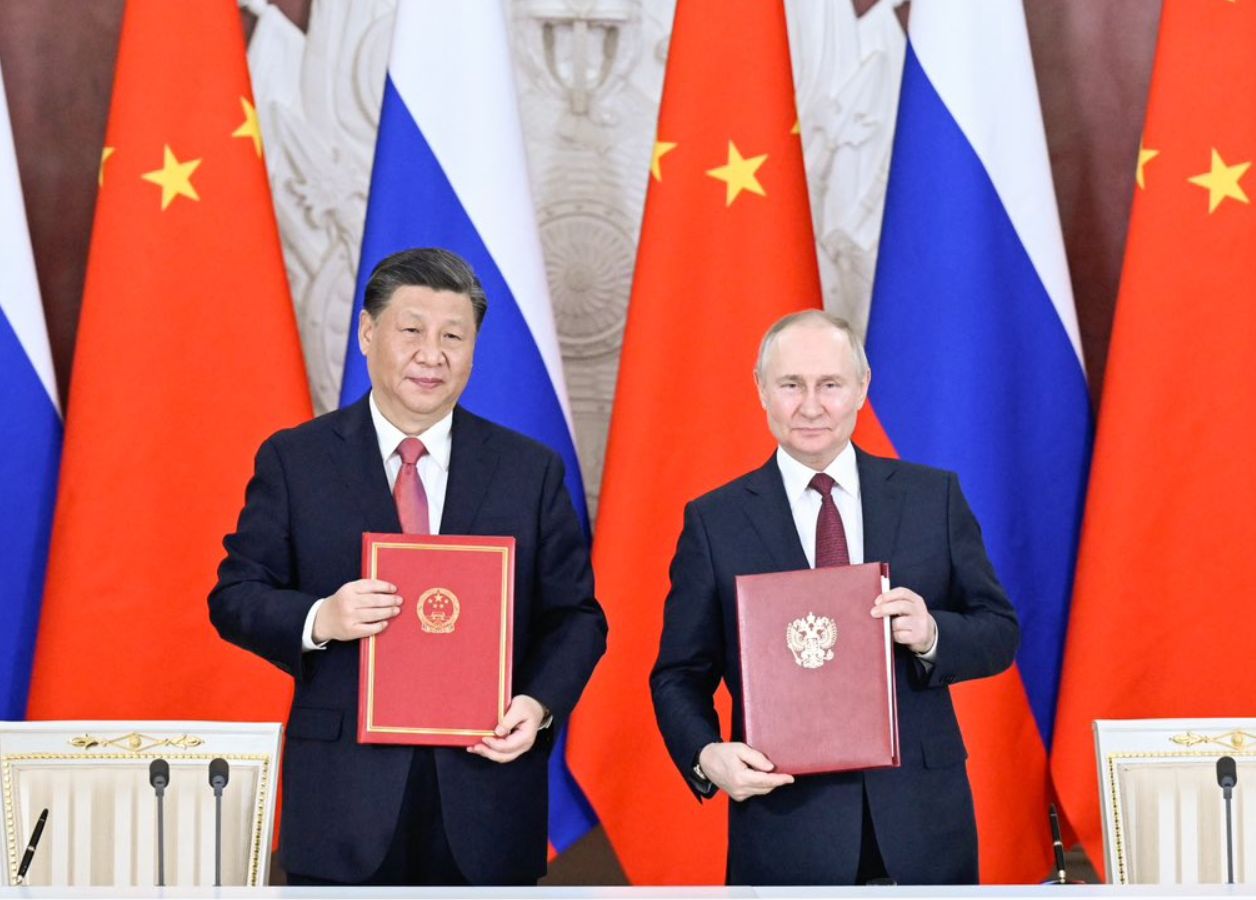 Countries Dropping The Dollar In Favor Of National Currency
The European Conservatives reported in April 2023 that following the Russia-Ukraine war and stringent sanctions against Russia, key geo-political players are moving to reduce their dependence on the US dollar and the US-dominated global banking systems. Russia's efforts to establish an alternative global banking system have gained momentum after the Ukraine invasion.
This arrangement is just not limited to China. India and Brazil are also taking measures to move towards such a system. There have also been reports about Russia and Iran working on creating a cryptocurrency backed by gold that will rival the US dollar as the mode of payment in international trade.
Since the beginning of 2022, there has been an eightfold rise in the ruble-yuan trade. A Reuters report on July 3, 2023, revealed that Indian oil refiners have begun paying for some oil imports from Russia in Chinese yuan. Indian Oil Corp, the country's biggest buyer of Russian crude oil, in June, became the first state refiner to pay for some Russian purchases in yuan, the report said.
At least two of India's three private refiners are also paying for some Russian imports in yuan. The rise in Yuan payments has given a huge fillip to Beijing's efforts to internationalize its currency.
India's Plan To Internationalize Rupee
But it also indicates the failure of India's efforts to convince Russia to accept rupees for oil payments. India has been dissuading its traders and banks from making payments in yuan. India's imports from Russia rose to a record in May, with Russian crude oil accounting for 40 percent of India's overall oil imports compared with 16.5 percent a year earlier.
India, also considered an ally of the United States, has been working towards internationalizing its currency. Indian Commerce Secretary, Sunil Barthwal, unveiled the country's new foreign trade policy on March 29, 2023. He said that India would use the rupee in trade with countries facing shortages of dollars or currency failures.
"Trade between India and Malaysia can now be settled in Indian Rupee (INR) in addition to the current modes of settlement in other currencies. This follows the decision by the Reserve Bank of India in July 2022 to allow the settlement of international trade in the Indian Rupee (INR)," the Indian Ministry of External Affairs announced.
India already trades in rupees with Russia, Mauritius, Iran, and Sri Lanka.
Ritu Sharma has written on defense and foreign affairs for over a decade. She holds a Master's Degree in Conflict Studies and Management of Peace from the University of Erfurt, Germany. Her areas of interest include Asia-Pacific, the South China Sea, and Aviation history.
She can be reached at ritu.sharma (at) mail.com