Saab presented the first six serial production Gripen E aircraft to the air forces of Sweden and Brazil, a landmark event that also saw the two countries discussing further cooperation and development. 
One of the most versatile 4.5 generation light combat aircraft in service, the Swedish JAS-39 Gripen E/F has made strides in the international market. It is the further development of the original Gripen, equipped with the latest, 21st-century state-of-the-art avionics.
"These deliveries form an important part of strengthening our capabilities and defending Sweden. JAS 39 E Gripen will increase Sweden's defense capability, allowing us to build a stronger and tactically superior Air Force for every situation," said Major General Carl-Johan Edström, Commander of the Swedish Air Force. 
The company's press release also mentioned that the authorities were also shown the Gripen simulator, aircraft production and testing facilities by Saab. Out of the 6 aircraft, 4 are scheduled to be delivered to the Brazilian air force while the remaining 2 are reserved for Swedish forces.
"It shows that we have a mature product and that we fulfill our contractual obligations," said Micael Johansson, President and CEO of Saab.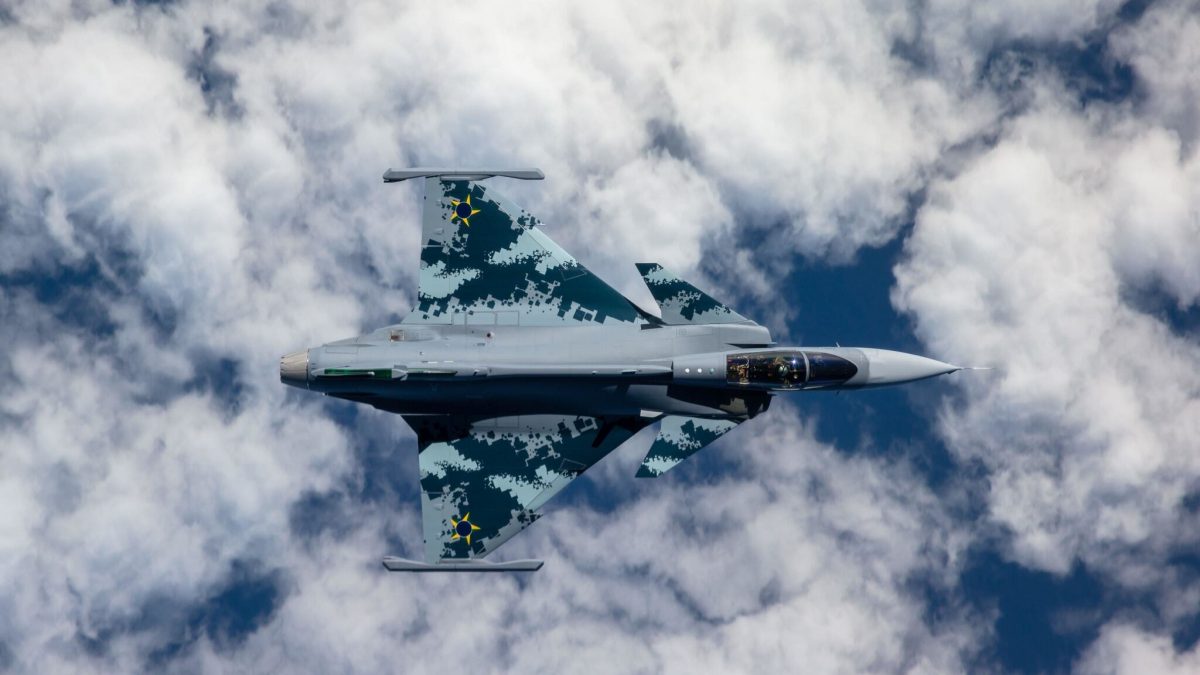 The JAS-39 E/F is also among the most technologically superior multirole combat jets, developed over the original JAS-39 C/D variants. The aircraft flew its first sortie in 1988 and was accepted into service in 1996.
It is a delta wing and canard configuration with digital fly-by-wire controls, and a relaxed stability design. The Gripen-E/F, earlier known as Gripen-NG ("next-generation") is capable of attaining speeds of Mach 2.
The main changes from C-variant to the newer E-variant involve a new GE-F414G engine, an AESA (Raven ES-05) radar, increased internal fuel capacity (almost 40% increment), new and improvised avionics and electronic warfare suite, and greater payload capabilities.
Saab has been relatively open compared to other companies in terms of technology transfer and setting up local production and collaborations. In addition, the aircraft is claimed to have the lowest operating and maintenance costs while boasting modern avionics comparable, if not superior to its contemporaries in the international market.
Much like Lockheed Martin's offering of the F-16 versions to its customers, Saab also offers a greater level of customization for its customers. This includes access to source code and technical documentation, allowing for the integration of a variety of munitions already in use by a country's air force. This makes Gripen a "programmable" aircraft- giving the aircraft space for potential upgrades in the future.
Gripen's next-generation armament also makes it a preferred choice. It was the first aircraft to carry the deadly Meteor beyond visual range air-to-air missile. It can carry approximately all of the modern western-developed munitions, including IRIS-T, AIM-9X, A-Darter, MICA, AIM-120 air-to-air missiles, and a variety of air-to-surface guided missiles and bombs.
The aircraft is also one of the prime competitors in India's new tender for multirole combat aircraft, and Saab has also offered a full technology transfer and local production for Gripen-E. However, its high reliance on foreign components was the reason for its rejection by New Delhi, which opted for French by Dassault Rafale.