An experimental Russian drone, Merlin-VR, has been reportedly destroyed by the Ukrainian armed forces. The images of this drone began circulating on social media on June 16.
"Ukrainian forces shot down a rare Russian Merlin-VR unmanned aerial vehicle for the first time. This is one of the most modern Russian reconnaissance drones with a payload of 6.5 kilograms and capable of flying at an altitude of up to five kilometers," reported Ukraine Weapons Tracker, an OSINT Twitter handle that tracks weaponry in the ongoing Ukraine war.
The drone is said to have an endurance of ten hours and can gather intelligence, guide artillery strikes, relay communications, and conduct electronic warfare (EW).
There is not much information available about this drone. According to the Russian state-owned media, Ria Novosti, it was developed by the Smolensk Research Institute of Modern Telecommunication Technologies and unveiled in September 2021.
#Ukraine: An extremely rare Russian Merlin-VR unmanned aerial vehicle for the first time was shot down by Ukrainian forces. This is one of the most modern Russian reconnaissance drones with a payload of 6.5 kg and capable of flying at an altitude of up to 5 kilometers. pic.twitter.com/4CyllLD1gg

— ?? Ukraine Weapons Tracker (@UAWeapons) June 16, 2022
A hybrid engine powers Merlin-VR, which according to the developers, offers a low acoustic signature, but that does not seem to have protected the drone from detection by the Ukrainian forces, thereby leading to its eventual destruction.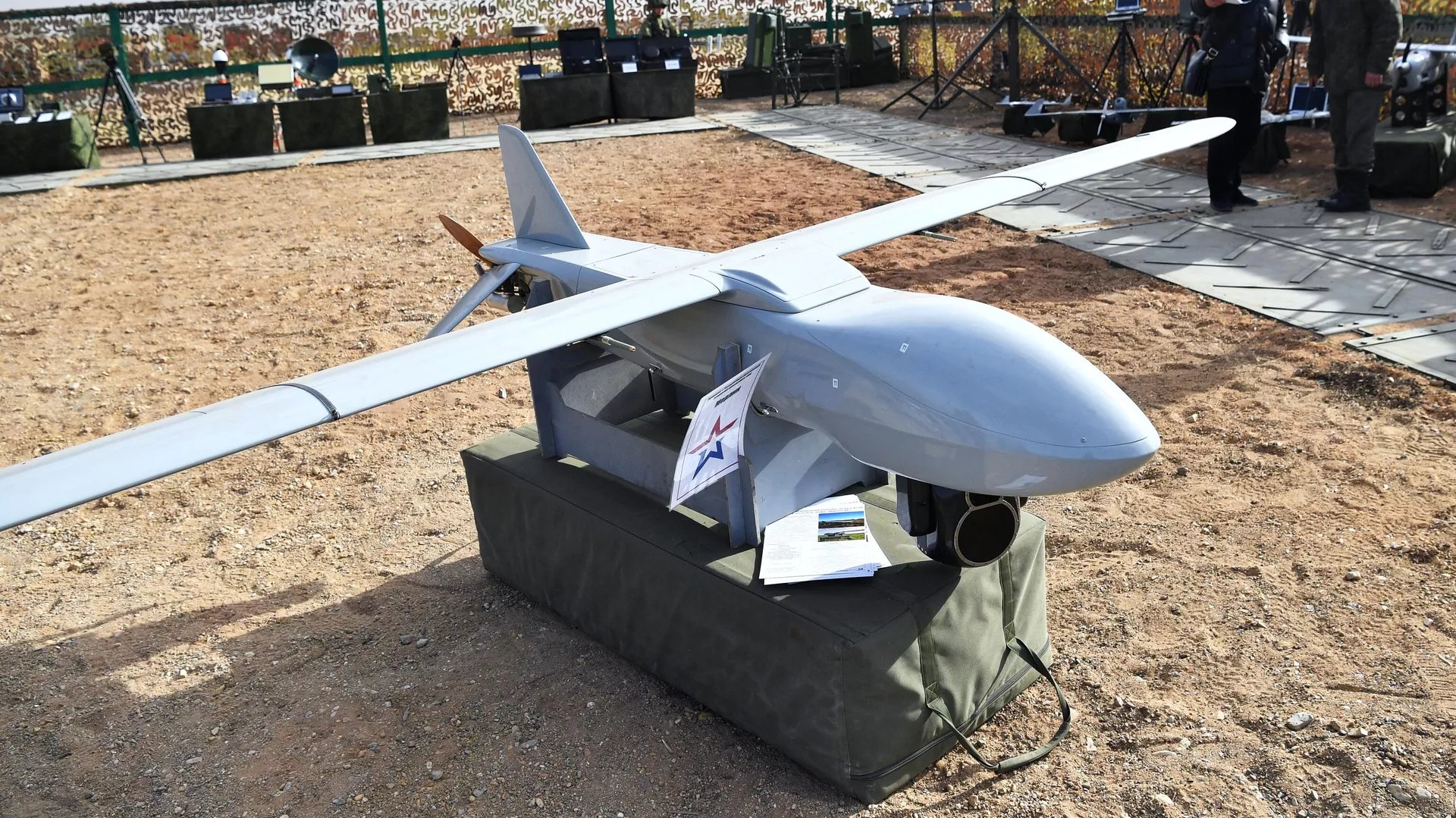 Both Ukraine and Russia have fielded various types of drones for attack missions and intelligence, surveillance, and reconnaissance (ISR) purposes. Still, so far, it is Ukraine that appears to be winning the drone war.
Especially the Ukrainian fleet of Turkish-made Bayraktar TB2 drones has received much fanfare for its impressive performance in the ongoing conflict, which has destroyed many Russian armored vehicles and air defense systems.
In the words of John Parachini, a military researcher with US-based Rand Corporation, "The tank was key at one point, but now drones may be the more decisive weapons system."
Russian Drones Suffer Heavy Losses 
The Russian drone fleet has not received that level of traction, except for the Orlan-10 and Zala Kyb, which appear to be the most commonly used drones by the Russian military in Ukraine.
While Zala Kyb is a kamikaze drone, it is the Orlan-10 that the Russian forces have widely used for ISR and EW in Ukraine.
Orlan-10 is a medium-range, multi-purpose unmanned aerial vehicle (UAV). With a 3.1-meter long wingspan and two-meter long fuselage, the drone has a maximum take-off weight of 16.5 kilograms. An internal combustion engine in the drone gives it an endurance of 16 hours and a cruising speed of around 65mph.
According to reports, the Russian fleet of Orlan-10s is suffering a high rate of losses at the hands of Ukrainian forces operating various portable electronic jammers, like the ЕDМ4S 'Sky Wiper' anti-drone jammer supplied by a Lithuanian company which EurAsian Times has reported about earlier.
Similar to the claims of the 'low acoustic signature' of the Merlin-VR, even Orlan-10 was said to be capable of surviving an intense EW environment.
However, as of writing this report, more than 60 Orlan-10 drones have been captured or destroyed by the Ukrainian forces, according to the figures compiled by the military tracking blog Oryx based on visual confirmations.
Zelensky's forces claimed to have shot down 593 Russian unarmed aerial vehicles, 215 aircraft, and 180 helicopters since the war began on February 24, 2022, according to a report by Express UK.
Corruption In The Russian Military
One of the reasons behind these immense losses the Russian drone fleet suffered could be corruption within the Russian military procurement process. A London-based defense commentator, David Hambling, pointed out, "In Russia, the military equipment you get is not necessarily as described in the specifications."
Russia uncovered a massive scandal about the Orlan-10 acquisition process in which 446.3 million rubles were stolen, according to the Russian Federal Security Service (FSB) investigation.
Also, in mid-April, a video was released by the Ukrainian defense ministry showing a Ukrainian soldier dismantling the captured Orlan-10. He points out that the drone's camera was a low-end Canon DSLR.
The soldier also said that the fuel tank cap on the drone was fabricated from a plastic water bottle and that the drone was wrapped in duct tape in several places.
"This is seriously real. Not fake," the soldier said, jokingly remarking, "We even thought of sending this 'cosmic' technology to our Western partners."