Ukrainian armed forces claimed to have destroyed one of Russia's 'best defense systems' used to defend the capital Moscow from Ukrainian drone and missile strikes, the Pantsir-S1.
Russian PANTSIR-S1 DESTROYED!!!

Video: 45th Separate Artillery Brigade of Ukraine reportedly destroy a Russian Pantsir-S1 Air Defense System near Bakhmut.#Pantsir #airdefense #artillery #Bakhmut #Ukraine #Russia #missile pic.twitter.com/07FhyLSXqY

— EurAsian Times (@THEEURASIATIMES) May 12, 2023
This was reported by the 45th separate artillery brigade of the Armed Forces of Ukraine on Facebook, according to Ukrinform.
"Minus Pantsir-S1. The Bakhmut direction. Air reconnaissance of the 45 separate artillery brigade detected Pantsir-S1, in cooperation with a missile unit and air reconnaissance of the 132 separate reconnaissance battalion, the system was turned into scrap metal," the report says.
The Pantsir defense system is a vital element of Russia's defense arsenal. The Pantsir S1 system has also been employed to defend Russian President Vladimir Putin and the capital Moscow.
The Pantasir can detect targets within a range of 32-36 km, with a tracking range of 24-28 km when negotiating targets with a Radar Cross Section (RCS) of 2m². Additionally, the radars can track surface-to-air missiles and the targeted object while in motion.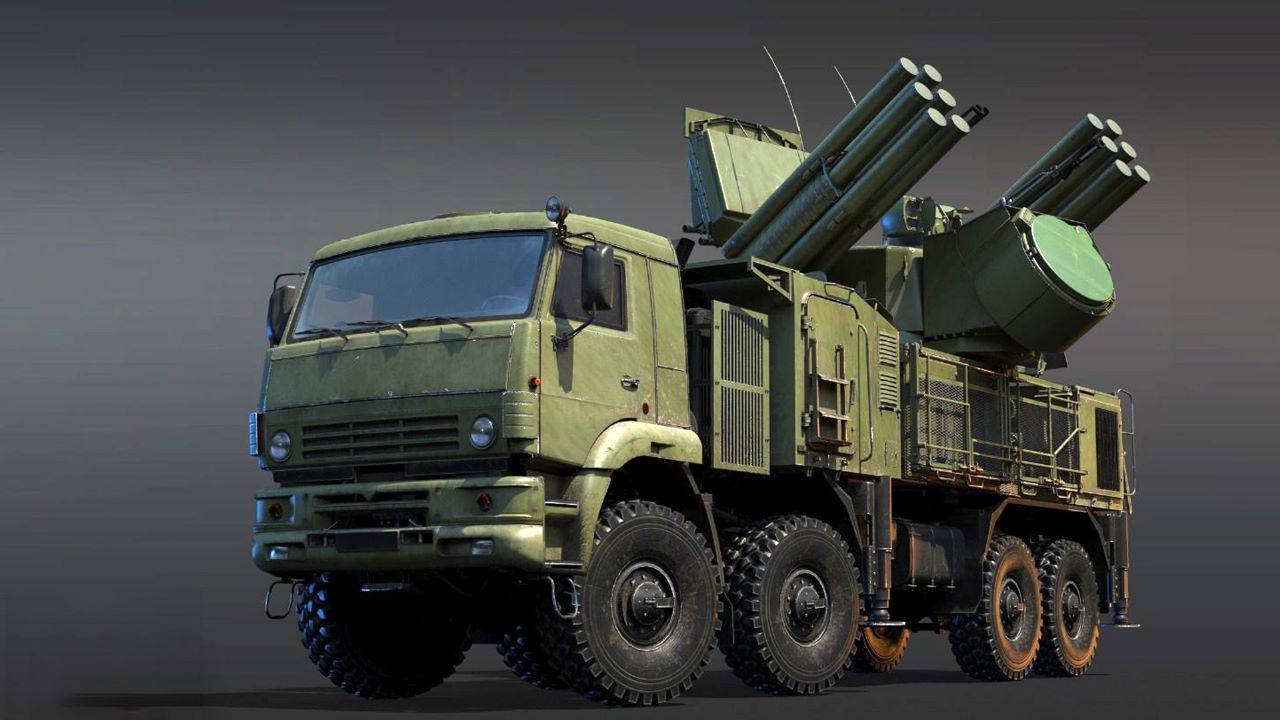 Kinzhal & Kalibr & S-300 Missiles
Amid a massive missile and drone attack unleashed by Russia on Ukrainian cities since last week, new reports indicate that Russia is rapidly exhausting its reserves of advanced and lethal missiles.
Andriy Yusov, a representative of the Main Intelligence Agency (GUR) of the Ministry of Defense (MoD) of Ukraine, announced on May 10 that the Russian Federation's Kinzhal and Kalibr missile stocks were at a critical level and there is no possibility of a rapid increase in the production of new high-precision missile weapons, Interfax news agency reported.
"There is no possibility of a rapid increase in the production of new high-precision missile weapons. They [Russians] are constantly looking for circumvention of sanctions," Yusov said on the air of the national telethon.
Yusov further emphasized that Russia's capacity to produce these advanced, precision-guided missiles was heavily curtailed. He noted that the Russian Federation has production challenges due to Ukraine and the international pro-Ukrainian coalition's ongoing efforts to reinforce the sanctions policy.
"There's some production capacity; we're talking maybe dozens (of missiles) per month," said Yusov. "Even if they take months-long breaks (between air strikes) until fall, they still won't be able to replace (the missiles) they've spent in this war," he added.
In recent months, several reports have indicated that Russia's pre-war stock of missiles was primarily diminished, and the troops have reduced their reliance on the newly produced missiles. Conflict Armament Research (CAR) group, a UK-based weapons tracking organization, said they had obtained instances of freshly manufactured Russian cruise missiles that have been launched against Ukraine.
This means that it is proof that Russia's arsenal has become so depleted that weapons are being used in the conflict just a few months after manufacturing. Damien Spleeters, deputy head of operations, said that Moscow is experiencing major stockpile concerns and rising production pressure that "might not be indefinitely sustainable."
Although Russia's Kinzhal and Kalibr stocks are nearing exhaustion, the S-300 air defense system missiles are reportedly available in large numbers. Ukraine's intelligence service noted that the Russian Federation still has an ample supply of certain missile weapons, especially the S-300.
The S-300 missiles are still often used to shell Ukrainian cities near the frontline despite having significantly lesser range and accuracy than Kalibr or Kinzhal missiles.
EurAsian Times had previously reported that Russian troops allegedly conducted frequent 'rocket attacks' and used repurposed S-300 missiles equipped with GPS navigators to hit ground targets.
"The S-300 air defense system is capable, if necessary, of carrying out combat launches of missiles at ground targets, receiving their coordinates from reconnaissance units of the ground forces," reported Ria Novosti.
However, using S-300 munitions is hardly expected to compensate for a dwindling stockpile of Kalibr cruise missiles or the Kinzhal hypersonic missile, the latter being projected as an "invincible" weapon that is hard for traditional missile defense systems to intercept and shoot down.
Ironically, Yusov's announcement comes when Russia unleashed a massive barrage of missiles on Ukraine after the alleged drone attack on the Kremlin. Although the Russians have positioned these missile attacks as revenge, some military experts have stated that this is a Russian strategy to hit Ukraine when it is preparing for a counteroffensive and is the most vulnerable.
Interestingly, Russia's missile scarcity report coincides with the UK announcing that it was supplying Ukraine with long-range Storm Shadow missiles.
Russia's Warning To Ukraine On Long-Range Missiles
The United Kingdom has delivered multiple "Storm Shadow" cruise missiles to Ukraine, arming it with the capability to carry out long-range attacks against Russia ahead of an imminent counteroffensive.
UK Defense Secretary Ben Wallace, who described the donation as Ukraine's "best chance to defend themselves against Russia's continued brutality," officially confirmed the deal on May 11, CNN reported.
The UK and France jointly developed the Storm Shadow, a long-range cruise missile typically launched from an aircraft with stealth features. With a shooting range of over 250 kilometers, it is only a little short of the capability of the US-made surface-to-surface Army Tactical Missile Systems, or ATACMS, that Ukraine has long called for.
Notably, the Storm Shadow has the reach to strike further into the Eastern Ukraine region controlled by Russia. According to a Western diplomat who spoke to CNN, the Ukrainian government has assured the UK that these missiles will only be employed on Ukrainian soil and not within Russian territory. However, both Ukraine and the UK consider Crimea a legitimate Ukrainian territory.
The press secretary of Russian President, Dmitry Peskov, criticized the delivery of the Storm Shadow missiles from the UK to Ukraine and said that Russia would respond adequately, as reported by RIA Novosti.
"Very negative (they treat such deliveries). This will require an adequate response from our military, who, naturally, from a military point of view, will make appropriate decisions [sic]," Peskov replied to a request from journalists.