Ukraine welcomed December with air raid sirens blaring across the country, bringing back memories of the invasion's early days in February 2022. These sirens have now been attributed to three MiG-31 Foxhound fighter jets flying out of Belarus.
The departure of MiG-31 fighters armed with Kinzhal hypersonic missile from Belarus sparked concerns about another intense Russian airstrike on Ukrainian cities.
However, the Ukrainian Air Force spokesman has now cleared the air and said the launch of MiG-31 warplanes that sparked the alert was "of no particular strategic importance."
The spokesperson of the Ukrainian Air Force, Yuriy Ihnat, suggested on national television on December 2 that the launch of the MiG-31s in Belarus could be interpreted as a signal from Russia to the West, The New Voice of Ukraine reported.
The aircraft can be outfitted with nuclear-capable, hypersonic Kinzhal cruise missiles launched from the air.
According to previous reports, three hypersonic-missile carriers MiG-31K fighter jets in Belarus since mid-October left base for the Nizhny Novgorod region in Russia. The information was revealed by the monitoring group Belarusian Gayun on Telegram.
"Two MiG-31K Aerospace Forces of the Russian Federation with tail numbers RF-92462 and RF-92339 are flying from Belarus to the Russian Federation to the Savasleyka airfield (Nizhny Novgorod region, Russian Federation)," the monitoring group said on Telegram.
Two Russian MiG-31 took off from Machulischi airfield in Belarus. They are capable of carrying Kinzhal missiles. Air raid alarm everywhere in Ukraine. pic.twitter.com/QCg5KKaf1F

— Maria Avdeeva (@maria_avdv) December 1, 2022
After the preliminary information was sent out, the group confirmed that a third MiG-31K with tail number RF-92333 also flew out of the country. All three aircraft were reportedly bound for the Savasleyka Airfield in the Nizhny Novgorod region.
However, EurAsian Times could not independently corroborate this information.
Earlier, the latest satellite images had revealed that Russia had amassed dozens of bombers and cruise missiles at the Engels-2 Air Force Base (AFB). The photos taken on November 28 show around 20 missile-carrying aircraft on the tarmac, including the Tu-160 and Tu-95 strategic bombers. This sparked widespread concerns that another large-scale attack across Ukraine was imminent.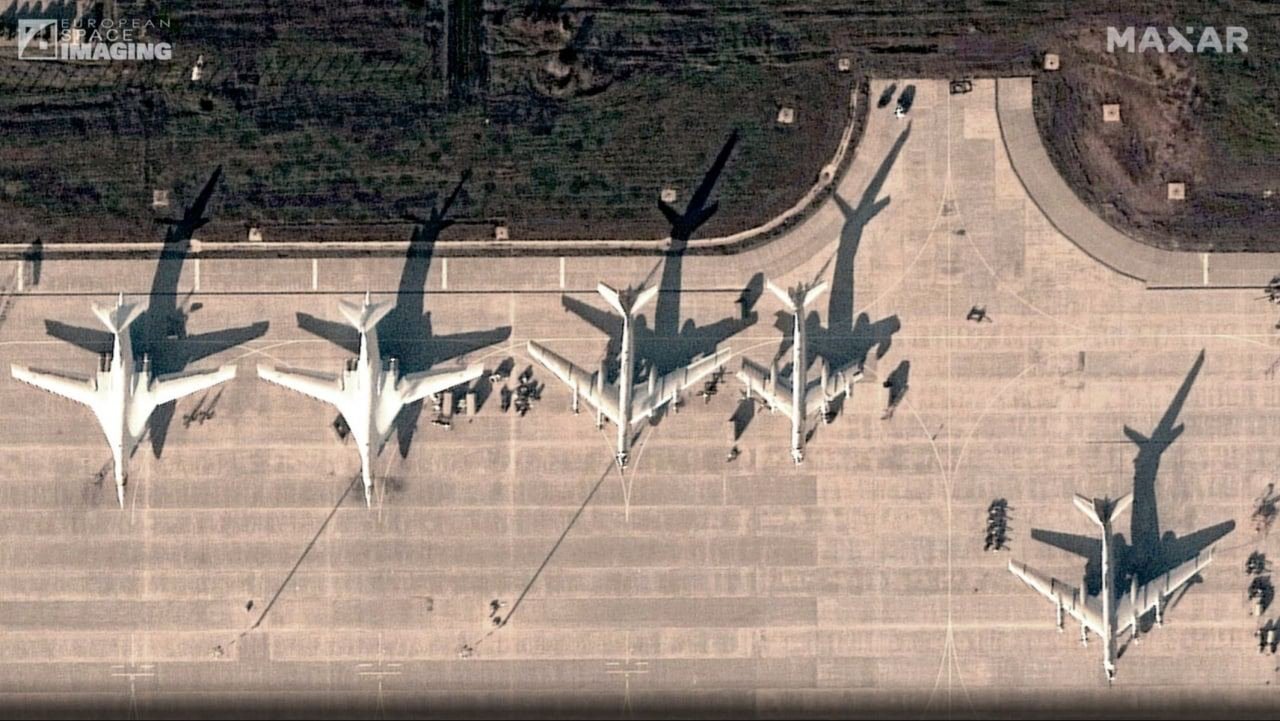 When the reports about the MiG-31s armed with hypersonic cruise missiles started to trickle in, it further escalated the fears among Ukrainian officials and citizens. Ukraine's border service wrote on the Telegram messaging app, "An overall air raid alert is in place in Ukraine. Go to shelters."
However, none of the anticipated attacks have been carried out by the Russian Aerospace Forces at the time of writing this report. However, the sudden activity of the MiG-31K fighter jets is significant as these fighters wield the Kinzhal hypersonic missiles that could fire a conventional as well as a nuclear warhead.
Terror Of Russia's Hypersonic Carrier Fighter Jets
The MiG-31 Foxhound is a twin-seater, supersonic, interceptor fighter aircraft that can be integrated with a host of long-range missiles. The MiG-31 interceptor flying high-altitude patrols has reportedly shot down several Ukrainian fighters by firing its potent long-range Vympel R-37M air-to-air missiles.
In mid-October, six Russian MiG-31K combat aircraft armed with Kinzhal missiles were spotted over Minsk. A few days later, one MiG-31K armed with Kinzhal reportedly took off from Machulyshchi air base in Belarus.
Later, in November, the UK Ministry of Defense (MoD) tweeted that MiG-31 Foxhounds were almost certainly deployed to Belarus and were armed with the "Killjoy" hypersonic missiles. Killjoy is a NATO codename for the Kinzhal missile.
The MiG-31K and Kinzhal missile systems are Russia's most lethal and powerful conventional armament combination. Even the best-defended targets in Europe and the United Kingdom are at risk due to their deployment in Belarus.
By abandoning secrecy around its deployment in Belarus, Russia has ensured that the West is aware of these "hypersonic deployments."
As previously noted by EurAsian Times, the MiG-31K may have been attempting to send a deterrent message to the West by flying MiG-31Ks equipped with Kinzhal missiles above cities during the day, allowing Western satellites to obtain a clear view of what may be the next Russian move.
Kinzhal hypersonic missiles can attain a speed of Mach 12 in flight. Russia has earlier fired these missiles on targets inside Ukraine. In fact, according to Pentagon officials, Russia fired at least a dozen Kinzhal missiles on Ukraine.
Hypersonic missiles follow an unpredictable trajectory besides their breakneck speed. This makes the missile very hard to intercept and Ukraine, for one, has no air defense system capable of intercepting hypersonic missiles, giving Russia a significant advantage. This is potentially why Ukraine had alarms blazing all day.
Contact the author at sakshi.tiwari9555 (at) gmail.com