A fuel tank, according to preliminary data, is on fire on one of the sections of the Crimean Kerch bridge, but the shipping arches are not damaged, Oleg Kryuchkov, the adviser to the head of Crimea, said on Saturday.
"Preliminarily, a fuel tank is on fire in one of the sections. The shipping arches are not damaged. It's too early to talk about the causes and consequences. Work is underway to extinguish the fire," Kryuchkov wrote in his Telegram channel.
— OSINTtechnical (@Osinttechnical) October 8, 2022
The press service of the Crimean Railway (KZhD) reported that a fuel tank caught fire at the tail of a freight train.
 "At 06:05, the equipment showed false employment on the railway tracks at the railway part of the transport crossing through the Kerch Strait. A fuel tank caught fire at the tail of the freight train. The locomotive with part of the cars was taken to the Kerch station. Emergency work is underway. The causes of the incident are being established," – the message says.
Breaking News: Crimea bridge blown off!

爆炸性新闻: 克里米亚大桥被完全炸断! #CrimeaBridge #克里米亚pic.twitter.com/CELSnEhrR4

— Inty (@__Inty__) October 8, 2022
According to the press service of the FKU Taman Highway Administration, motor traffic on the Crimean bridge has been suspended.
The Kerch bridge is a strategic logistic route that accommodates both roads and rail links. Stretching over 16 km, Kerch is the longest bridge in Europe, constructed after Russia seized Crimea. Putin himself drove a truck to inaugurate the $3.7 billion bridge.
Happy Birthday Putin. I hope you enjoy the special surprises, lovingly delivered to you. https://t.co/bYNzgaXgTP

— some random guy? (@tdf00656573) October 8, 2022
Earlier, a former NATO commander hinted that Kyiv could attack the strategic Kerch bridge. General Philip Breedlove called the Kerch Strait bridge crucial for Russia as it would use it to deliver lethal weapons to Ukraine.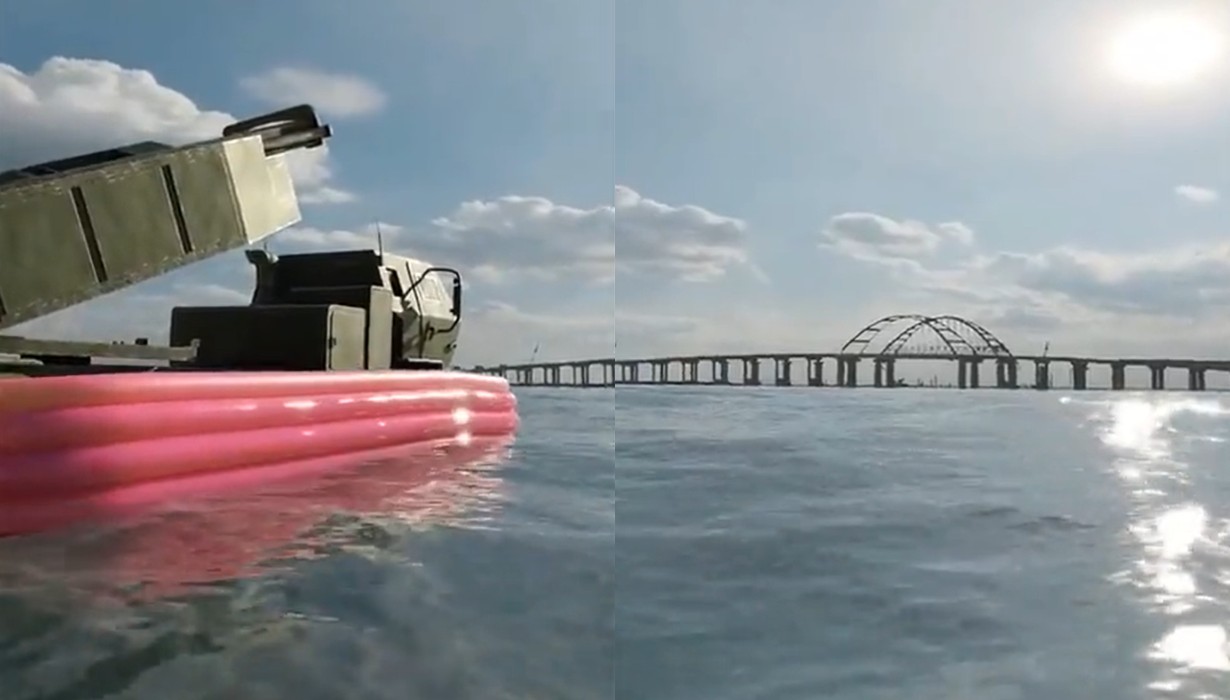 Breedlove said: "Kerch bridge is a legitimate target. "It doesn't surprise me at all that the Russians are concerned about the Kerch bridge. It's incredibly important to them. "Now that the West has given Ukraine [sub-sonic, sea-skimming cruise] Harpoon missiles [with a range of up 200 miles], I think the Russians have every reason to be worried about Ukraine launching an attack on the bridge.
The Kerch bridge has been well shielded with the Russian Anti-Access/Area Denial (A2/AD) system in place. In 2017, Moscow established a marine brigade within the National Guard tasked specifically with defending the Kerch Strait and the Bridge, according to The Ukrainian Weekly.
The brigade was equipped with anti-saboteur ships and combat divers, and a sonar system (sonobuoys) was deployed around the perimeter of the Kerch Bridge. Back in 2018, it was reported that Russia was planning to launch "unmanned underwater vehicles" into neighboring waters, including the Azov Sea, and deploy sophisticated air defense systems.