The Ukrainian military seems to have taken possession of what appeared to be helmet-mounted equipment used by Russian forces to locate drones and snipers. 
A video recently surfaced on social media showing Wagner's novel laser detection technology, dubbed the Spider. According to reports, the device was captured by Ukrainian forces during a battle with Wagner mercenary group troops. 
Sergey Flash, a Ukrainian soldier, shared images of the Spider system that had been captured, adding that the device's Russian-language manual had also been found.
The Spider is a small warning device used for passive military defense. The equipment is an early-warning laser detection device that can alert users to impending threats.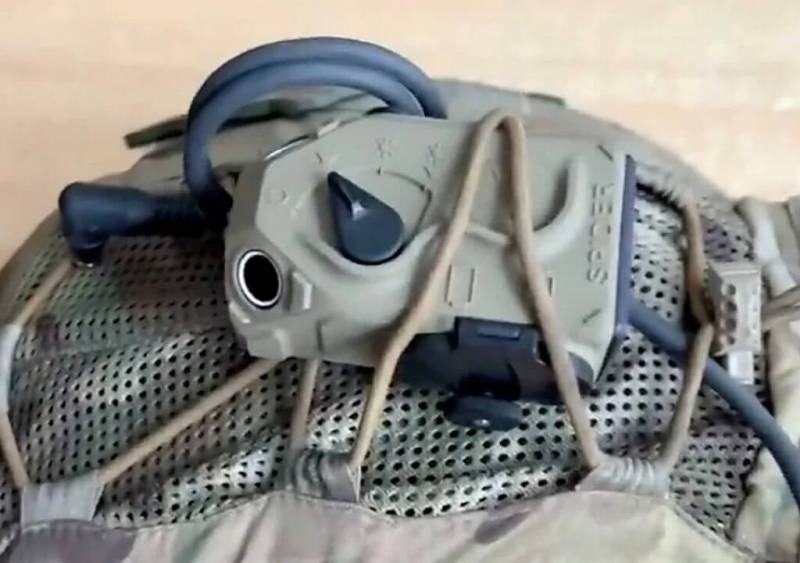 It can recognize, examine, and pinpoint the directions of laser emissions coming from laser rangefinders and laser guidance systems. 
According to the user manual, the gadget can locate all current laser rangefinders, illuminators, and designators working in the 0.8 to 1.8-meter range. 
It should be noted that the Spider gives direction to the laser radiation source, an auditory warning (voice message), and a subtle indication of radiation exposure. 
The combatant is alerted in three different ways: by audio with vibration (indicating "left," "center," or "right"), by light (owing to the LEDs inside), and by a combination of the first two. The Spider can operate for 12 hours in a temperature range of -30 to +40 degrees due to two batteries.
In addition, the key advantage of Spider is that it makes it possible to lessen the threat that drones pose. There have been earlier speculations that Moscow wants to arm its military with this technology. 
The latest development shows that Moscow has begun providing personnel participating in the war with personal sniper and drone detection methods. 
Wagner Aims To Capture The City Of Bakhmut
Wagner group is frequently referred to as Russian President Vladimir Putin's off-the-books troops. Since its establishment in 2014, it has increased its global influence and has been accused of war crimes in Africa, Syria, and Ukraine.
Currently, the Wagner Group of mercenaries, led by Yevgeny Prigozhin, sees the Bakhmut conflict as an attempt to seize resources in the surrounding region, the Institute for the Study of War (ISW) revealed. 
Despite supporting Vladimir Putin, Prigozhin has criticized Russia's involvement in the war in Ukraine without directly naming the Russian leader.
A recent statement from a White House representative alleged that Prigozhin sought to seize control of salt and gypsum mines close to the Ukrainian-held city in the Donetsk oblast, which has been the subject of months of fighting between the two sides.
On January 7, Prigozhin posted on his Telegram social media channel that seizing Bakhmut and Soledar would be "the cherry on the cake" due to its subterranean network, which might serve as a shelter for soldiers and tanks. 
According to the ISW, these statements are probably an effort to justify Wagner's slow pace of advance near Bakhmut and his months-long and expensive resolve to take control of the region. 
The think tank highlighted that Prigozhin was chastised by a military blogger who claimed that even if Russian forces captured Soledar, Moscow would still lose since they would have committed their best forces to an attritional battle.
Hanna Maliar, the deputy minister of defense for Ukraine, stated on January 8 that while Soledar is particularly challenging, Kyiv's soldiers are fiercely defending and moving forward "little by little" in other areas of the Donetsk oblast.
Ukraine's Eastern Group of Forces spokesman, Serhiy Cherevaty, had earlier refuted Russian claims that it had occupied Soledar. In addition, Volodymyr Zelensky, the president of Ukraine, stated in his evening video message on Sunday that his troops are successfully defending Bakhmut. 
He said that despite all difficulties, Ukrainian forces are holding out, and soldiers still hold their posts in Soledar. Experts noted that both sides are fervently attempting to accomplish their goals. 
While capturing Bakhmut would benefit Russian forces, analysts noted that they were not making much progress further south. Therefore, even if it can seem relevant tactically, it is a bridge to nowhere from a strategic perspective.