The war in Ukraine has made the US Army wary of attack helicopters that fly "high and slow" and instead wants those that can fly "low and fast," can fight at night, and can be more 'cognitively easy' to fly – allowing the crew to focus on the combat.
Defenseless Against Hypersonic Missiles, US Navy Turns To 'Faster & Lethal' DEWs To Battle China, Russia – Top Admiral
Major General Walter Rugen, Director of the Future Vertical Lift Cross-Functional Team in the US Army Futures Command, made the observations at a talk held by the Center for Strategic and International Studies (CSIS).
Rugen also discussed the need for missiles with greater standoff ranges, dual-use sensors, and the ability to 'converge' information from multiple assets onto a single interface to allow commanders to make faster battlefield decisions.
Rugen's statement comes in the backdrop of the Army's two vital procurement programs – the Future Long Range Assault Aircraft (FLRAAC) and the Future Attack Reconnaissance Aircraft (FARA). Both are part of the larger Future Vertical Lift (FVL) project.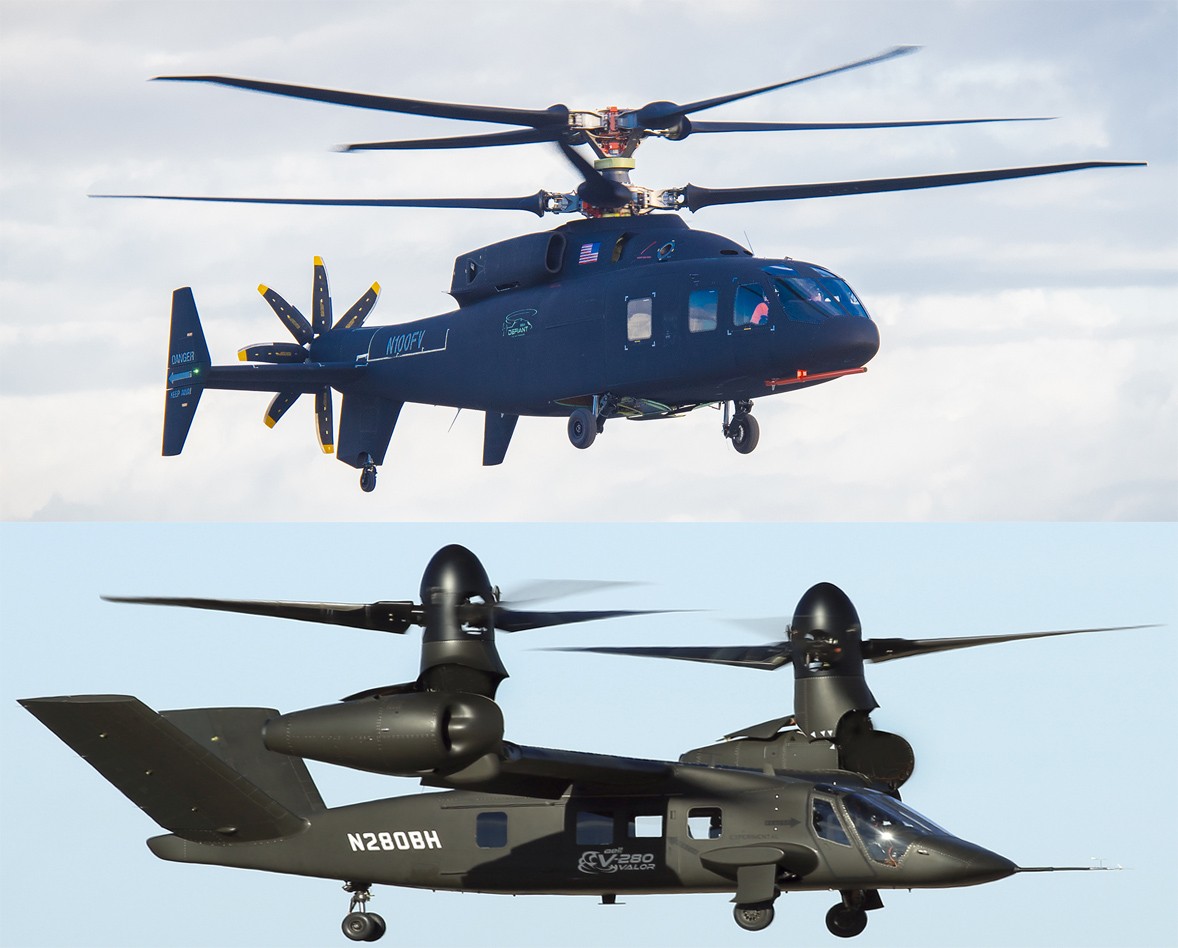 While the FLAARC is meant to replace the Sikorsky S-80 Black Hawk, the FARA is meant as a replacement for the AH-64 Apache; both are targeted to happen by the 2030s.
For the FLAARC, Sikorsky-Boeing's Defiant X, a contra-rotor (or coaxial rotor) helicopter, and Bell's V-280 tilt-rotor, both technology demonstrators (TD), were extensively tested.
The FARA, meanwhile, has Bell's 360 Invictus and Sikorsky's Raider X as contenders, where the latter is a shorter, slightly modified version of the Defiant X.
Lessons From Ukraine
Saying that speed and range would allow future rotorcraft to stay out of the reach of surface-to-air fires indicated Rugen was talking about the several Russian Kamov Ka-52 alligator and Mil Mi-17 helicopters shot down in Ukraine and other similar Ukrainian helicopters like the Mi-8 that fell to Russian air defense.
But these losses presumably happened because these helicopters were within the enemy's 'kill web' (or kill zone as it is commonly known).
"There's a lot of clutter as you get low. If you don't take advantage of the clutter and do a lot of flying in the day, that's higher than we like, which presents a problem. It opens up weapons systems like infrared (IR) weapons systems that are very good when you're flying high during the day. Thus, low and fast matter. There are plenty of places to hide when you stay low," Rugen said.
This means the Army is looking at employing the chaos and confusion in the middle of the battlefield to reduce the chances of becoming surface-to-air missile and air defense targets.
It can be safely assumed that these will have been overwhelmed by their own friendly and enemy aircraft besides persistent electronic warfare and jamming, even more so during night-time.
Rugen cited unnamed "effective" Ukrainian cross-border actions using rotorcraft that happened in "tough" and "lethal environments" where the aircraft supposedly flew low and fast. This low and fast flying is supposed to be aided by four techno-tactical changes Rugen hopes to see.
Cognitive Cockpit, 'Single Window' Data Sharing, Longer Range Missiles & Swarm UAVs
First is a more "cognitively" accessible cockpit that can share a more significant load of the flying while the crew and pilots focus on the fighting bit. Rugen hopes this can be achieved with dual-use sensors in response to a question regarding what complementary technologies he believes can believe low-fast flying and autonomous cockpits.
"When a sensor is not doing survivability, can it do lethality? Can it do protection from obstacles and degraded visual environments? A multi-use sensor feeds into the ability to do several tasks the cockpit is very worried about. We want the cockpit to be cognitively easier than today. So cognitive offloading with sensors would be tremendous," Rugen adds.
It means sensors of a Missile Approach Warning System (MAWS), Laser Warning Detector (LWD), or Radar Warning Receiver (RWR) should double up as an obstacle warning system or object proximity alert. These can assist in negotiating challenging terrains like mountainous regions, coastal areas, or urban warfare environments.
Second is the ability to collate, process, and beam data from multiple assets and allied forces (like NATO nations) on a unified interface, which Rugen called a 'single pane of glass,' enabling faster and more effective decision-making.
This will enable a "convergence" of "effects" from the combined arms and friendly (NATO) forces on the battlefield. The 'glass' reference is a transparent glass board usually seen in command centers with maps and markings of the battlefield situation.
Third is greater 'standoff' capability with missiles reaching more than 30 kilometers, more than double that Rugen's generation used to with the AGM-114 Hellfire's 11 kilometers.
"(This can) open up an opportunity to maneuver through to seize the position of advantage on a good terrain or present multiple dilemmas to our enemy," Rugen said. He added that the fate of rotorcraft in Ukraine and the Nagorno-Karabakh War in late 2020 bared the importance of a more remarkable standoff capability before the US Army.
"Those that didn't have it (standoff) had much tougher days, and those that had that standoff were decisive against long-range fires which they were able to reduce," he further said.
Last is the Future Unmanned Systems (FUS) program, which is essentially expendable, attritable, simple, and modular swarm drones/UAVs/UAS, packed with sensors for both lethal and non-lethal effects. Rugen talked about one Air-Launched Effect (ALE) drone the US Army came across, which he said could "flood the battlefield (and) present dilemmas to the adversary."