Western sanctions have hurt Russia's tank production, including the full machine and important components like optical systems and ball bearings. This has forced Russia to operate and upgrade older Soviet-era tanks.
A recent report from the Center for Strategic and International Studies (CSIS) analyzes the impact of sanctions on Russia's defense industry and its effect on the war in Ukraine. 
This has also put Russia in two dilemmas: one, between its modern and older tanks in particular, and secondly, between tanks and its civilian transport industry in general. Certain electrical, electronic, and mechanical components are common in civilian and military machines. 
According to the report, Russia has lost between 1,845 to 3,511 tanks in Ukraine and is believed to hold roughly 5,000 tanks in reserve. The T-72B3 main battle tank (MBT) experienced particularly heavy losses since Russia's T-90M 'Provy' (Breakthrough) was still to emerge from series production. 
This ultimately forced Russia to bring older Soviet-era tanks manufactured decades before Russia's military modernization program began in 2011. These include the T-55, T-62, and T-64, which appear to have been heavily upgraded based on the many social media photos.
Tank Production
Receiving newer armor, engines, and communications systems, they too were lost in Ukraine in large numbers – either abandoned or destroyed – but played in part in not letting Ukrainian armor go unchallenged. 
"Furthermore, the rather rare appearance of more advanced equipment such as the T-90A and T-90M third-generation MBTs or the modernized T-80BVM MBT may suggest that they have been intentionally kept off the front lines," CSIS analysts Max Bergmann, Maria Snegovaya, Tina Dolbaia, Nick Fenton and Samuel Bendett said in the study. 
The report quotes "reliable Russian-language military sources" from 2020, indicating that Russia held around 700 T-90 and T-80s and up to 2,000 T-72s. 
By then, Russia was also estimated to have stored 200 T-90, 3,000 T-80, and 7,000 T-72s – along with thousands of older T-54s, T-55s, and T-62s. "Many of these older tanks, including the T-54s and T-55s, have been taken out of storage and sent to the front in Ukraine to supplement earlier losses," the report added.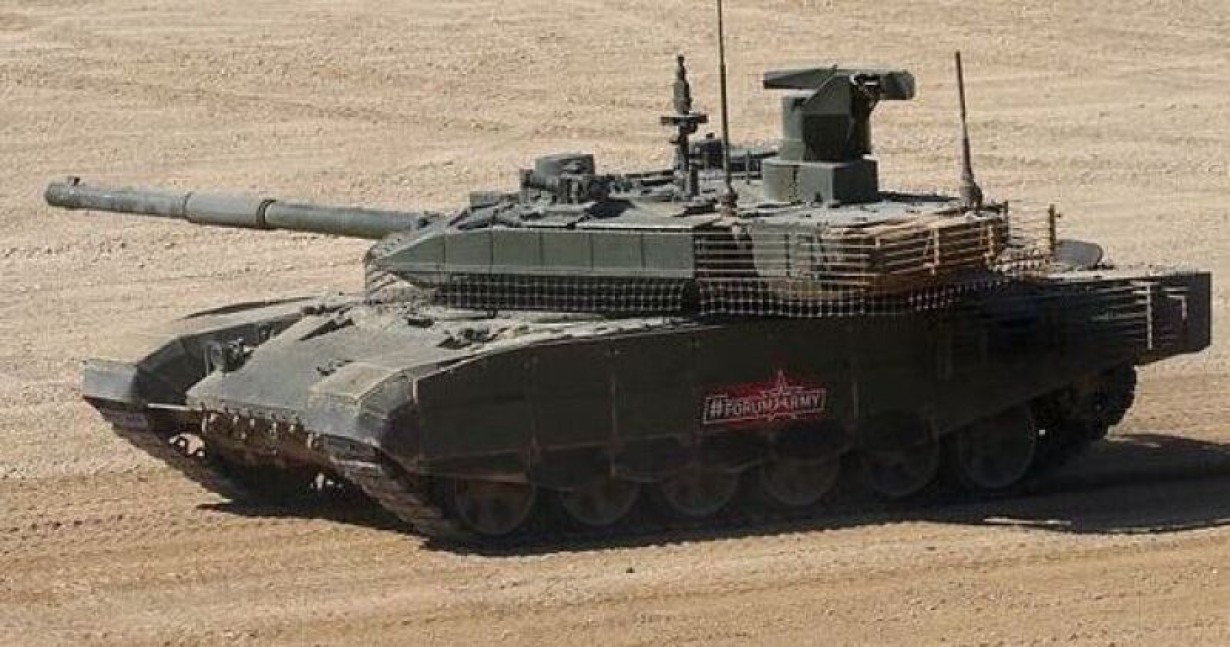 But replacing these lost tanks too is dependent on the capability of the Russian defense industry, which CSIS concludes has been severely hit. While it lost 148 tanks per month in Ukraine, the capacity at UralVagonZavod, the leading Russian tank manufacturer, is only 20 tanks a month. 
Thus, instead of manufacturing completely new T-72B3, T-90M, T-80BVMs, or T-14 Armatas, Russia is likely to heavily upgrade and modernize the older Cold War-era tanks and throw them into the fray. 
Optical Systems
However, that option might not be entirely successful given the clamp on important electronics and components Russia traditionally imported from the West. These include optical systems and ball bearings, the latter of which are vital for even Russia's heavily railway-dependent economy. 
Before the war, the Russian military imported its leading tank optical systems from France, which has now cut off sales to Russian clients following sanctions. 
Russia, therefore, appears to be retrofitting its T-80BVM MBT with the older 1G42 optical gunner sight and the T-72B3M tanks with the less-sophisticated 1PN96MT-02 sight rather than the higher-end Sosna-U. This is because the Sosna-U uses sophisticated French components that Russia can no longer purchase, thanks to the sanctions. 
The Sosna can look ahead and spot enemy tanks at four kilometers than the 1PN96MT-02's two kilometers; it has a daytime channel instead of just a thermal-imaging channel; and the more advanced ability to synchronize with computer sensors to help track targets.
Ball Bearings
Russia is also heavily dependent on Western-made bearings, having imported $419 million worth of ball bearings in 2020, of which 55 percent came from Europe and North America.
Ball bearings are a fundamental component across machines, including military hardware like jets, tanks, and submarines, and everyday conveniences like vehicles, bicycles, or construction equipment. 
The option to switch over to Chinese or Southeast Asian suppliers like Malaysia holds the risk of receiving poorer quality bearings, which might impact the performance of Russian tanks on the battlefield.   
Furthermore, with any surpluses or stockpiles of ball bearings Russia may have saved, it will also have to split those between its trains and defense industry.
CSIS suggests that Russia has possibly picked its defense industry for the time being, but questions about the sustainability and reliability of alternative import options and domestic production remain.