The Russian Su-57 fighter is set to be equipped with a new hypersonic weapon, which would make it more lethal than its US counterparts, the F-35 Lightning II and the F-22 Raptor, considered the world's best fifth-generation stealth fighter jets.
India, Pakistan ​Could End-Up Fighting On The Same Side In US, China Cold War — US Expert
According to reports, Russia's new-generation Su-57 Felon fighter jet has begun flight tests carrying prototypes of new hypersonic air-to-ground missiles.
The Su-57 fighter, which is considered Russia's most advanced fighter to date, has already completed several test flights with the "unidentified hypersonic weapon", said Russia's military-industrial complex sources, while speaking to one of the country's state-run media outlets.
Hypersonic weapons, which mainly consist of hypersonic cruise missiles and hypersonic glide vehicles, have the ability to travel five or more times faster than the speed of sound.
The reports suggest the unidentified missiles used in the tests were described as "functional" full-size mock-ups. While the dummy missiles lacked a propulsion system, fuel, and warhead, they were still identical to the real weapon in terms of weight and dimensions.
For long, the US stealth duo F-35 and F-22 Raptor fighters have shown America's military might in the aerial attack domain across the world. Now, the Su-57 fighter offers Russia the best opportunity to take on the American fighters.
The multipurpose fighter jet, which has been built for air superiority and complex attack operations, already possesses supercruise, supermaneuverability, and advanced avionics to surpass the capabilities of the prior generation fighters.
However, the addition of hypersonic missiles to it is expected to give it another dimension in terms of competing well above the likes of its American counterparts.
The reports reveal the new hypersonic missile, which is expected to be carried internally in the Su-57, will serve as "a compact, air-to-surface weapon intended to destroy adversary air and missile defense systems, and cruise and ballistic missile launchers".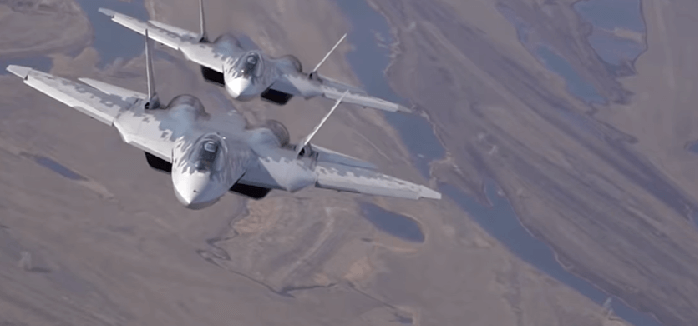 The new missile could be an air-breathing weapon, although it has not been confirmed yet. Air-breathing hypersonic weapons typically employ scramjet engines, which is a type of ramjet that functions at speeds in excess of Mach 5.
The presence of such breathtaking technology in terms of weaponry will clearly set Moscow way ahead of its rivals in the race for a futuristic fighter jet.
The new hypersonic missile for the Su-57 fighter is reported to be "small-sized" and capable of "maneuvering flight at hypersonic speed for a long duration".
With the dimensions regarding its size and optimization almost clear, there is reason to believe that it is one of the weapons mentioned by Russian Defense Minister Sergei Shoigu, earlier this month.
Shoigu claimed that his homeland's non-nuclear deterrent forces would be based around hypersonic missile systems of "various types".
"The potential of non-nuclear deterrence forces, primarily, precision weapons, is being strengthened. Hypersonic systems of various basing will comprise their backbone," said Shoigu, while speaking to Russian news agency TASS on February 9.
According to Ryan Pickrell, senior military and defense reporter at Business Insider, Russia's decision to arm its most advanced fighters with a powerful hypersonic missile that can take aim from long distances will surely make them a potential threat to critical US air assets.
According to a former high-profile Soviet-era test pilot, Magomed Tolboyev, the Russian Su-57 fighters possess enough muscle to take on the American F-35 fighters and shoot them down.
"Su-57 will kill [an F-35] easily, should they meet one on one. The F-35 cannot maneuver, it's simply incapable," said Tolboyev.
Follow EurAsian Times on Google News