According to Ukraine, a Sukhoi Su-35 fighter aircraft, one of Russia's most advanced fighter jets, hit an infrastructure in the Odesa Region with a Kh-59 missile.
---
Serhii Bratchuk, a spokesman for the Odesa Regional Military Administration, posted the statement on Telegram.
"This morning, the enemy has struck an infrastructure facility with the Kh-59 missile fired from the Su-35 aircraft. No casualties were reported," the report states.
This comes a day after Russian Tu-22M3 bombers fired two missiles over the region of Odesa, which were reportedly destroyed by Ukrainian anti-aircraft defense units. 
Nonetheless, the recent attack indicates that the Su-35 fighter planes are hitting and decimating targets in Ukraine. Russia has extensively used the jet during its "special military operation" in Ukraine. 
The Kh-59 is a TV-guided cruise missile with a two-stage solid-fuel propulsion system and a range of 200 kilometers. With a radar altimeter, the Kh-59 cruises roughly seven meters above water or 100–1,000 meters (330–3,280 feet) above ground.
It may be launched at speeds ranging from 600 to 1,000 km/h at altitudes ranging from 0.2 to 11 kilometers. It is a medium-range tactical missile designed to hit small ground targets whose coordinates are known before the rocket is launched.
Yury Slyusar, head of United Aircraft Corporation, told TASS on August 9 at the Army 2022 international military-technical forum that Russian Su-35S fighter jets are unrivaled in the "special military operation" in Ukraine.
"The issue of the efficiency of employing aircraft should be addressed to our customers in the Defense Ministry after all. We see that Su-35S aircraft are unrivaled in aerial battles," he continued. 
He also lauded Su-34 aircraft for their ability to kill ground targets with precision-guided weaponry and Su-25S for displaying exceptional battle survival, indicating the engineering solutions used have worked well.
According to the Russian media, the Su-35S fighters destroyed hostile ground and aerial targets in Ukraine. 
On the other hand, experts have questioned the Su-35 fighter jet's capability because of its alleged poor performance in the ongoing war. According to visual evidence, Russia lost two of its best warplanes in the Ukraine operations. 
In mid-July, the Ukrainian Military announced that it had downed what was "presumably" a Su-35 fighter plane close to Nova Kakhovka. Social media users widely circulated a video of the downed jet.
The footage showed the jet slamming into a field, exploding upon contact, and blowing thick black columns of smoke into the air.
Although Ukraine asserts that it downed two whole squadrons during the conflict—a total of about 24 aircraft—these claims should be taken with a pinch of salt. 
"The SU-35 aircraft also showed a low level of durability. During the full-scale aggression, the occupants lost two squadrons of such aircraft—about 24 units," Ukrainian Brigadier General Alexei Gromov claimed. 
Su-35 Fighter Jet
The Sukhoi Su-35 is a heavily enhanced version of the Su-27 fighter jet designed to significantly improve combat efficiency against aerial, ground, and sea-surface targets.
Like the F-15 Eagle, the Su-35S is a twin-engine "heavy fighter" with the ability to travel large distances while carrying enormous quantities of fuel and armaments. 
Due to its three-dimensional thrust-vectoring engines, which tilt the nozzles up, down, and laterally to permit larger angles of attack beyond the aircraft's present vector, the Flanker-E offers more significant capabilities than an F-15.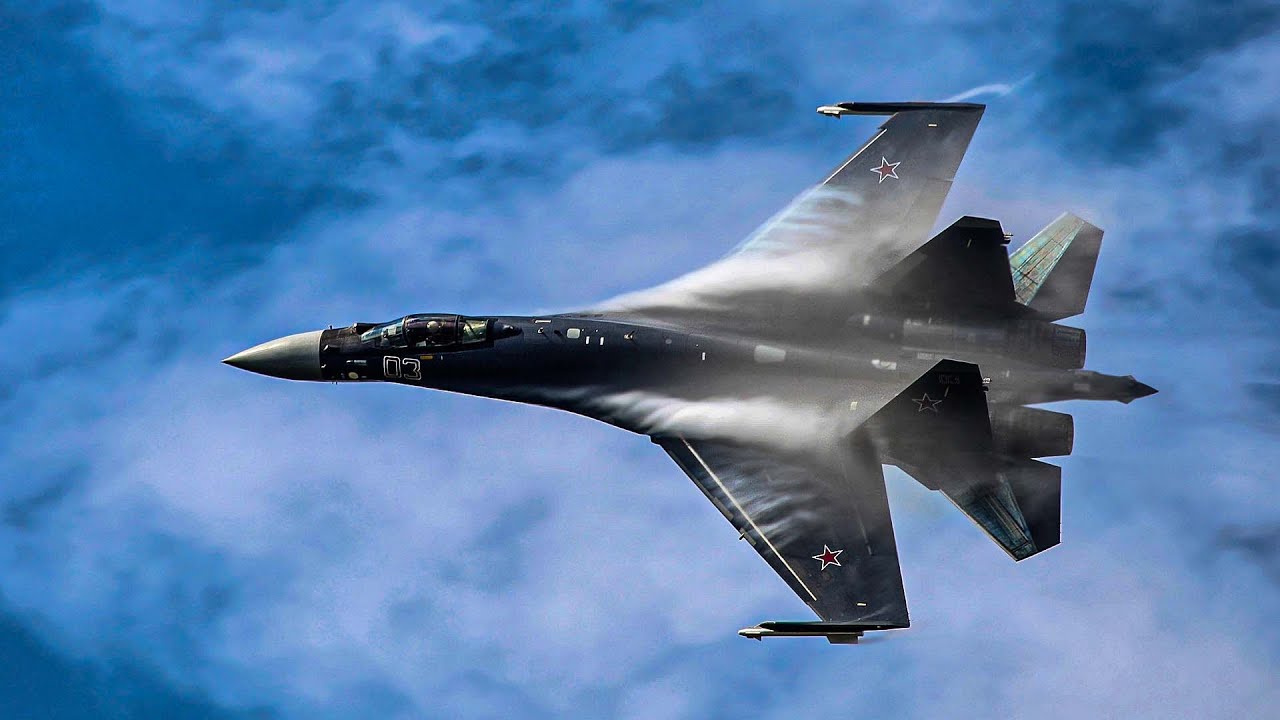 This makes it possible to do various maneuvers for combat within visual range and avoid approaching missiles. Additionally, it has an impressive Irbis-E passive electronically scanned array (PESA) multi-mode radar with a maximum range of about 350 miles.
The Russian fighter jet is equipped with a powerful Oniks anti-ship cruise missile and various air-to-ground weapons. It can launch air-to-air missiles up to 300 kilometers (190 miles) away, well beyond visual range.
The fighter jet's secondary armament includes a 30mm aircraft cannon. It can carry up to eight tons of weapon payload (missiles and bombs of various types) on a dozen underwing hardpoints. 
The Flanker-E accelerates quickly and can reach a top speed of Mach 2.25 at a high altitude. Its service ceiling of 60,000 feet puts it on a level with F-15 and F-22 aircraft and a full 10,000 feet above Super Hornet, Rafale, and F-35 aircraft.