Ukrainian forces and armed civilians are making aggressive attempts to defend the capital Kyiv against the Russian troops. Both sides have deployed some similar Soviet-era weapons, including fighter planes, making it extremely difficult for military observers and analysts to ascertain who is using what.
Ukraine, which had been a part of the Union of Soviet Socialist Republics (USSR), acquired a number of military assets following the dissolution of the latter in 1991.
'Dogfight' Between MiG-29 And Su-35
A video purportedly showing a dogfight between two fighter jets over the skies of Ukraine's capital Kyiv has caused quite a stir on social media. According to some unconfirmed reports, a Ukrainian MiG-29 was seen engaging a Russian Su-35 in the vicinity of the capital. 
#Ukraine ??: somewhere near #Kyiv a Ukrainian MiG-29 (low-flying) is taking on a Russian Su-35. pic.twitter.com/qpdJo12uzV

— Thomas van Linge (@ThomasVLinge) February 24, 2022
The outcome of this aerial encounter was not captured on camera. However, many defense analysts, contrary to assumptions, identified both the warplanes as Ukrainian MiG-29.
Defense analyst Guy Plopsky said on Twitter: "Video showing what appears to be a pair of UAF MiG-29s, one of which zooms past the camera at tree-top level, reportedly in the Kyiv area.
"Note the dark smoke trial – it is not due to damage; the #MiG29's RD-33 turbofans are notorious for being smokey."
Video showing what appear to be a pair of UAF MiG-29s, one of which zooms past the camera at tree-top level, reportedly in the Kyiv area. Note the dark smoke trial – it is not due to damage; the #MiG29's RD-33 turbofans are notorious for being smokey. https://t.co/xXW8S2yEkz pic.twitter.com/m0wRMzMapL

— Guy Plopsky (@GuyPlopsky) February 24, 2022
Meanwhile, the Ukrainian Air Force has claimed that one of its Sukhoi Su-27s shot down two Russian Su-30s in a dogfight although there is no video evidence to back this statement. 
There have been contradictory reports regarding a large explosion observed in the sky over Kyiv. Anton Herashchenko (Gerashchenko), an adviser to Ukraine's Interior Minister, reportedly stated that Ukrainian air defenses had destroyed either an aircraft or a missile. 
??? A building on fire in Kyiv. #Russia #Ukraine #UkraineUnderAttack #UkraineWar #Europe #NATO #EU #US [85] pic.twitter.com/MoQjTX4vgK

— World Events Live – Jon (@IdeologyWars) February 25, 2022
On the other hand, CNN cited Ukraine's Ministry of Defense as saying that it was a Ukrainian Su-27 Flanker fighter jet that was shot down by a Russian surface-to-air missile.
Both Ukraine and Russia possess the same type of aircraft in large numbers, such as the MiG 29 and Su-27. But Russia has a far bigger fleet — around 4,000 — compared to around 300 combat aircraft (all types) of the Ukraine Air Force.
Ballistic Missile Hits Russian Airbase? 
According to reports, Ukraine attacked Russia's Millerovo Air Base, located near the border. The 31st Fighter Aviation Regiment is based at Millerovo.
The airbase has been upgraded from the one housing MiG-29 to the Su-30SM. It has a total of 24 aircraft split between two squadrons. It was used in the Donbas war in 2014, following which Russia annexed Crimea.
Миллерово? pic.twitter.com/TZUYw43wUA

— IgorGirkin (@GirkinGirkin) February 25, 2022
The tail of a Su-30 appears can be seen in one of the photos. The strike was carried out with an OTR-21 Tochka (SS-21 Scarab) tactical ballistic missile, some reports unconfirmed reveal.
Ukraine possesses a small stockpile of missiles from the Soviet times. They can deliver a relatively large payload over a distance of up to 110 miles, depending on the type. 
This strike could also be carried out by a Turkish TB2 drone, according to certain accounts.
Ghost of Kiev
A rumor started circulating that a Ukrainian pilot dubbed the "Ghost of Kyiv" knocked down at least six Russian fighter jets. On the first day, a video shared on social media showed a Ukrainian MiG-29 flying over Kyiv.
There is reportedly a Ukrainian fighter pilot who has taken out 6 Russian jets in air to air combat. He is being called the "Ghost of Kyiv"pic.twitter.com/zCdK2URsHM

— Market Rebellion (@MarketRebels) February 25, 2022
Another video purportedly showing the jet pilot received over four million views on Twitter.
"Reports are coming that a Ukrainian pilot has shot down six Russian Aircraft today, and might have possibly become the first 21st-century fighter ace. The pilot, known as 'the Ghost of Kyiv', and his MiG-29 were seen in numerous videos from today," wrote a Twitter user. 
Even though many people are applauding him as Ukraine's savior, analysts have challenged these claims. One Twitter user said, "Ghost of Kyiv' Was Actually A Pair Of MIG29s Flew That Day For Few Hours & Were Busy Hunting Low Flying MI8s And Kamov 52 & Possible Low Flying RUAF SU25s In The Area It's Possible They Turned Off Their Radar & Guided By Ground Observers & IRST Sensor To Locate & Engage."
MiG vs Sukhoi
Sukhoi jets including S-30 and Su-35 fighters are Russia's most powerful fighter jets but MiG-29s are no slouch either. Earlier last year as EurAsian Times had reported, India had deployed around 20 MiG-29 fighter jets to counter Chinese warplanes including its J-16s and Su-30MKKs.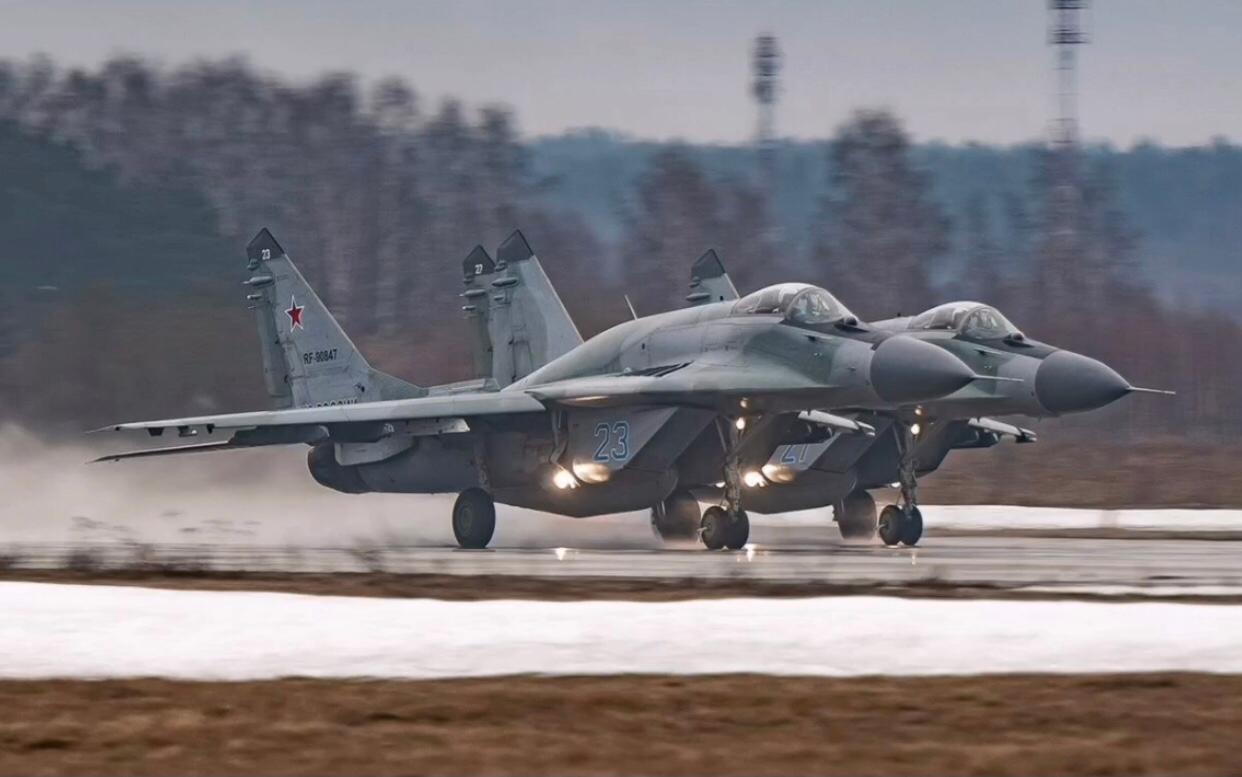 Despite some issues with engine reliability, the MiG-29 with its 27-ton max weight apparently works better in high altitudes than heavier fighter jets like Su-30s. The MiG-29's outstanding performance in harsh conditions, compared to the bulkier Sukhoi jets is no secret now.
Experts note that the Su-33 and its Chinese version – the J-15 is notoriously inert just like the Su-30s. It's not for no reason that the Russian Navy is replacing its Su-33 jets with reliable MiG-29s.
MiG-29: Powerful & Reliable
The first MiG-29 was commissioned into the USSR Air Force almost 40 years ago to counter the US F-15 Eagle and F-16 Falcon.
It was a glorious and thriving design and has been operated by more than 25 countries, including the US (which was used for evaluation and testing purposes). India was the first export customer of the majestic fighters.
While the airframe design is almost half a decade old, the aircraft continues to be a formidable opponent to US jets. The MiG-29 fighters are especially admired for their agility, maneuverability, and most importantly reliability.
The fighter jet represents an extensive modernization of the most advanced aircraft of the Cold War era, the MiG-29A, and unlike other modernized variants such as the MiG-29SMT recently delivered to Syria or the MiG-29UPG on order from India (stated as the most advanced MiG-29 variant), they use new airframes with advanced composite materials and a distinctively different appearance.
The MiG-29M also has a highly capable twin-seat variant, the MiG-29M2, which is expected to be received as part of the order. Unlike the older twin-seat variants of the MiG-29s, the MiG-29M2 does not make compromises to the sensor suite to accommodate an extra crew member and is designed for high-end combat rather than exclusively for training.
The MiG-29M was developed from the carrier-based MiG-29K variant of the aircraft family. Having a tougher and revised design, the new airframes were constructed from a lightweight Aluminium-lithium alloy to increase the thrust-to-weight ratio.
The air intake ramps' geometry was revised, the upper intake louvers were removed to make way for more fuel in the LERXs, mesh screens were introduced to prevent foreign object damage (FOD), and inlet dimensions were enlarged for higher airflow.
Main sensor upgrades consist of the Zhuk-ME pulse-Doppler airborne radar, along with revised IRST systems, a helmet-mounted target designation system, and electronic countermeasures. The new radar is capable of detecting air targets at ranges up to 120 km, track-while-scan of ten targets while engaging four targets at a time.
The jet is also equipped with the new RD-33MK engine, which has seven percent more thrust than its antecedents. For air-to-air combat, its weapons package includes the R-77 and R-27 beyond visual range missiles,  R-73 short-range missiles, and is fitted with a 30mm Gsh-30-1 cannon.
For air-to-surface operations, it can operate the Kh-29, Kh-31, Kh-35 missiles, and various precision-guided bombs.