The US is expected to announce this week about providing a long-range strike weapon with a range of around 100 miles to Ukraine.
The weapon called the ground-launched Small Diameter Bomb (GLSDB) combines a 250-pound aircraft bomb with a GPS seeker, wings, and a rocket motor. 
This weapon would allow the Ukrainian military to attack high-value Russian sites beyond the range of Western-supplied munitions. In a $2.6 billion weapons package, the US is anticipated to announce the weapons system and an additional 100 Stryker and 50 Bradley infantry fighting vehicles.
The announcement is anticipated on January 20 during a meeting of Western defense ministers to discuss funding, arming, and guiding the Ukrainian military at America's Ramstein air force facility in Germany. 
Besides that, the deployment of several Challenger 2 and Leopard 2 main battle tanks and numerous additional armored personnel carriers is anticipated to be announced at the conference by Poland, the US, and Germany, but specifics are still being worked out.
That being said, the latest report could be seen as a contradiction of Biden's previous statements that "We are not encouraging or enabling Ukraine to strike beyond its borders" and "We're not going to deliver to Ukraine rocket systems that strike into Russia."
Furthermore, the anticipated announcement of the new long-range weapons comes as the New York Times sources suggest the Biden administration is openly considering supporting an attack by the Ukrainian military on the Crimean peninsula, which Russia has occupied since 2014.
The Biden administration took a step closer to giving Kyiv what senior Ukrainian officials have been pleading for months: direct American assistance for Ukraine to go on the offense—including targeting Crimea, the Times reported. 
Ben Hodges, former Commanding General of US Army Europe, said — "GLSDB (ground-launched small diameter bombs) will reduce sanctuary for Russians. Life is about to start getting very uncomfortable for the Russian navy, air force, and ammunition handlers on Crimea, along the 'land bridge'… and hopefully soon for repair crews on Kerch Bridge." 
Will GLSDB Be A 'Game-Changer' Weapon For Ukraine?
Boeing and Sweden's Saab develop the ground-launched Small Diameter Bomb. Each GLSDB round is a combination of two systems: the rocket motor from the M26 artillery rocket and the air-launched 250-pound GBU-39/B SDB with its pop-out wing set. 
The M26 is one of the rockets that can be launched from the M270 Multiple Launch Rocket System (MLRS) and derivatives, as well as the M142 High Mobility Artillery Rocket System (HIMARS). 
The ground-based GLSDB application is reported to have the firepower to kill various targets, ranging from soft-skinned vehicles to fortified bunkers. That implies its employment in Ukraine would be a significant concern for Russian soldiers, who are already facing the fury of HIMARS. 
In a Twitter thread, an open-source intelligence expert Benjamin Pittet explained why the weapon might be a "game-changer" for Ukrainian forces, naming a few high-value Russian sites that the GLSDB could destroy.
The weapon system, which has a maximum range of 150 kilometers, could effectively blanket the Ukrainian region taken since February 2022 and some areas of northern Crimea from the front line. 
With the current front line, these munitions that have a maximum range of 150km would essentially cover the entire Ukrainian territory occupied since February 2022 and even parts of northern Crimea. pic.twitter.com/3wV5VshCTy

— Benjamin Pittet (@COUPSURE) January 18, 2023
This makes many significant and well-known targets accessible to these systems, Pittet said. He highlighted Dzhankoy airfield as a critical target within the weapon system's range. 
"This air base is one of the main Russian air bases used to attack Ukraine. Su-25s and helicopters operate in southern Ukraine from Dzhankoy. The base also regularly hosts heavy transport aircraft," he noted. 
In December 2022, the facility was reported to have emerged as a central logistics hub for the Russian army and a base for Russian assault helicopters. 
In Planet Labs satellite photographs from October 31, 2022, the Russian military was seen housing more than half a hundred helicopters at the airfield in Dzhankoy, including Ka-52, Mi-28, Mi-35, Mi-8, and several equipped sites for hosting anti-aircraft missile systems and air defense.
He mentioned the Sokolohirne train station as a key target for GLSDB. The station is currently out of the range of Ukrainian GMLRS and has turned into a safe zone for Russian soldiers.
Pittet then pointed out another Russian airbase, Berdyansk airfield, that would be vulnerable to long-range Ukrainian weaponry. He explained that Russia feels safe in newly established heliports such as the Berdyansk airfield due to Ukraine's limited long-range capabilities.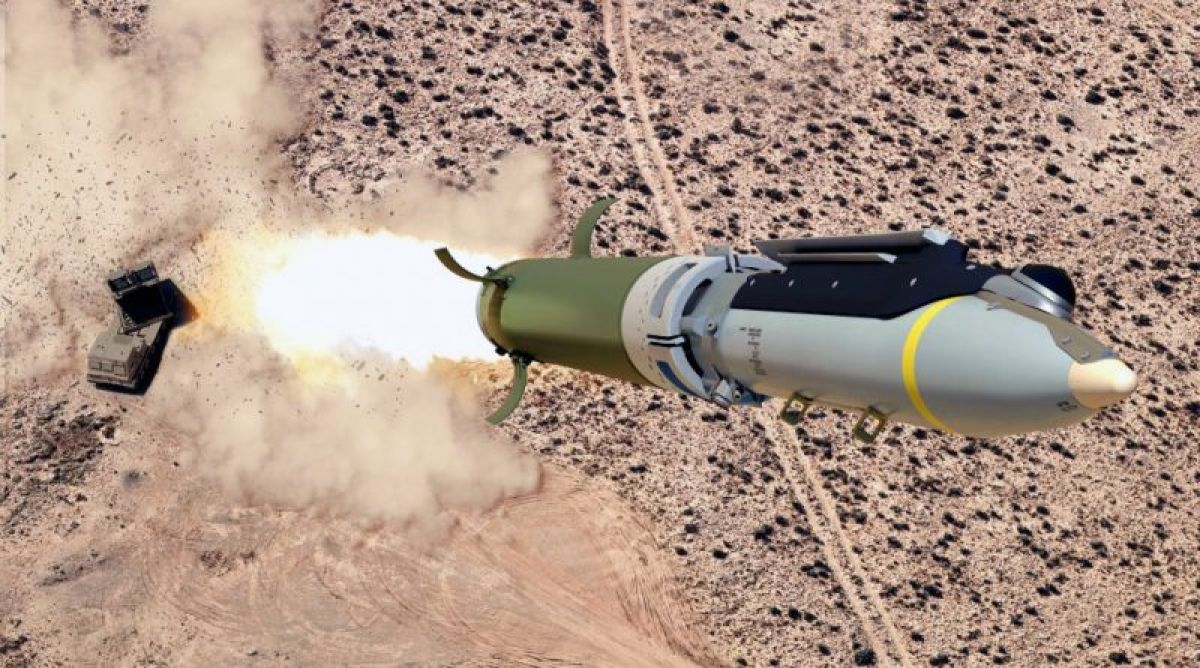 Finally, Pittet stated that the new long-range system would be able to reach Luhansk city, which includes several highly crucial targets, including troop housing, command centers, vehicle parks, fuel depots, train terminals, and a heliport. 
However, even if the US approves the delivery of GLSDB to Ukraine, its effectiveness on the battlefield is still in doubt. 
The EurAsian Times previously highlighted that the GLSDB's greater lethality would come with increased vulnerability to the Russian AD systems like the Pantsir and TOR designed to take out small aerial targets. 
However, if too many GLSDBs can breach Russian defenses, Russia may decide to escalate the situation and maybe begin employing Iranian-made ballistic missiles.