Crippled under the sanctions imposed by the collective West, Russia has turned to one of its most trusted defense partners, India, for help. A list of products that runs into fourteen pages has been presented to New Delhi.
An exclusive report from Reuters has revealed that sanction-hit Russia sent India a list of more than 500 products for potential delivery of items. According to the anonymous sources cited by the report, the list includes products ranging from parts for cars to aircraft and trains.
The list is provisional; it is currently unknown how many items will be exported and in what numbers. However, an Indian government source accessed by Reuters said the request was unusual in its scope.
The request comes when Russia has intensified its missile attacks against Ukraine, obliterating its power grids to cripple its warfighting capability.
India is one of the few countries that has not categorically criticized Russian President Vladimir Putin for waging war on Ukraine and refused to join the sanction regime despite repeated calls.
India has significantly increased the purchase of cheap Russian oil to the detriment of its peers in the West.
The bonhomie between India and Russia is potentially the reason behind Russia's grand request. Among a sea of products that Moscow is seeking for New Delhi, the most significant are parts requested for its aircraft and helicopters.
While the report did not mention if these parts will be used for military aircraft, it gives a list of items sought.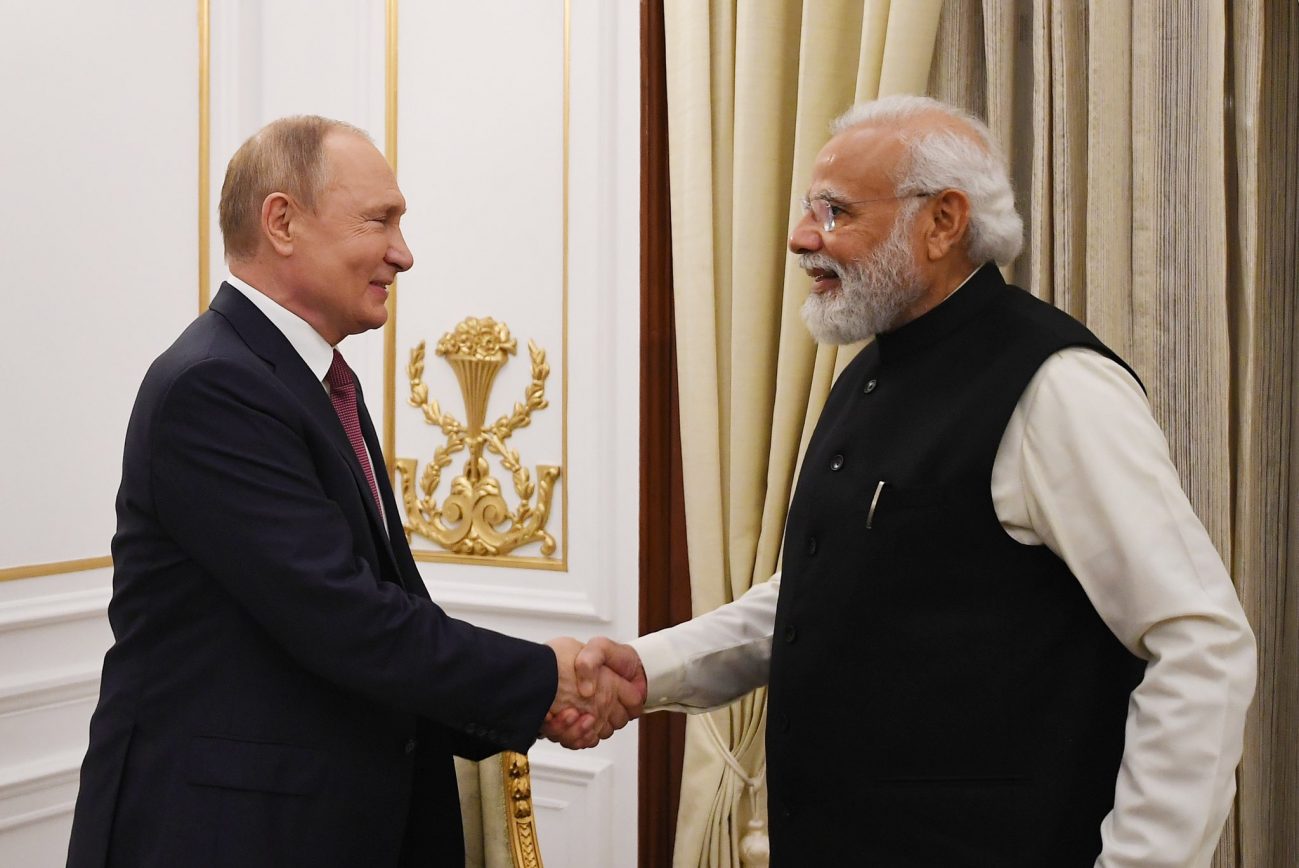 Russia has reportedly requested 41 items, including landing gear components, fuel systems, communication systems, fire extinguishing systems, life jackets, and aviation tires for its helicopters and aircraft.
Previous reports had hinted that Russian airlines, including the state-controlled Aeroflot (AFLT.MM), were stripping jetliners to secure spare parts they couldn't secure from the international market due to biting sanctions. The Russian fleet is composed of Western-origin passenger jets.
Additionally, a source in Russia's auto industry said that the trade ministry had sent a list of car parts required to corresponding ministries and state agencies in other countries, including India.
It includes car engine parts such as pistons, oil pumps, and ignition coils. There is also demand for bumpers, seatbelts, and infotainment systems.
As soon as the news broke out, military experts quickly emphasized that it was an opportunity for the Indian industrial base to cater to the Russian market besides its own to bolster self-reliance and export.
Even as far as military maintenance is concerned, India has offered to set up Maintenance, Repair, and Overhaul facilities for the Su-30 of the Royal Malaysian Air Force.
There have been speculations that with Russia's preoccupation with the war and the international sanctions imposed on it, India could exploit the opportunity to offer more such MRO deals to other countries that operate Russian military hardware.
Western Sanctions On Russia Profiting India
According to reports, India is eager to increase trade in this manner to reduce its growing trade deficit with Russia. However, some businesses have expressed concern about potentially falling foul of Western sanctions.
According to a Moscow industry source that declined to be identified due to the issue's sensitivity, Russia's Ministry of Industry and Trade has asked large companies to supply lists of raw materials and equipment they require. The source said that more discussion would be required to agree on specifications and volumes and that the outreach would not be limited to India.
Some Indian sources revealed to Reuters that Russian requests were reportedly made weeks before Indian Foreign Minister S Jaishankar visited Moscow, which began on November 7. However, it was not clear at the time what was conveyed by New Delhi to Russia during the high-profile visit.
During his visit to Moscow, Jaishankar stated that India needed to increase exports to Russia to balance bilateral trade, which is currently skewed toward Russia.
For decades, Russia has been India's largest military equipment supplier and is the fourth-largest market for Indian pharmaceutical products. However, with increased purchases of Russian oil and increased shipments of coal and fertilizer, India is looking for ways to rebalance trade.
Between February 24 and November 20, Indian imports from Russia increased nearly increased fivefold to $29 billion, up from $6 billion in the same period last year. Meanwhile, exports have fallen to $1.9 billion from $2.4 billion, according to the source.
According to a government source, India hopes to increase its exports to around $10 billion in the coming months due to Russia's list of requests. However, some Indian companies are hesitant to export to Russia due to concerns about being sanctioned by the West, lacking payment clarity, and difficulties obtaining insurance.
Contact the author at sakshi.tiwari9555 (at) gmail.com