A former Russian general has urged President Vladimir Putin to use an underwater nuclear weapon to destroy Britain with a 1,000-foot-high radioactive wave if NATO forces set foot in Ukraine. 
Yevgeny Buzhinsky, a retired Russian commander, called for strikes on Britain with Poseidon torpedoes, which he claimed would cause a 1,000-foot radioactive tidal wave. He warned during a TV program on  Rossiya 1, a nationwide public state TV channel.
Lt Gen Buzhinsky, also the Russian Center for Policy Research head, assessed that Britain would unquestionably cease to exist if Moscow launched a nuclear missile.
In addition, Buzhinsky warned that the UK would be obliterated by an attack with the Sarmat 2, which Moscow has described as the "world's deadliest missile." 
Russian TV presenter and propagandist Vladimir Solovyov smirked as he predicted that if Poseidon struck Britain, it would trigger a tsunami and sink the country to the bottom of the ocean. 
Another totally normal evening on Russian state TV as Solovyov and Simonyan join military commentator Yevgeny Buzhinsky in fantasising about the Poseidon underwater drone causing a nuclear tsunami that engulfs Britain pic.twitter.com/kNigUAmMo8

— Francis Scarr (@francis_scarr) March 14, 2023
The threats were issued as Russia's propagandists spoke about Russia's military options following its inability to make significant progress in Ukraine.
Buzhinsky further asserted on Russian official television Rossiya 1 that the "unstoppable" 6,670 mph Zircon hypersonic missile was about to be utilized in combat missions, after testing.
"Of course, there are such means as Poseidon, which has been tested," Buzhinsky said. Solovyov responded that he would want to see both Sarmat and Poseidon in action. 
'Tsunami, tsunami, yes, tsunami,' replied pro-war Buzhinsky. He warned that If NATO sends troops to Ukraine, Russia will respond by using Poseidon. Solovyov chimed in to say that Great Britain would then cease to exist.
Moscow Threatens The UK Over Ukraine
The Russian commentators' latest remarks align with a trend that has taken shape in Russian state media since the start of the Ukraine war of intimidating Britain with nuclear annihilation. 
This is not the first time high-ranking Russian politicians and officials have threatened to use nuclear weapons against the UK. In the past year, former Russian president Dmitry Medvedev had frequently discussed the possibility of a nuclear escalation.
These threats are believed to be the consequence of the UK's unwavering backing for Ukraine, which made history by being the first NATO nation to announce that it would supply 14 Challenger 2 battle tanks to Ukraine. 
Putin views Poseidon as essential to achieving ultimate military dominance over the West. In January 2023, Russian state-owned media reported that Russia had acquired the first batch of Poseidon nuclear-tipped torpedoes.
The Poseidon, which has been developing since 2015, contains a warhead with an explosive force more than 100 times greater than the atomic bombs unleashed on Hiroshima and Nagasaki.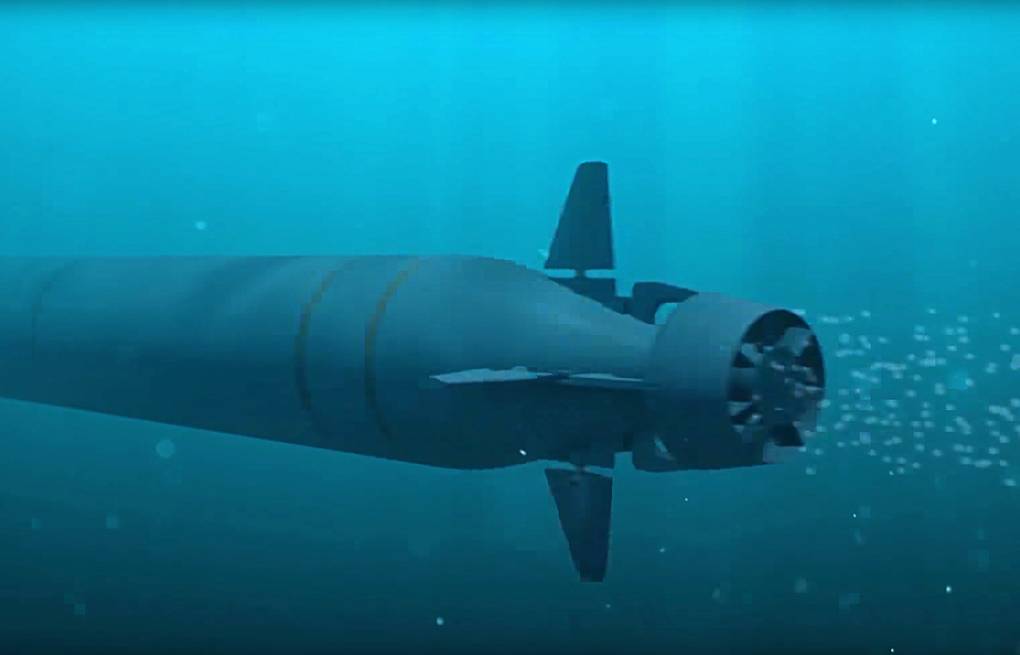 Should Washington choose to strengthen its missile defenses, the weapon will ensure that US coastal towns remain vulnerable to nuclear attack.
According to TASS, the first batch of Poseidon torpedoes has been produced and will shortly be dispatched to outfit the Russian Navy submarine Belgorod.
Although the report does not specify how many torpedoes are in the batch, navy analyst HI Sutton estimates Belgorod is built to carry up to six Poseidons simultaneously.
Poseidon is a massive nuclear-powered torpedo built to strike enemy coastal targets from great distances. Poseidon measures roughly 65 feet long and 6.5 feet wide. 
It has an almost limitless range thanks to nuclear power. As a result, it has greater operational flexibility concerning launch and target areas. 
A weapon like Poseidon might theoretically be launched from a port or a naval base, but mounting it on a submarine makes it harder to find and neutralize. 
Poseidon is reportedly equipped with a 2-megaton thermonuclear warhead, the biggest any country has used in decades, equal to 2,000 kilotons of TNT. The weapon moves far slower than an intercontinental ballistic missile and is still unstoppable.
The weapon is anticipated to travel at a speed of about 70 knots, which is fast enough to make it practically impossible for torpedoes to intercept it. Also, it is unreachable due to its working depth—possibly 1,000 meters (3,300 feet). To intercept it, Western planners will need to create new weaponry. And that will require a significant amount of time and money.