Russia's 'Doomsday' plane, the Ilyushin Il-80, designed to protect Russian President Vladimir Putin in the event of a nuclear attack, was recently tested to communicate with nuclear submarines through the water column, according to a report by Russian state-owned RIA Novosti on November 16.
"The Il-80 was tested for communication with submerged strategic missile submarines. The aircraft can maintain regular communication with the submarine through the water column," RIA Novosti quoted a source.
The source further said that ultra-long waves ensure communication between the aircraft and the submerged submarine through an extended submersible communication antenna towed by the submarine.
Nicknamed "The Flying Kremlin," the Ilyushin Il-80 is meant to be an airborne command and control post to enable President Putin to retain command over Russian force in the event of a nuclear war, which could fail ground control points, nodes, and communication lines.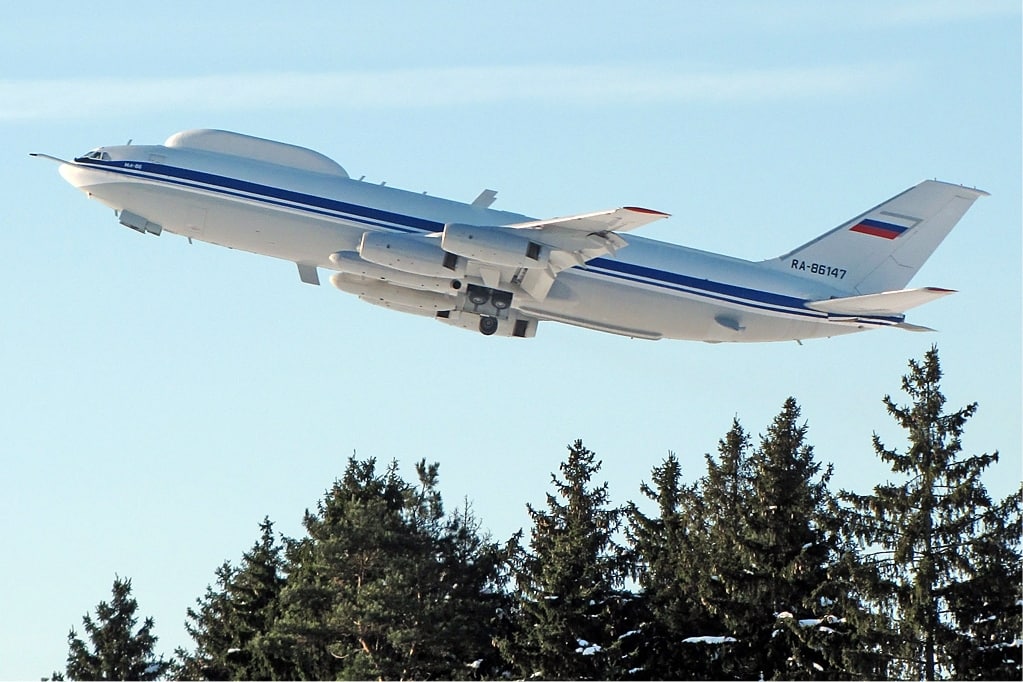 From this airborne command post, President Putin should be able to issue nuclear strike orders to his forces, including Russia's nuclear ballistic missile submarines, for which reliable communication systems are needed that must function properly underwater.
In 2020, the Russian state-owned holding company Ruselectronics reported that one of its enterprises, the NPP Polet, is working on the modernization of the communication systems of the Il-80 air control center to increase the reliability of command and control of the strategic and general forces of the Russian Armed Forces.
Ilyushin Il-80
The Ilyushin II-80 is a Soviet-era aircraft that reportedly first flew in 1985. It was developed using the Ilyushin's II-86 commercial aircraft model but is still visibly very different from its commercial counterpart.
According to open sources, there are four Il-80 aircraft. While their deliveries began in 1987, Western media first observed their flights only in 1992, when the aircraft is believed to have been accepted into service.
The calling name for the aircraft is Maxdome, although some also refer to it as 'Camber,' a nickname used by commercial navigation for II-86s.
Unlike its commercial counterpart, the Maxdome does not have cabin windows, and while its cockpit retains its windows, they are blocked by a baffle.
The changes were introduced to protect the passengers from an electromagnetic pulse (EMP) or nuclear explosion. The number of aircraft's upper deck doors has been reduced, with only one airstair remaining.
A big SATCOM canoe rests on top of the fuselage in the front with large antennae in its aft. The aircraft's tail also houses a winch for a towed, very low frequency (VLF) antenna, while horizontal stabilizers also have space for additional sensors or communication antennas.
The aircraft also has two sizeable electrical generator pods inside its engines, with air intake scoops and jet exhausts at their ends. A retractable refueling probe is placed below the cockpit.
Il-80 Spotted Over Moscow
In April, the Il-80 was spotted flying around Moscow, causing ripples within the Western strategic community that President Putin was trying to signal to the West that Russia could resort to using nuclear weapons.
In the Footage, the Il-80 passed low over Moscow city's outskirts. According to Russian officials, the aircraft was undertaking rehearsals ahead of the annual Victory Day parade in Red Square, during which it was intended to perform a low flypast.
?? Las Fuerzas Aerotransportadas rusas realizan un entrenamiento del Desfile de la Victoria pic.twitter.com/yGqvDTlH2L

— Cartago TV (@cartagotv) April 18, 2022
Since the Maxdome has not been seen at a Victory Day commemoration since 2010, its reappearance amid the ongoing Ukraine war was seen as a sign that President Putin is trying to send a warning message to the West.
The Il-80 was planned to be escorted by two MiG-29s as it flew low over St Basil's Cathedral, but the flyover could not happen because all aircraft flypasts were abruptly canceled.
The Kremlin said the military flyovers had been canceled because of adverse weather conditions, but some experts suggested the flyovers could have been canceled due to security concerns.
Russia Is Working On New 'Doomsday Planes'
The Ilyushin II-80 will be replaced by more advanced Ilyushin 96-400Ms, making it easier for the Russian President to oversee Russian troops and missiles during a nuclear war.
Ria Novosti reported last year that Russia is working on two new Doomsday planes to carry the country's senior military and political leaders in the event of a nuclear assault.
The Il-96-400M is an upgraded version of the long-range, wide-body civilian jetliner Il-96. An Il-96 variant currently serves as President Vladimir Putin's preferred mode of air travel, similar to the Air Force One of the United States.
According to reports, both Russian planes will be remodeled at the Voronezh Aircraft Production Association's aviation assembly plant. While the first plane is now being built, it is not expected to be ready for use anytime soon.