On June 4, Russian Ministry of Defense (RuMoD) spokesperson Lieutenant-General Igor Konashenkov told a press briefing that the Russian military intercepted two Tochka-U tactical ballistic missiles, among others, in the previous 24 hours.
"Anti-aircraft defense facilities intercepted two Storm Shadow cruise missiles, two Tochka-U tactical missiles, and 14 rockets launched with HIMARS and Uragan multiple rocket launchers in the past day," Konashenkov said.
Additionally, a report published in RIA Novosti's Radio Sputnik stated on June 3 that among the missiles shot down in the sky over Berdyansk in the Zaporizhzhia region was a Tochka-U with a cluster warhead citing claims made by the city administration.
"According to the operational data received, among the enemy missiles shot down over Berdyansk, there was one Tochka-U with a cluster warhead to cause more casualties and damage to civilian infrastructure. Cluster warheads detonated in the air," the administration's Telegram channel said.
It was also noted that the successful operation of the air defense system prevented casualties and serious damage.
Berdyansk (marked with small red cross) is perhaps just in range of Ukrainian forces if a 120km-range Tochka-U was the weapon used. pic.twitter.com/0NmoBkOQCs

— Euan MacDonald (@Euan_MacDonald) June 3, 2023
The reports are significant as they indicate that the Armed Forces of Ukraine (AFU) are apparently raining down missiles on Russian positions ahead of a massive counteroffensive.
On the day the missiles were launched, Ukrainian President Volodymyr Zelensky declared his country's military was ready to launch a long-awaited counteroffensive.
Russia has now claimed that its military thwarted a "major offensive" and killed hundreds of pro-Kyiv soldiers in the Donetsk region of southeast Ukraine. These claims, however, are yet to be verified by relevant authorities in Ukraine, which have maintained studied silence on the matter.
The moment of the defeat of a Ukrainian missile in the sky over Berdyansk.
The height of the target hit, as well as the nature of the fall of the debris and the subsequent operation of cluster submunitions, may indicate that the Tochka-U ballistic missile OTRK "Tochka-U" was… pic.twitter.com/gHJR4MFftv

— Koba (@Roberto05246129) June 3, 2023
Military experts have recently observed that Ukraine is pounding Russian positions with an array of missiles, including the long-range Storm Shadow, as a precursor to a counteroffensive. According to experts, Kyiv is attacking Russia's logistics which would rattle Moscow's troops and aid a swift operation against them.
The use of the Tochka-U missile is not uncommon for AFU, who have allegedly employed the missile against Russia since the initial days of the war in 2022. A modernized version of the Soviet Tochka precision tactical missile system, the Tochka-U is intended to strike specific small targets hidden deep within the enemy defense.
In April last year, some local Russian media outlets reported that the Ukrainian military allegedly carried out a callous act of self-destruction at the Kramatorsk train station using a Tochka-U missile with a cluster payload that included more than 15,000 pieces of shrapnel.
At the time, these allegations could not be verified independently.
Although Ukraine has not verified the claims that Tochka-U ballistic missiles equipped with cluster warheads were being fired on Russian positions, the prospect could prove to be deadly for Russia if authenticated, as the Tochka-U tactical missile is known to be one of the most dreaded weapons of the Soviet-era.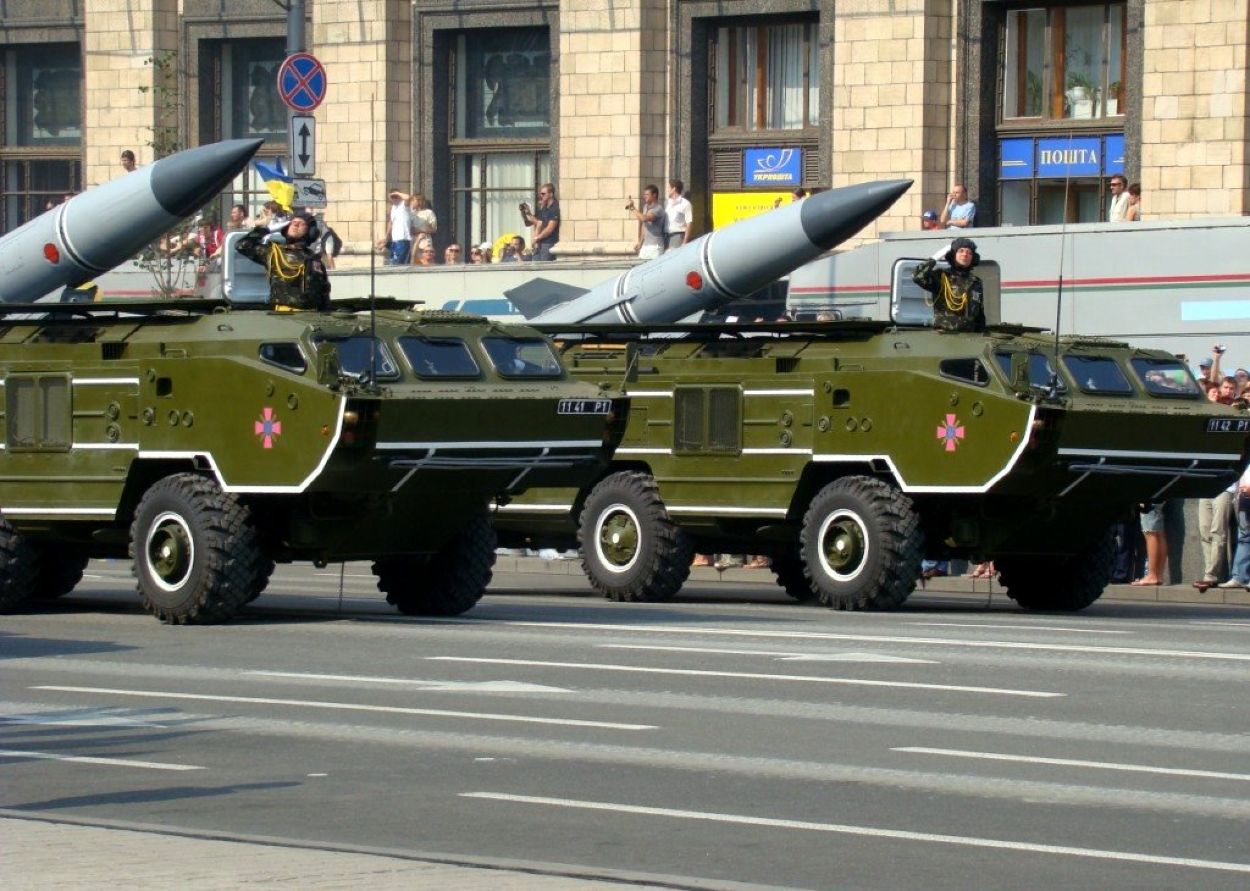 What Is The Tochka-U & Why Is It Deadly?
The Tochka, also known as the SS-21 Scarab, is a mobile short-range ballistic missile (SRBM) produced during the Cold War to supplant the Free Rocket Over Ground (FROG) series on the battlefield. It comprises a one-stage missile guided along its entire flight path and operational at a range of 15 kilometers to 120 kilometers.
Its most modern Tochka-U model has a range of up to 75 miles (120 kilometers) and can transport several warhead types up to a weight of about 1,000 pounds or more than 450 kilograms.
It can be fired from either a cruise missile or a ballistic launcher. Russia and Ukraine inherited these systems after the collapse of the former Soviet Union.
The Tochka-U tactical missile has an anti-radar blast warhead. Moreover, its agility in flight has also been improved to help it evade ballistic missile defenses, which makes it particularly deadly for the defending enemy units.
It has a 95 meters circular error probable (CEP) precision owing to inertial guidance paired with a Global Positioning Satellite (GPS) system and a radar or optical (TV) terminal correlation system. It is a tactical missile system that can be used with conventional forces.
It is a versatile warfare system due to its many warhead options, cruise flight profile, and mobility of its Transporter-Erector-Launcher (TEL) vehicle.
The system's various warhead options are similarly potent against electrical infrastructure, airfields, and military structures, and its fragmentation and submunition warheads are effective against military units and troop formations.
Russia and Ukraine have extensively deployed the missile in the ongoing combat, with videos of launches frequently surfacing on the internet. Although Kyiv has acquired more modern and longer-range missiles from NATO countries, using Soviet-era missiles has not lost relevance in the battle against Russia.
Contact the author at sakshi.tiwari9555 (at) gmail.com