Ukraine received an Estonia-made tracked unmanned ground vehicle, THeMIS, manufactured by Milrem Robotics.
Russia Is "Buying" Missiles From Fiji, AK-47s From Sudan – Netizens Mock US Intelligence Report Over North Korea
In a peculiar move, Russia's Center for Analysis of Strategies and Technologies (CAST) has announced a reward of 1 million Rubles to any member or a group of military or law enforcement organization to capture the THeMIS intact for studying its technology.
?? QĐ #Ukraine đã nhận được xe robot THeMIS đầu tiên do cty Milrem Robotics của #Estonia chế tạo.

THeMIS là xe tự hành bánh xích đa địa hình, tốc độ max ~25km/h, gắn camera & được điều khiển từ xa, dùng để tải thương hoặc ship hàng hóa trên mặt trận. pic.twitter.com/8lJAEn61Zm

— c0mmand0: tin tức Ucraina/Ukraina -Nga/Russia (@c0mmand0_2022) September 4, 2022
While this was not mentioned in any of the Russian news outlets that publish its government, diplomatic and military statements, the privatized and self-funded setup of the Russian think tank indicates it might be true.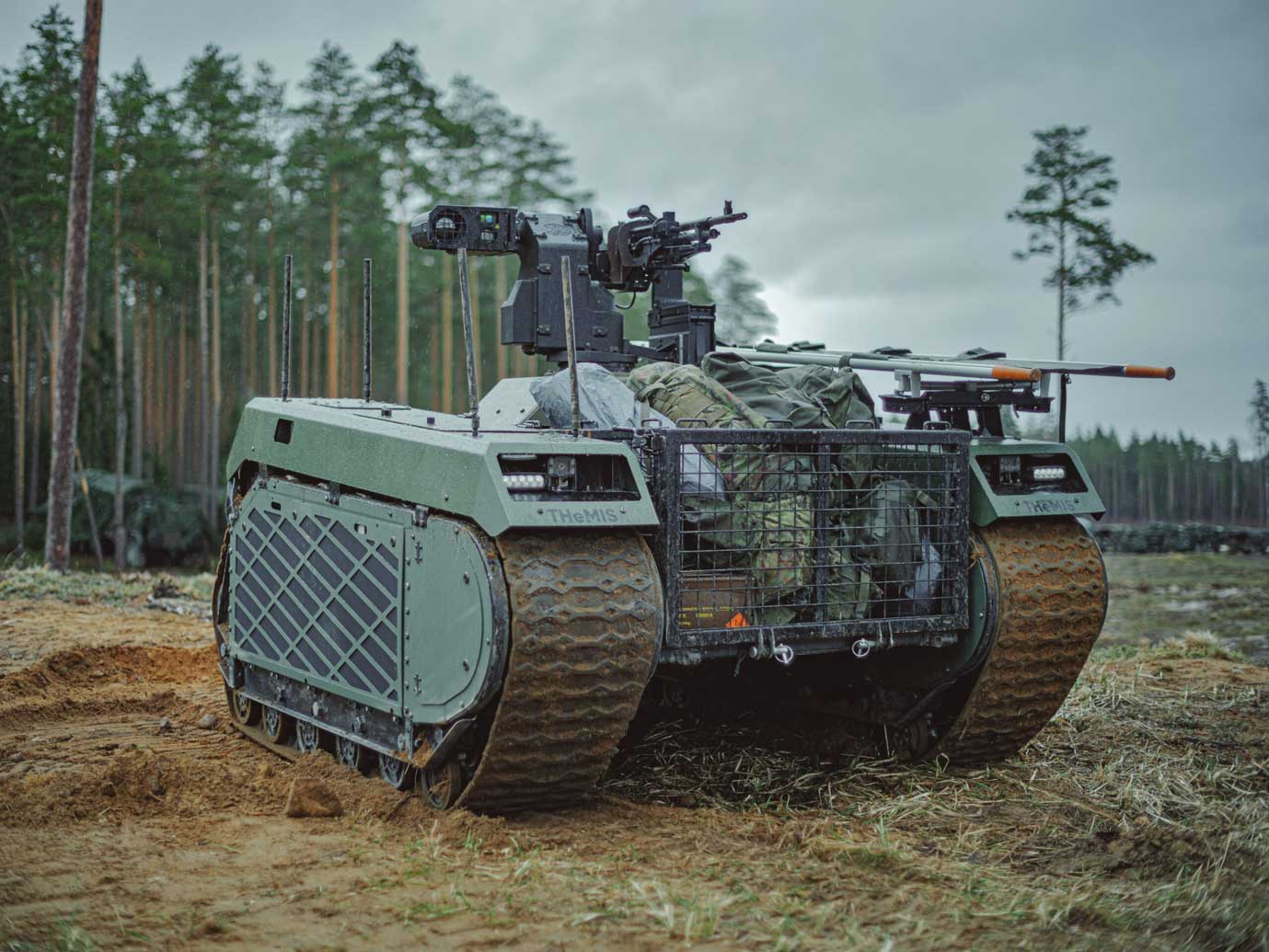 Twitter posts showed Ukrainian military personnel standing around the Tracked Hybrid Modular Infantry System (THMIS), which has been described as a multi-terrain capable, self-propelled, remote-controlled vehicle with a maximum speed of 25 kilometers an hour, sporting a mounted camera.
However, the latter part of the post bared the unwillingness to use it in combat and escalate the war with Russia, as it described "transporting wounded or ship goods on the battlefield." The post was in Vietnamese.
The photos indicate the same, as the middle body connecting the two-track was empty with a vacant tray as its base.
Members of the Ukrainian military are seen sitting and standing on the guard rails and in the hold, indicating its battlefield use purely for Casualty Evacuation (CASEVAC) role, followed by transporting supplies.
Even if the single unit received is converted for arms firing, the chances of it impacting the battlefield situation or turning around the war are slim. How it is used in Ukrainian supply lines to keep troops replenished and whether it will figure in the ongoing Ukrainian offensive in Kherson and south Ukraine remains to be seen.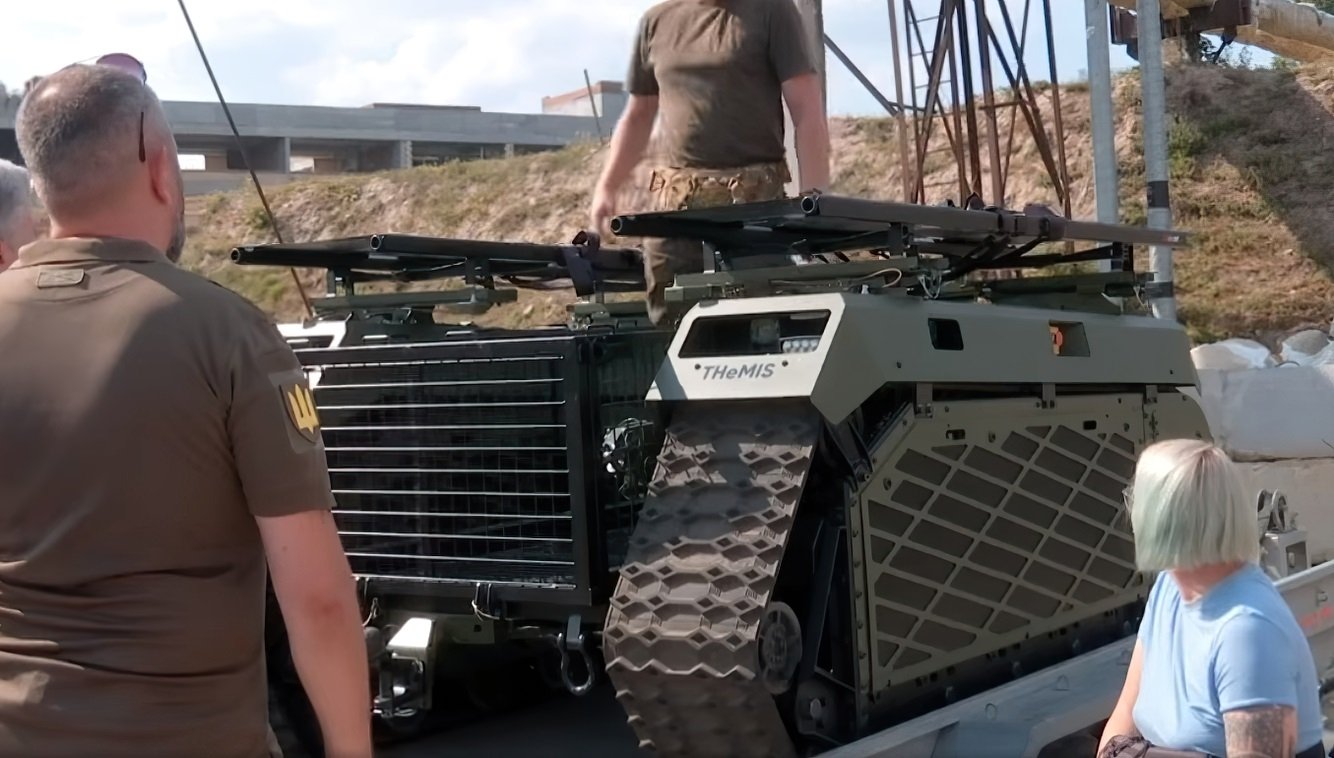 The weaponized version can be armed with light or heavy machine guns, 40 mm grenade launchers, 30 mm automatic cannons, anti-tank missile systems, and 81 mm mortar rounds to provide rear support and indirect fire for mobile forces.
Battlefield's Robocop!
"Casualty evacuation is one of the conflicts' most crucial and labor-intensive activities. Traditionally, it takes several people to carry a stretcher and required medical equipment.
However, it would require only one to operate a UGV, which can accommodate several wounded and a lot of equipment. This means that more personnel are available to help more people," explained Captain Jüri Pajuste, Defence R&D Director at Milrem Robotics, in a statement posted on Russian social media.
Photos showed the unit was received by former Ukrainian President Petro Poroshenko, under whose tenure the project was initiated with the Estonians.
THeMIS can be used remotely via a secure radio channel or even operate autonomously by setting coordinate points in its navigation system using a Global Positional System (GPS) system and a Laser Detection and Ranging (LIDAR) system to ride over rough terrain and avoid obstacles. It can reach speeds of up to 20 kilometers an hour, is compact, weighs 1630 kilograms, and can bear a maximum load of 1200 kilograms.
The multi-mission vehicle has an open architecture that enables it to be rapidly configured from having a transport function to being weaponized, performing ordnance disposal, or supporting intelligence operations according to the nature of the mission.
Sixteen countries have acquired THeMIS UGVs, eight of which are members of NATO, including Estonia, Germany, France, the Netherlands, Norway, Spain, the UK, and the US.
CAST director Ruslan Pukhov was quoted as saying this was the most unique and technologically advanced product supplied to Ukraine in recent times.
"Since this device is of great technical interest, CAST declares a reward of one million rubles to any military or law enforcement personnel or those who master the THeMIS platform in Ukraine in partial or complete condition.
The robot must be handed over to the Russian Defense Ministry in more or less intact condition," the center said in a statement by Daily News.