The Russian Defense Ministry has revealed that days after Chinese and Russian naval flotillas gathered in the Sea of Japan for joint naval operations, the two Navies destroyed a hostile target in the contested area.
---
China and Russia collaborated to destroy a "hostile submarine" during a joint exercise in the Sea of Japan, according to the statement of Russia's Defense Ministry. The operation was carried out as part of the Vostok-2022 war games hosted by Russia, reported Sputnik.
As per the report, a simulated attack was launched after a Russian Ka-27PL anti-submarine warfare helicopter detected signs of a suspected target – a submarine in the Sea of Japan. The operation is significant as Russia and Japan remain embroiled in a territorial dispute related to the Kuril Islands in the Sea of Japan.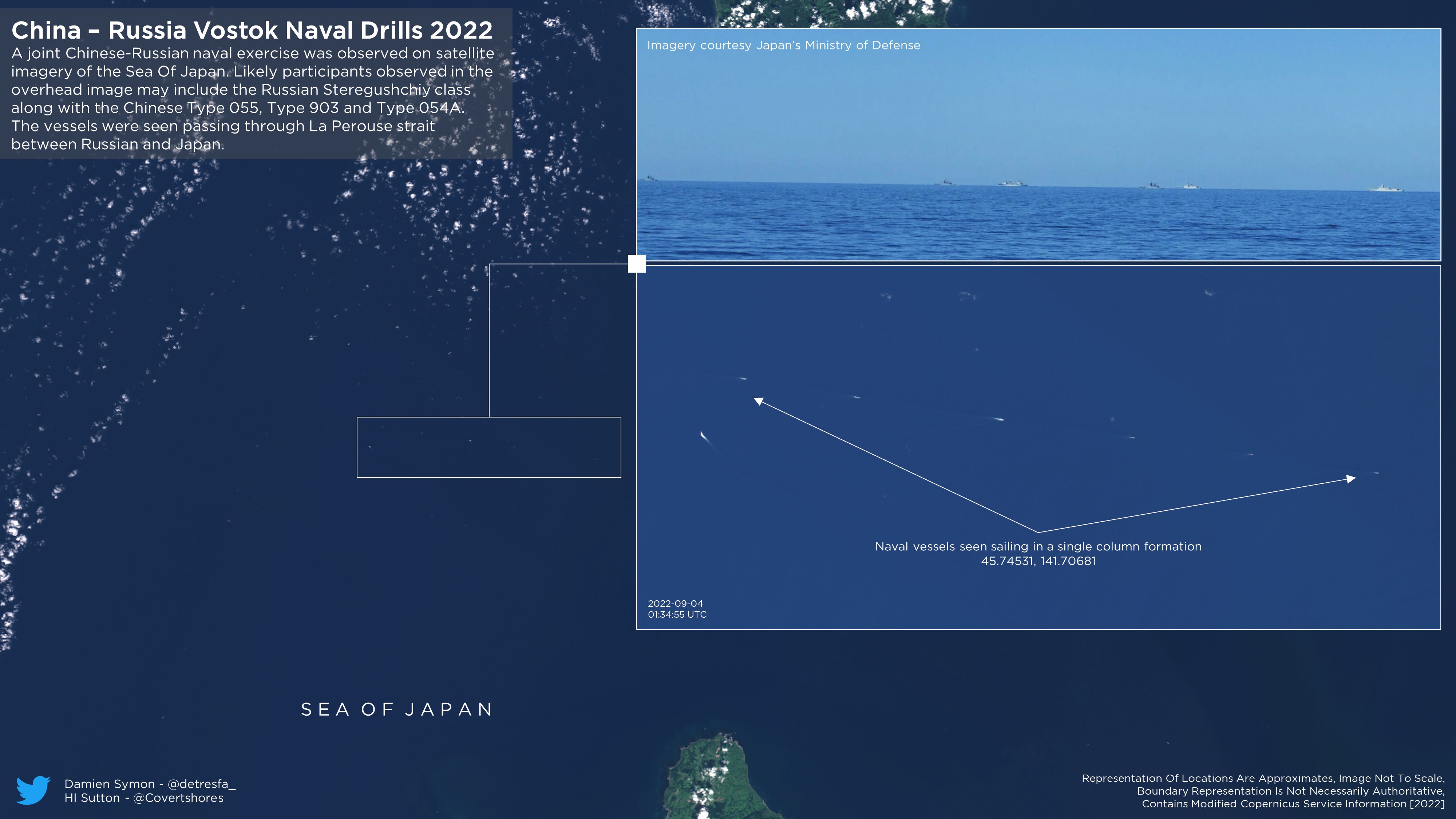 Earlier, Chinese state media reported that flotillas of Chinese and Russian naval ships met in the northern Sea of Japan on September 2, which marked the 77th anniversary of the official Instrument of Surrender signing by Japanese representatives at the end of the Second World War.
China has since made a case for "upholding" regional order, with Chinese experts saying that the Chinese and Russian Navies may carry out a second joint naval patrol after the ongoing Vostok-2022 exercises. Either side has officially communicated no such decision.
In addition to the Russian Defense Ministry's announcement, a Chinese government official Zhang Meifang stated on Twitter that a flotilla of Chinese naval vessels had previously engaged in live artillery fire in the Sea of Japan as part of the drills. The two sides also reportedly swept sea mines together.
A flotilla of #Chinese naval #vessels carried out a live-fire military drill in the Sea of Japan on Friday afternoon as part of the ongoing Vostok (East)-2022 exercises. pic.twitter.com/94XWRKM7S8

— Zhang Meifang张美芳 (@CGMeifangZhang) September 6, 2022
PLA Navy's Type 055 Nanchang destroyer, Type 054A guided-missile frigate Yancheng, and the Type 903A comprehensive replenishment vessel Dongpinghu took part in the exercise.
On the other hand, the Russian Navy was reportedly represented by the corvette RFS Gremyashchiyand missile range instrumentation ship RFS Marshal Krylov.
More than 50,000 troops are participating in the Vostok 2022 drills from over a dozen regional nations, including China, India, Belarus, Mongolia, and Tajikistan. China has sent more than 2000 military personnel, 300 vehicles, and 21 fixed- and rotary-wing aircraft, besides the naval vessels that took part in the submarine hunting exercise.
Cooperation Or Struggle?
China and Russia have strengthened their cooperation in the face of increased pressure from the US. The partnership has become more robust in the face of sweeping sanctions imposed on Moscow and US-led political and economic isolation.
China has tacitly sided with Russia despite its invasion of Ukraine, renewing fears of a China-Russia military alliance to counter the West. While the joint exercises have been hailed as an embodiment of cooperation by both countries, some military experts say that all might not be as projected.
Lu Li-Shih, a former instructor with the Taiwanese Naval Academy in Kaohsiung, told South China Morning Post that a Russian electronic warfare ship had participated in the Vostok drills and may have made the People's Liberation Army "uncomfortable," suggesting that the military cooperation may have been a "struggle."
"Russia deployed its missile range tracking ship Marshal Krylov as the command ship this time, which would have caused the PLA's most advanced destroyer, the [Nanchang] Type 055, to be more vigilant," Lu said, referring to the Nanchang's use of radar systems and other hi-tech devices. He said it was possible the Russian warship could have collected "data or valuable information" from the Chinese destroyer.
This becomes significant in the context of the hiccups in the relationship between Beijing and Moscow. Despite being close partners, they have not officiated their relationship as allies owing to mutual political and military suspicions.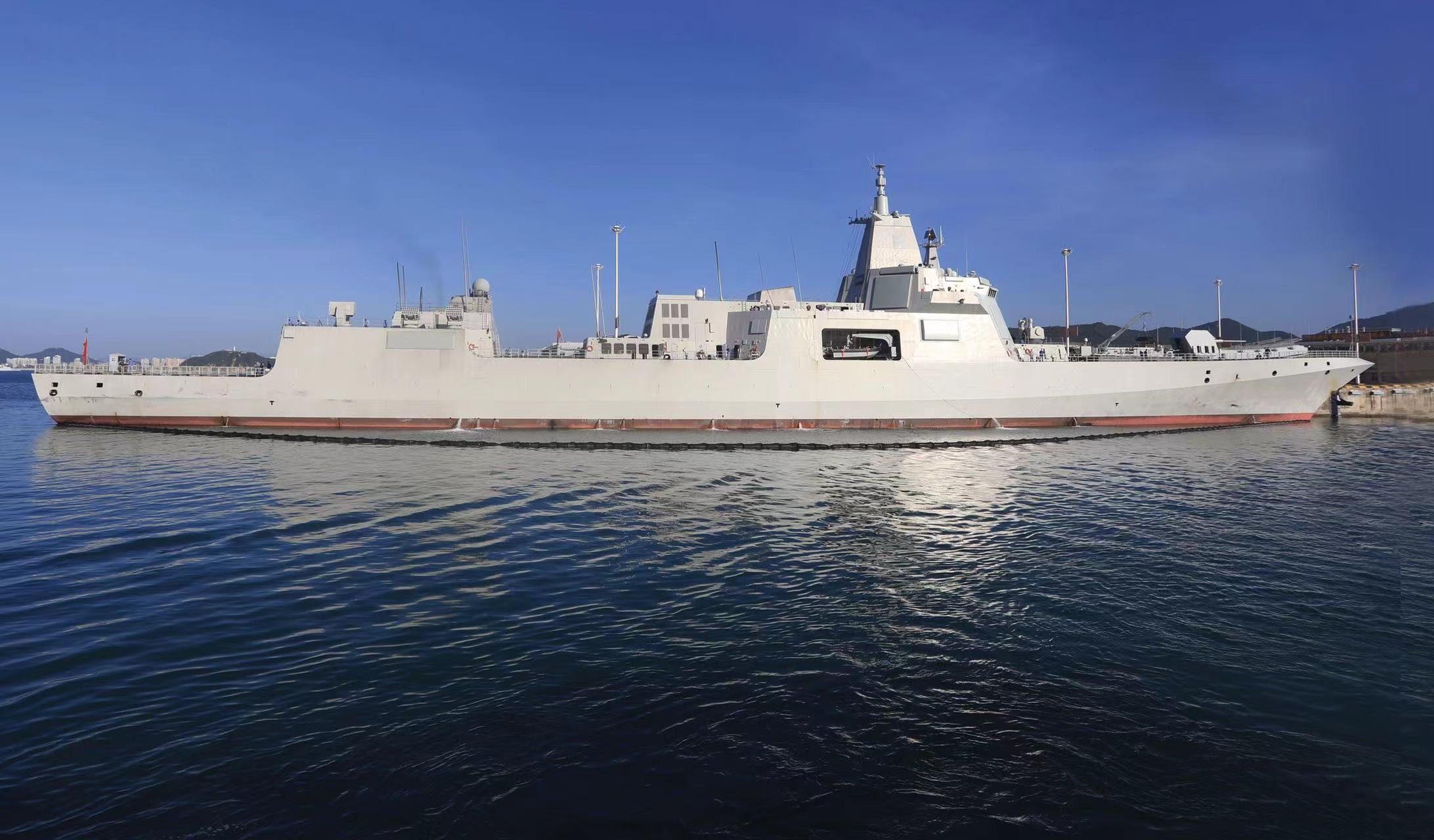 "In 2019, Russian state-owned defense firm Rostec alleged that there had been 500 cases of unauthorized copying of its equipment in the preceding 17 years. In a rare move, the company publicly criticized China, stating that 'China alone has copied aircraft engines, Sukhoi planes, deck jets, air defense systems, portable air defense missiles, and analogs of the Pantsir medium-range surface-to-air systems", says a report of Washington-based Center for Strategic and International Studies.
EurAsian Times reached out to a PLA watcher and military expert, Rick Joe, to understand whether there may have been some struggle for the PLA Navy.
According to Joe, "In Joint Sea 2021, a Russia-China naval exercise in the Sea of Japan, China already deployed a Type 055 Nanchang destroyer there. So it's not the first time a Type 055 (or indeed that very same ship) has participated in an exercise with Russia.
"Any data that Russia could collect would not be particularly sensitive, given that all participating ships would have emissions cleared for operations or exercises in the open ocean during peacetime. In the case of 055, nothing critical could have been disclosed if it had followed standard operational security procedures as one would expect."
Military observers have also stressed that Vostok 2o22 has been an excellent opportunity to send a loud and clear message to their adversaries besides building trust and operational capability between their Navies.
The joint operations are significant since they come against the backdrop of the Russia-Ukraine war and the China-Taiwan crisis — both being opposed tooth and nail by the United States.
The Sea Of Japan In Focus
Incidentally, Beijing and Moscow have also trained their guns at Tokyo, a staunch US ally. The Japanese Ministry of Defense accused Chinese and Russian warships of encircling Japan.
China has recently accelerated its military activity against Japan due to tensions with Taiwan. While China has lamented Japanese efforts at expanding and modernizing its military to take on the challenge from PLA, Russia designated Japan as an unfriendly nation in response to its sanctions against Moscow earlier this year.
The naval drills conducted by China and Russia in the Sea of Japan are also significant as the islands that spread out into the sea are disputed between Moscow and Tokyo. Predictably, Japan was quick to protest with Russia about the conduct of drills on Russian-held islands claimed by Japan.
???? Russian and Chinese ships conducted artillery firing as part of Vostok 2022 strategic exercise in the Sea of Japan. "This is an important platform for building mutual trust and co-operation," announced a Chinese military representative on drills in Russia's Far East. pic.twitter.com/DpssXLUG8C

— ?pocalypsis ?pocalypseos ?? ?? ? (@apocalypseos) September 4, 2022
Hirokazu Matsuno, the chief cabinet secretary of Japan, chastised Russia for conducting drills on two of the four disputed islands, which Japan refers to as the Northern Territories, in the Kuril group off its northernmost main island Hokkaido.
After the joint firing exercise, the warships, including a Chinese guided missile destroyer, a frigate, a supply ship, and three Russian frigates, crossed the Soya Strait between the Japanese islands of Honshu and Hokkaido, Japan Times reported.
In May 2022, the Air Forces of China and Russia conducted a joint strategic patrol above the Sea of Japan, the East China Sea, and the West Pacific Ocean as part of their annual military cooperation. While the Chinese PLA Air Force sent its advanced H-6K strategic bombers, the Russian Aerospace Forces dispatched its Tu-95MS strategic bombers.
Earlier in 2021, ten naval vessels from China and Russia sailed through the Tsugaru Strait, separating Japan's main island and its northern island of Hokkaido. However, the joint military drills go over and beyond the previous maneuvers in the prevailing geopolitical situation.