Russia has claimed to have destroyed four American-made Bradley Fighting Vehicles in Ukraine, which the Biden administration recently pledged to Kyiv as part of its latest $3.75 billion aid package. The only catch being they are yet to arrive in the war-hit country.
Russia's Ministry of Defense spokesman Igor Konashenkov said in a recent press statement that Ukraine lost four Bradley Fighting Vehicles (BFVs) during hostilities.
"During the battle in this direction, the enemy (Ukraine) lost 11 tanks, 17 Infantry Fighting Vehicles (IFVs), including four Bradleys made in the USA," said Konashenkov.
The video of Konashenkov claiming the destruction of Ukrainian Bradleys has become a laughing stock among the netizens on social media.
Il portavoce del Ministero della Difesa russo Igor Konashenkov (quello della distruzione del 150% degli HIMARS consegnati per intenderci) ha affermato oggi che sono stati distrutti 4 veicoli blindati Bradley (sebbene non siano stati ancora consegnati). pic.twitter.com/eYnXGuEFRE

— Daniele Angrisani (@putino) January 12, 2023
Earlier this month, the US announced $3.75 billion in new military assistance for Ukraine and other European allies and partners, including a $2.85 billion drawdown from the Department of Defense stocks to be provided immediately to Ukraine.
Notably, this is the largest-ever drawdown of current Defense Department equipment to Ukraine, including 50 M2A2 armored Bradley infantry fighting vehicles for the first time.
The Bradley Fighting Vehicle (BFV)
Manufactured by BAE Systems, the M2A2 Bradley Fighting Vehicle is a medium armored vehicle whose primary function is to provide protected transport for infantry squads into close contact with the enemy.
It has a welded aluminum armor hull, with the front arc having a spaced laminated aluminum and steel armor construction. It also has explosive reactive armor blocks and an NBC (Nuclear, Biological, and Chemical) protection system.
Bradley is known to be tough to kill. During Desert Storm, only three BFVs were lost to enemy fire. While in Operation Iraqi Freedom, there were increased losses of up to around 150 Bradleys because of their vulnerability to improvised explosive devices and rocket-propelled grenade attacks. The casualties were light, with the crew being able to escape.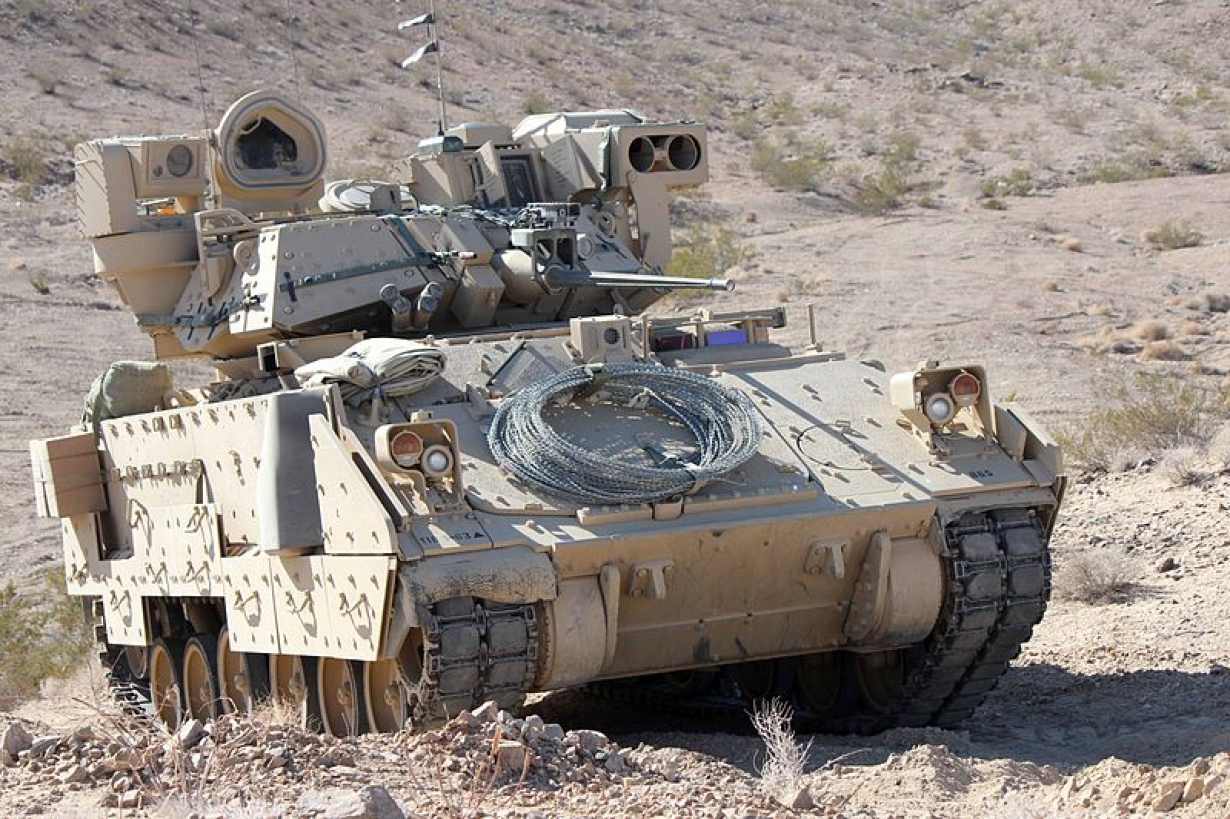 As for the firepower, the BFV is armed with a two-man turret fitted with a 25mm dual-fed Bushmaster chain gun that can fire both armor-piercing and high explosive rounds.
The chain gun can counter any threat on the battlefield, including armored personnel carriers (APCs) or infantry fighting vehicles (IFVs), dismounted infantry, and trucks. During Desert Storm, one Bradley even took out a T-72 with this chain gun!
For tanks, the Bradley has the BGM-71 Tube-launched Optically-tracked Wire-guided (TOW) missile launcher loaded with two missiles. The BGM-71E TOW can engage targets more than three kilometers away and is armed with a shaped charge weighing around 5.89 kilograms.
Additionally, there is also a coaxial 7.62mm machine gun. A remarkable fact about Bradley's combat record is that during the US military operations in Iraq from 2003 to 2011, the Bradley-series armored vehicles destroyed more Iranian armored vehicles than Abrams MBTs.
As EurAsian Times discussed at a great length earlier, Bradley could be a significant addition to the ground combat capabilities of the Ukrainian military, which is already anticipating a fresh Russian offensive in the spring.
The West Stepping Up Its Aid To Ukraine 
Since the onset of the Russian invasion of Ukraine, Ukrainian officials have been lobbying the Western governments to supply main battle tanks but without success so far. The West has been hesitating to provide Ukraine with advanced armored vehicles for fear of escalation by Moscow.
However, in recent days, the West appears to be changing its strategy, going by the series of announcements from the US, Germany, France, the UK, and Poland about sending lethal armored vehicles to Ukraine.
France took the first step by announcing the delivery of the AMX-10 RC light tank to Kyiv, which the French forces used as a reconnaissance vehicle and tank killer during Operation Barkhane in Africa.
While the mobility and speed of the AMX-10 RCs would allow Ukraine to strike rapidly and forcefully in close combat, its relatively weak armor makes it susceptible to powerful Russian weapons.
Germany soon pledged to send 40 Marder infantry fighting vehicles (IFVs), and the US followed suit by committing 50 M2A2 Bradleys to Ukraine.
"This is a sign the three governments are managing escalation using a 'boil the frog' kind of strategy by gradually increasing support to Ukraine not through grand gestures but by adding different pieces of equipment in intervals," said Ed Arnold, Research Fellow for European Security at the UK-based Royal United Services Institute.
According to Arnold, the previous step change was the approval of heavy artillery and HIMARS, which has been a game-changer and is now being followed up by armored vehicles.
The provision of armored vehicles seems to be slowly paving the way for the West to finally agree to provide Ukraine with tanks, judging by the recent statements from Poland, Germany, and the UK this week.
On January 11, Poland announced its intention to transfer some of its Leopard Main Battle Tanks (MBTs) to Ukraine, subject to approval from Germany.
This was followed by a subtle hint of an imminent approval from Berlin by German Vice Chancellor Robert Habeck, who said on January 12 that Germany should not stand in the way if Poland is willing to transfer the Leopard tanks to Ukraine.
"Germany should not stand in the way when other countries make decisions to support Ukraine, regardless of what decision Germany makes," Habeck said.
Also, before that, there were reports of the UK considering the possibility of supplying its Challenger 2 tanks to Ukraine. The UK can offer Kyiv around 10 Challenger-2 tanks.