As the utility of Drones and Unmanned Aerial Vehicles (UAVs) that experts predicted for years unfolds in Ukraine, private Russian companies seem to have taken matters into their own hands and are reportedly developing a series of such aircraft.
Videos of various drones used for multiple battlefield purposes (surveillance, transport/logistics, and loitering munitions) were posted on the Telegram channel of Alexei Rogozin, the former head of the Russian space agency ROSCOSMOS.
Rogozin said these are developed by private Russian companies with no state support or orders. While it was unclear whether any of these systems were even reviewed by Russian procurement officials, the nature of the videos suggests them to be entirely in-house efforts for capability demonstration purposes.
It can be safely assumed if the drones enter series production, they might be actively promoted for sale in arms expos by a burgeoning private Russian defense sector.
Drones Featured In The Video
In a nearly four-and-a-half-minute clip showing various drones, the first showed what looks like a single front propeller monoplane-type drone flying overhead and dropping two objects from a low height.
The objects descend and land on a marked patch on the field, seemingly purposed to imitate unguided drop bombs. The next shows a drone with four propellers oddly placed in pairs of two, under and over the wings on either side.
The drone circles in multiple low overhead pass and comes down for a landing in an upright vertical take-off position. The third shows the rear view of a suspended gun system, hanging via belts and stabilized with heavy plate weights, swaying inside a tight firing range/tunnel.
Despite the unstable swaying, the gun fired two shots in tight groupings near the bull's eye on the target sheet. While it is unclear what the system is, it appears to be a highly advanced stabilizing system that can enhance the accuracy of guns on main battle tanks (MBT) and drones.
The next is a plane-shaped drone with v-configuration tails and four quad-rotors that flies around and lands vertically. The middle fuselage then reveals itself to be hollowed out, carrying loads, indicating it has a tactical logistics and supply purpose.
Another drone appears to be Russia's version of Switchblade-300 loitering munition (kamikaze drone), launched by a catapult-type system from a ground-based rail and tube.
The next drone is a sizeable multirotor system that ascends from the ground but has a wire that spools down and is connected to a ground vehicle. It has an electro-optical system that seems to observe buildings and surrounding roads.
The last bit shows the loitering munition launched from a tracked unmanned ground vehicle and is also featured in a separate video.
Russia's Rise As A Drone Power?
For the first time, large-scale use of all types of drones has been witnessed in a conventional war that first began with the US-made Switchblade series striking Russian tanks and armored vehicles. This was followed by the Iranian Shahed-136 (or Russian Geran-2) hitting Kyiv's battlefield targets and civilian infrastructure.
Russia's Orlan-10 drones were captured in videos and photos while getting shot down and performing reconnaissance to direct artillery fire from their CCD cameras.
But the show-stoppers have been the Lancet series of loitering munitions which harassed Ukrainian counter-offensives by destroying dozens of tanks, armored vehicles, air defense targets, and even small naval missile boats.
It was Russia's gap in long-range drones that the Shahed-136 helped fill after Moscow was revealed to have acquired the products from Tehran much before the war and replicated them with some of their own components. Western analysts later found both western and even Ukrainian parts in the UAVs.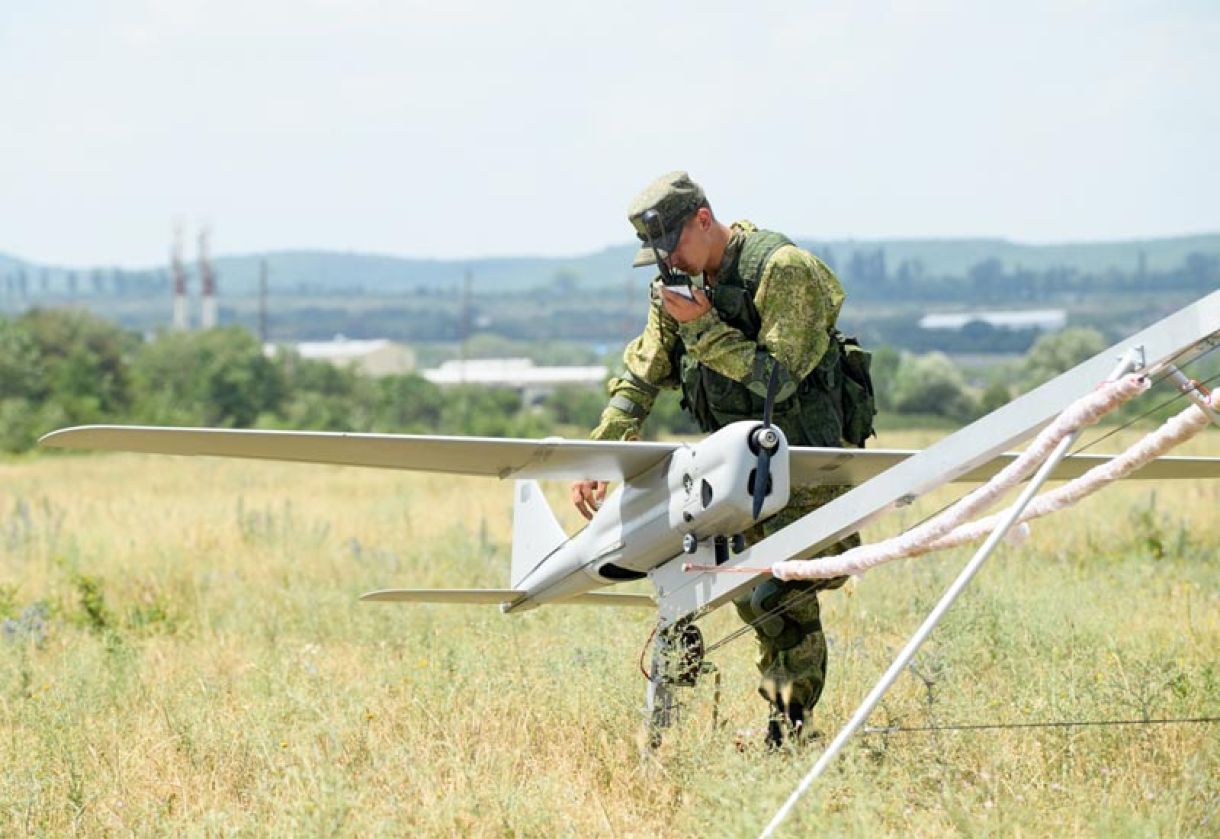 Reliance on drones came after Russian commanders saw the limits of long-range tube-rocket, gun artillery, and cruise missile fires. Long supply lines and ammunition dumps to replenish rockets and howitzer rounds were becoming both tedious to manage and an easy target for Ukrainian strikes.
Cruise missile strikes, devastating as they were, still have been significantly vulnerable to air defense from systems like Ukraine's Soviet-origin S-300 batteries.
Close target identification and loiter time also impacted accuracy. The 2000-kilometer-range Geran kamikaze drones were shot down in large numbers yet were equally impervious to Man-Portable Air Defense Systems (MANPADS). Their impact on Ukrainian battlefield and civilian-military targets has been devastating.
Russia realized the need to ramp up drone production, and Dmitri Medvedev, the Deputy Chairman of Russia's National Security Council, visited a drone production facility operated by the Special Technology Center LLC in Moscow in October.
"Drones have proven effective in modern conflicts. Their use in the zone of the NWO is an urgent need. Russia has yet to establish a large-scale production of various types of UAVs.
At the Special Technology Center LLC enterprise in St. Petersburg, we conducted a control check of the supply of Orlan drones under the state defense order with the participation of federal executive authorities and law enforcement agencies," Medvedev said on his Telegram channel.