According to a recent report by the New York Times, the declassified US Intelligence report says that sanctions have cut off Russia's supply chains for weaponry and forced Moscow to seek artillery shells and rockets from North Korea.
No Bayraktar Drones For India; Turkish CEO Says Will Sell TB2 UAVs Only To Brotherly Nations Like Pakistan, Ukraine
"Russia is buying millions of artillery shells and rockets from North Korea, according to newly declassified American intelligence, a sign that global sanctions have severely restricted its supply chains and forced Moscow to turn to pariah states for military supplies," New York Times reported on September 5.
The US Intelligence has not provided the specifics of what weaponry Russia is buying from North Korea, the timing, or the shipment size.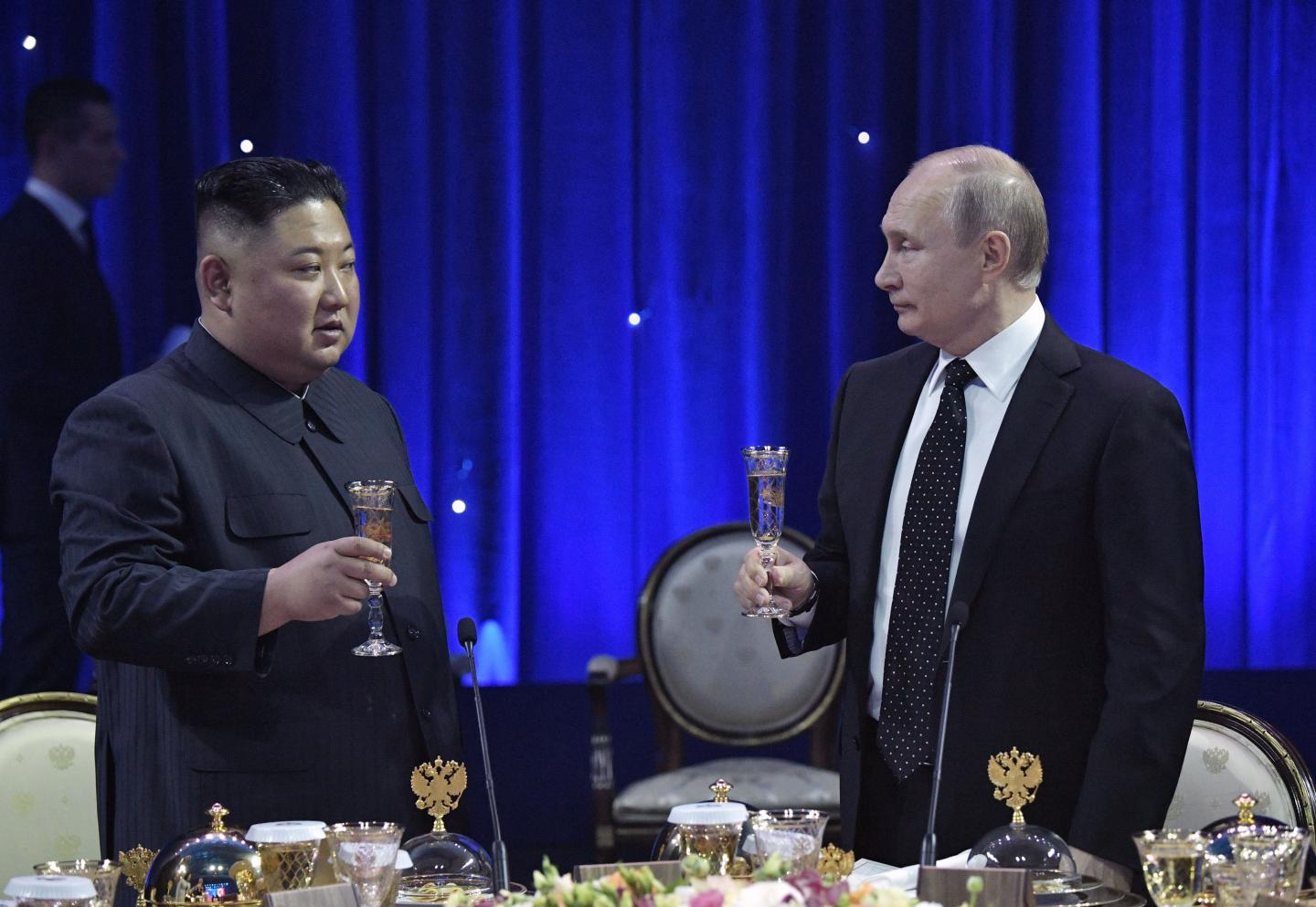 However, a US official reportedly said that, beyond short-range rockets and artillery shells, Russia could try to acquire additional North Korean military hardware.
Sanctions Have Crippled Russia
According to American officials, the sanctions imposed by the US and European countries on Russia have effectively crippled the country's ability to acquire weaponry or the electronics required to make that weaponry.
Some political commentators believe Russia had hoped to purchase arms from China, while it has been buying discounted Russian oil. Beijing has been reluctant to sell arms to Moscow under pressure from the West.
In March, US Commerce Secretary Gina Raimondo warned China's largest chip manufacturer, Semiconductor Manufacturing International Corporation (SMIC), and other Chinese companies that if they are found in breach of US export control measures on Russia, the US could shut them down.
"We could essentially shut SMIC [Semiconductor Manufacturing International Corporation] down because we prevent them from using our equipment and our software," Raimondo said.
Likewise, many countries have bowed down to the American pressure, and therefore Russia appears to have resorted to acquiring weapons from countries like North Korea and Iran. As reported recently by EurAsian Times, Russia has just received its first shipment of unmanned aerial vehicles from Iran, for the country's war effort in Ukraine, according to US Defense officials.
Iran and North Korea are largely cut off from the international financial system, owing to American and international sanctions, which means neither country has much to lose but rather a lot to gain by making deals with Russia.
Any arms procurement deal from North Korea would violate the UN resolutions against weapons proliferation.
Frederick W Kagan, a military expert at the American Enterprise Institute, notes that there is nothing high-tech in a 152-millimeter artillery shell or a Katyusha-style rocket produced in North Korea.
How Credible Is The US Intelligence?
The latest news of Russia buying artillery shells and rockets from North Korea has taken the internet by storm and met with disbelief from many netizens who ridiculed the "so-called" declassified intelligence by the US.
Many even questioned the credibility of the US Intelligence Agencies, noting how the US invaded Iraq in 2003 based on the "intelligence" from its agencies that the then-Iraqi regime led by Saddam Hussein was stockpiling weapons of mass destruction (WMD) but was later unable to show any evidence.
"This is according to the US intelligence, which the whole world knows to use wrong intelligence to achieve whatever they want; let's not forget about the WMDs in Iraq," said Mamadu Musa Jalloh on Facebook in the comments section of Aljazeera's report that carried the latest story by NY Times.
Another by the name of Oloolu Opaleye made a dismissive little quip: "They [Russia] also buying tanks from Tuvalu and missiles from Fiji." Another said, "They [Russia] are buying Missiles and skyrockets from Somalia."
Dennis Ojiakor from Nigeria said, "Soon Russia will be buying AK 47 from South Sudan!"
One commentator said that superpower Russia could be keeping its real weapons for the big war (referring to possible conflict with NATO) and using other, non-essential weapons to fight Ukraine.
When 30 Member NATO supplies military matériel & logistical support to Ukraine, it's ok. When Russia seeks military equipment from China, Iran & North Korea, it's wrong. When EU imposes sanctions on Russia, it's ok. When Russia imposes sanctions on EU, it's blackmail.

— Donald B Kipkorir (@DonaldBKipkorir) September 6, 2022
While there is no way to verify the alleged sale of artillery shells and rockets between North Korea and Russia, EurAsian Times reported in July that Ukrainian forces had been successfully destroying several major Russian ammunition stockpiles and supplies using HIMARS rockets provided by the US.
According to Russian military commentators like Andrey Morozov, Ukrainian attacks targeting Russian ammunition depots and supplies made the Russian forces feel the crunch in terms of munitions fuelling Russia's artillery dominance in Donbas.
Footage reportedly showing the HIMARS strike on a Russian logistics train at Brylivka railway station, 29th July.

According to the Ukrainian government, 40 train cars of materiel were destroyed.???pic.twitter.com/23x9hXwzbU

— Jimmy (@JimmySecUK) August 3, 2022
According to Morozov, also known as 'Murz,' Russian troops had a considerable number of 122 and 152-millimeter rounds because of Ukrainian attacks.
However, if Russia feels the need to replenish its artillery rounds by purchasing them from North Korea, it is suggestive of a massive failure of the Russian military-industrial complex.
While there has been no official confirmation from Russia or North Korea, evidence of the alleged sale of artillery rounds to Russia could appear soon if the Russian forces use them in Ukraine.