The Russian Air Force received its first modernized Su-34M bombers at the end of June. Less than a month later, the aircraft was shot down over Luhansk in a case of friendly fire. This accident was reported when Russia continued to bombard the cities in the eastern Donbas region.
According to Ukrainian media, one of Russia's Su-34 Fullback strike fighters is believed to have been shot down by their forces as it passed over the Luhansk region of eastern Ukraine.
According to reports, the jet was shot down close to Alchevsk, a city in the Luhansk region, one of the front lines of the present conflict. Currently, the separatist fighters supported by Moscow are in control of Alchevsk.
The Ukrainian reports said that the Russians started to demilitarize themselves due to the fear of the Ukrainian Armed Forces.
Videos posted online on July 17 depict what appears to be air defense systems fired into the night sky by either Russian forces or pro-separatists from the so-called Luhansk People's Republic, followed by a sizable fireball that falls to the ground. Russia recognized Luhansk and Donestk as independent states in the run-up to the invasion.
The videos and images shared by the Strategic Command of the Armed Forces of Ukraine on the Telegram messaging app reportedly showed the charred remains of a Russian Su-34 fighter-bomber.
Russian war correspondent Yevgeny Poddubny published a video over night which he said shows Russian/LNR air defenses destroying a target over Alchevsk. It appears that Russian air defenses shot down its own Su-34 bomber. https://t.co/qTxccwJRua https://t.co/fVEvBoUy21 pic.twitter.com/RmBDCrRyJ3

— Rob Lee (@RALee85) July 18, 2022
Online war trackers and OSINT accounts identified the aircraft as RF-95890 by the tail number visible in some images. Su-34s are strike fighter planes that carry a lot of fuel, which may have contributed to the significant fireball after the air defense system hit it.
There have been several military blunders on Russia's part since the start of this war. A Russian attack reportedly went wrong when the Iskander missile completely broke apart and exploded soon after it was fired.
Very likely that Russian forces downed RF-95890 over Alchevsk, one of the few modernized (and very valuable) Su-34Ms in the Russian inventory.

The SU-34M is equipped to carry an advanced suite of sensor pods that can remotely send back information over datalink. https://t.co/13LHF8BkF7 pic.twitter.com/EPzzT3PMwM

— OSINTtechnical (@Osinttechnical) July 19, 2022
The aircraft was identified as an advanced and rare Su-34M variant outfitted with upgrades to its avionics, radar, and communications systems and its electronic warfare and weapons systems.
EurAsian Times had earlier reported that the first Su-34M fighters were delivered to the Russian Air Force at the end of June. A new order for 76 modified Su-34M aircraft delivered by 2027 was placed in 2020.
Turkey's 'National Combat Aircraft' Debuts At UK Airshow Along With Attack Chopper, Combat UAVs
This development comes as Russia has intensified its bombardment of the eastern cities of the Donetsk Oblast. It shelled a town called Torestk early in the morning, destroying a two-story building and killing about six people.
The Russian shelling intensified after being hit by long-range weapons like HIMARS and Harpoons that were provided to Ukraine by the United States.
Recently, Ukraine received the first delivery of the M270 rocket launch system from Britain, which has significantly boosted its firepower. Long-range precision weapons have allowed Ukrainian troops to hit targets inside Russian-occupied territory.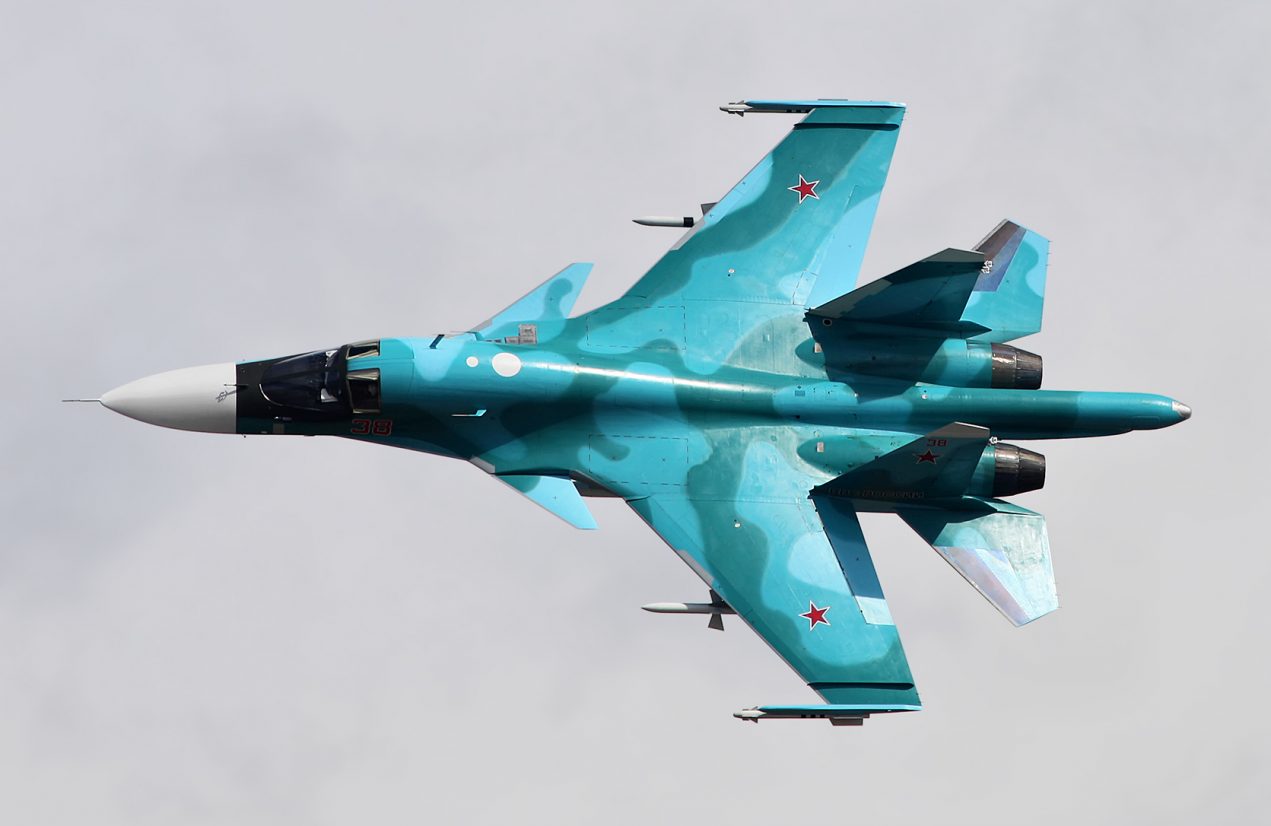 Jolt to Russia
The Su-34 is an advanced twin-seater fighter-bomber with a range of 600 miles (about 966 kilometers) with a weapons payload of 12 tons, including air-to-air missiles, bombs, and missiles for ground attack. It is outfitted with a gun that can fire carefully guided ammunition.
The aircraft also has multi-mode radar, a Khibiny electronic-countermeasures (ECM) suite, and a 30-millimeter cannon.
Three replaceable reconnaissance pods are suspended under the Su-34's belly in the new updated Su-34M variant modified under the "Sych" development program.
UKR-RT, UKR-OE, and UKR-RL can send their findings in real time to ally aircraft and command centers using separate sensors and a single data network. The UKR-RT is a radio-technical pod that searches for and geo-locates the radar signals from adversarial military systems using an M410 electromagnetic sensor.
According to the Director-General of Russia's United Aircraft Corporation, Yuriy Slyusar, the modernized Su-34M has double the combat capabilities of the original aircraft. The loss of the aircraft would thus come as a heavy jolt to the Russian Air Force.
Researchers at the Oryx blog, which keeps an online record of visually verified equipment lost in the conflict, estimate that Russia has lost at least 35 fixed-wing military aircraft, including 11 Su-34, in Ukraine since the all-out invasion in February. The total is probably far higher. Russia's state-run media has said the Su-34 costs approximately $36 million per unit.
Most Russian aircraft crashes have been credited to air-to-air missiles and Ukrainian air defense systems. Numerous Russian military aircraft and rotorcraft have been shot down by Ukrainians using shoulder-fired anti-aircraft missiles, also known as MANPADS.
Russian air forces have been at war with Ukraine for five months, but they have not achieved air superiority due to these anti-aircraft systems supplied by the West and NATO countries to Ukraine.
With more aid coming in from NATO partners, a new Ukrainian military is making a comeback and launching lethal attacks against Russia. The battle is expected to become more critical in the days to come.