Russia's state-run defense firm Rosoboronexport announced at the Aero India 2023 that the Russian defense companies were all set to sign new export contracts despite the ongoing Ukraine war. 
This was announced by the CEO of Rosoboronexport, Alexander Mikheyev, at the Aero India 2023.
Most importantly, Mikheyev said that foreign countries showed increased interest in a few weapon systems "against the backdrop of a special military operation."
The CEO named a few systems that have performed exceedingly well in the war against Ukraine and were now being keenly watched by interested foreign customers.
These weapon systems include the Ka-52E and Mi-171Sh helicopters, Su-57E and Su-35 fighters, Iskander-E tactical complexes, and T-90M tanks.
"Our foreign partners, of course, are very attentive to information about the facts of the combat use of weapons and military equipment. We know that they are studying official materials published by the Russian Ministry of Defense and correspondents of the Russian media.
"At the same time, it is worth noting that recently the interest of our partners in modern Russian products has grown, in particular, Ka-52E and Mi-171Sh helicopters, Su-57E and Su-35 fighters, Iskander-E operational-tactical systems, T-90M Proryv tanks," he said.
This statement comes when the Russian defense industry is reeling under crippling sanctions slapped by the international community. However, several reports have indicated that the industry has managed to ramp up production regardless of the restrictions.
#BREAKING: #BNNRussia Reports.

Russia will showcase over 200 types of weapons, military equipment at the Aero India 2023 exhibition @DefProdnIndia. Indian Prime Minister Narendra Modi @NarendraModi inaugurated 14th edition of #AeroIndia2023 held at #Bengaluru. #Russia #Defense

— Gurbaksh Singh Chahal (@gchahal) February 13, 2023
Mikheyev also assured the world that despite the increase in demand for weapons by the Russian Army, the industry was well on its way to completing export orders as initially planned.
"As the Russian Army is busy carrying out the most important tasks, the defense industry should primarily meet the Defense Ministry's needs. Meanwhile, our enterprises have successfully executed the current contracts and see no obstacles to signing new export deals."
Six Combat-Tested Russian Weapons
One of the missiles that Russia has extensively deployed against Ukraine with cutting-edge precision and devastating impact is the Iskander-M. It is a unique mobile ballistic missile system with a 400-kilometer range capable of carrying a nuclear warhead.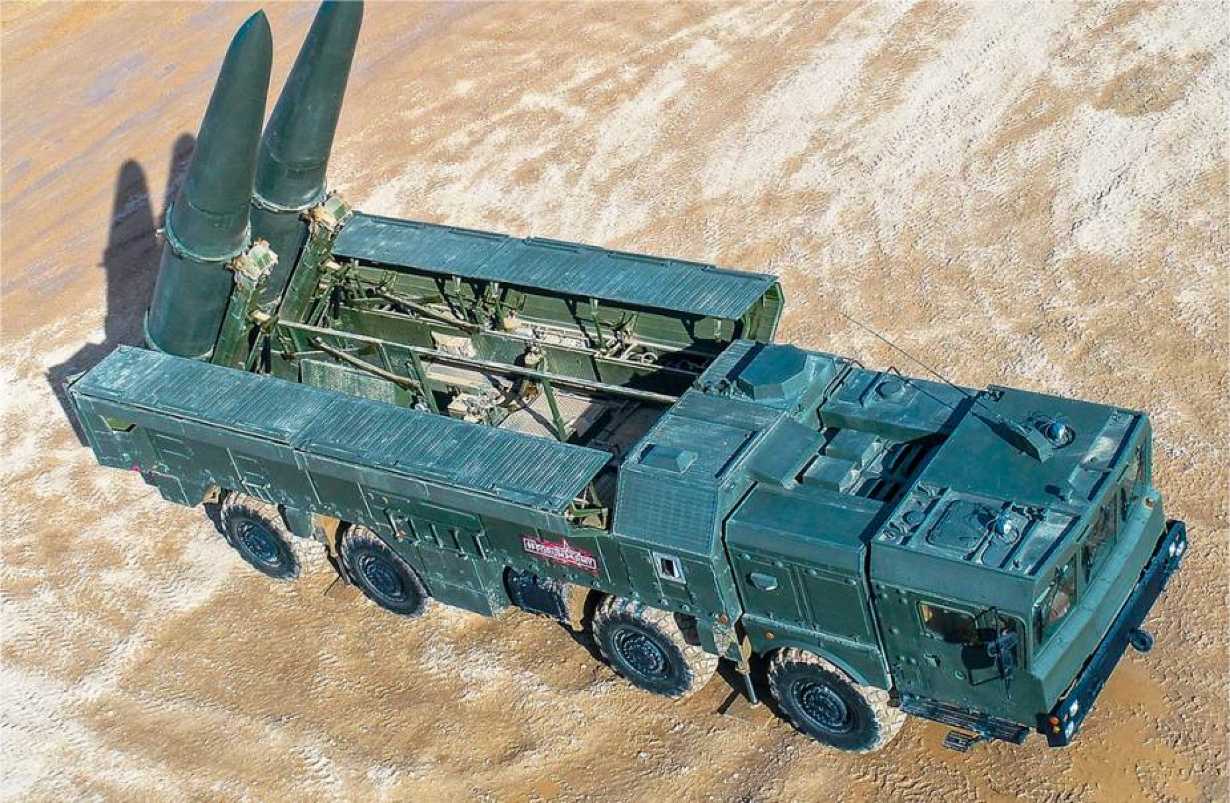 It is connected to a networked system of sensors and missiles that can quickly unleash attacks on targets around the theatre.
In addition, it contains jammers to block active seekers and is capable of fast terminal phase maneuvers. After its combat success, this missile was also delivered to Belarus in December last year.
The export variant of this missile, Iskander-E, is reportedly being eyed by many countries. The Iskander-E has been modified by downgrading its range which is over 280 kilometers.
Over the years, this missile has been exported to Armenia and Algeria, but their recent combat performance is being used to increase their exports by Rosoboronexport.
Russia has also extensively deployed two helicopters, the Ka-52 Alligator and the Mi-171Sh.
In May 2022, Rosoboronexport Chief said, "We are keeping close tabs on using our combat hardware in the special military operation in Ukraine. The Ka-52 and Mi-28N military helicopters and the Mi-171Sh export version of the Mi-8AMTSh rotorcraft are successfully employed."
The Alligator is an advanced ground-attack helicopter deployed to obliterate Ukrainian tanks and ground formations using its advanced gunship.
In contrast, the Mi-171Sh is a military transport rotorcraft designed specially to operate in combat missions. Both these choppers were also displayed at China's Zhuhai Air Show in November last year.
While Russia has lost quite a few Ka-52 attack choppers in combat, they have proved their efficacy with their improved power-to-weight ratio, maneuverability, performance, operating characteristics, onboard radio-electronic equipment, potent weaponry, and defensive aid suite. Ka-52E is the export version of this helicopter.
Another group of systems that Russia is looking to export is the Su-57 and Su-35 fighter jets. The Su-35 is a workhorse of the Russian Aerospace Forces (VKS), a super-maneuverable, twin-engine, single-seat fighter jet that the VKS has extensively used to battle the Ukrainian Air Force.
These fighters have been used to carry out stand-off attacks on Ukraine. Russia is reportedly selling two dozen of these jets to Iran owing to a growing defense partnership between the two countries.
Even though the Su-35 has undertaken combat since the very formative days of the conflict, the Su-57 fifth-generation stealth fighter's participation was confirmed only late last year.
The stealth profile allows this aircraft to undertake combat patrols and fire long-range missiles without being detected. Russia is betting big on the export of this advanced fighter jet, as previously explored in detail by EurAsian Times.
Next on the list is the T-90M, an upgraded version of the T-90 Tank which has improved armor protection with Relikt built-in Explosive Reactive Armor (ERA) in place of the previous Kontakt-5, better weaponry, better primary sensor, and fire control enhancements.
It is fitted with NBC (Nuclear, Biological & Chemical) protection and automatic fire suppression systems.
The T-90 tanks have seen combat on several occasions, including in Ukraine. Russia has lost several tanks on the battlefield owing to the anti-tank guns and missiles that Ukraine has widely used.
However, the advanced features of these tanks have been highlighted by Russian arms exporter time and again.
Besides the six systems that the CEO mentioned, he also said that foreign partners are also interested in tank support combat vehicles (BMPTs), the TOS-1A heavy flamethrower system, guided munitions for cannon artillery, Orlan-10E, and Orion-E unmanned aerial vehicles, coastal missile systems.
Not just these, the Club-S and Club-N missile systems, Pantsir-S1 air defense missile systems, Viking air defense missile systems, Tor air defense systems, Igla-S and Verba MANPADS, and various electronic warfare systems, including anti-aircraft missile systems, drones are also fast gaining popularity.
Contact the author at sakshi.tiwari9555 (at) gmail.com