Amid expanding ties between the United Kingdom and Ukraine, as visible in the burgeoning military support to the latter, there are reports that a British defense giant BAE Systems, is coming to Ukraine.
Ukrainian President Volodymyr Zelenskyy announced the opening of a Ukrainian branch of the British multinational defense corporation BAE Systems on May 30. The decision to open a BAE Systems office in the nation was made during a virtual meeting Zelenskyy had earlier that day with BAE Systems executives, including Chief Executive Charles Woodburn.
Zelenskyy hopes that this might ultimately result in the construction of facilities for the manufacturing and maintenance of the company's weapon systems inside Ukraine. In an evening video address, he said, "It is indeed a massive manufacturer of weaponry, the kind of weaponry that we need now and will continue to need."
"We are prepared to serve as a significant regional hub for the maintenance and manufacture of a variety of BAE Systems' products," the Ukrainian president said. "We are also interested in forging a more extensive relationship than we currently maintain."
BAE Systems is one of the most well-known defense firms in the world. The Ukrainian armed forces use a variety of weapons from its product line, including M777 howitzers, Challenger 2 tanks, M2 Bradley infantry fighting vehicles (IFVs), CV90 IFVs, Paladin self-propelled howitzers, and Stormer HVM air defense systems.
President Zelensky will open a factory for the manufacturer of Challenger tanks and M777 howitzers in Ukraine

The first step will be the opening of the BAE Systems office in Ukraine, and after that the start of production will take place#UkraineWar pic.twitter.com/3HnS9tvZm9

— UATV English (@UATV_en) May 31, 2023
Without giving specific details, Zelensky said in his video address, "We are working on establishing a suitable base in Ukraine for production and repair. This encompasses a wide range of weaponry, from tanks to artillery."
The development comes amid swelling British military shipments to Ukraine, including the recently supplied long-range Storm Shadow missiles that the Ukrainian Air Force has generously launched against Russia.
The Ukrainian MoD recently announced that its long-range Storm Shadow missiles acquired from Britain have successfully hit all their Russian targets. "Storm Shadow long-range missiles have hit 100% of the targets identified by the General Staff," the ministry tweeted on May 28.
Challenger 2: If there is such a thing as "dragon teeth", there must be a "dragon dentist." pic.twitter.com/ieB13uVGTt

— Defense of Ukraine (@DefenceU) May 25, 2023
Besides the Storm Shadow missiles, the British Challenger-2 tanks are also operational in Ukraine and could soon be employed to face off against Russian tanks.
In a recently published video by the Ukraine MoD on Twitter, a Challenger 2 tank could be seen smoothly demolishing 'Dragon Teeth' fortifications, which Russia erected on the frontlines to thwart a Ukrainian advance.
Not just that, British Prime Minister Rishi Sunak is at the front of stitching together an international fighter jet coalition for Ukraine, with an eye on F-16 delivery from NATO to the war-torn country. The UK is reportedly training Ukrainian fighter pilots to fly fourth-generation fighter jets.
The British have regularly expressed solidarity with Ukraine by pledging military for the country "for as long as it takes." However, this has led to a downward spiral for the relationship between former WW2 allies, with Moscow often warning London of dire consequences.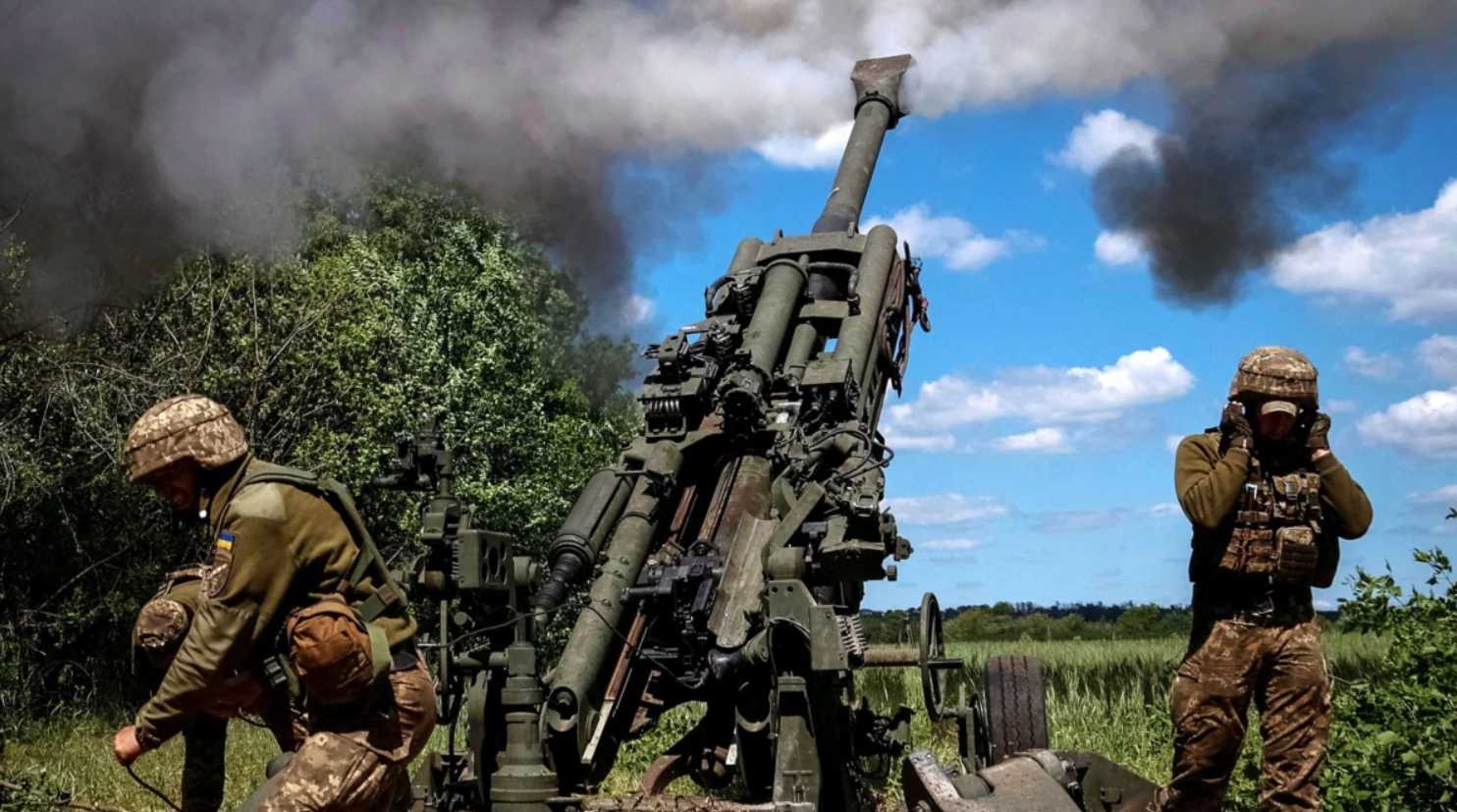 Russian Warning: British Officials Could Be Legitimate Targets
In one of the starkest warnings coming from Russia, the Deputy Chairman of the Russian Security Council, Dmitry Medvedev, said on May 31 that London is waging an undeclared war against Moscow, which means that any British figure can be considered a legitimate military target.
Medvedev said in a tweet, "The UK's Foreign Secretary Cleverly has stated that Ukraine "has the legitimate right to … project force beyond its borders to undermine Russia's ability to project force into Ukraine itself." According to him, legitimate military targets beyond Ukraine's border are part of its self-defense.
"The ludicrous officials of the UK, our eternal enemy, should remember that within the framework of the universally accepted international law regulating modern warfare, including the Hague and Geneva Conventions with their additional protocols, their state can also be qualified to be at war.
"Today, the UK acts as Ukraine's ally providing it with military aid in the form of equipment and specialists, i.e., de facto leading an undeclared war against Russia. That being the case, any of its public officials (either military or civil, who facilitate the war) can be considered as a legitimate military target."
Medvedev's comments were a response to British Foreign Secretary's previous assertion defending Ukraine's right to hit Russia behind the frontlines. After Russia announced that Ukrainian drones had attacked its capital, UK's foreign secretary James Cleverly stated on Tuesday that Ukraine had the "legitimate right" to defend itself outside its boundaries.
Ukrainian drone attack on residential buildings in Moscow.

Ukraine is a terrorists state. pic.twitter.com/DFyVJk91BW

— Jackson Hinkle ?? (@jacksonhinklle) May 30, 2023
When asked about the drone strike on Moscow, Cleverly replied that he lacked any precise analysis or knowledge and wouldn't make any assumptions about its nature. However, he emphasized that Kyiv was legally permitted to defend itself outside its borders.
"Ukraine does have the legitimate right to defend itself. It has the legitimate right to do so within its borders, of course, but it also does have the right to project force beyond its borders to undermine Russia's ability to project force into Ukraine itself," Cleverly said at a press conference in Tallinn.
He added: "Legitimate military targets beyond its borders are internationally recognized as part of a nation's self-defense… We should recognize that."
Massive escalation in Ukraine. ??

Putin declared today that Russia struck the Ukrainian Intelligence Headquarters in Kyiv 2-3 days ago, and the drone attack on Moscow was an attempt at retaliation.

Russia are now striking "decision-making centers".??https://t.co/02KfLXm8aY pic.twitter.com/YjwXQc6x8c

— Clandestine (@WarClandestine) May 31, 2023
Russia has since gone on a rampage against Ukraine, hitting its decision-making centers. Russian President Vladimir Putin acknowledged the high-value attack by saying, "We have already discussed the possibilities of striking at decision-making centers. Of course, the military intelligence headquarters of Ukraine, which was hit two or three days ago, also belongs to this category."
This may not be the first time a Russian official has warned Britain. Earlier, Russia had warned of consequences when Britain armed Ukraine with Storm Shadow missiles and when there were reports of Britain supplying depleted uranium shells to Ukraine.
However, it may be one of the gravest warnings yet by a high-ranking official as Moscow scrambles to cope with the rampant Ukrainian attacks, which Russia alleges are encouraged and supported by the UK and other NATO allies.
Contact the author at sakshi.tiwari9555 (at) gmail.com