The tensions between Moscow and Kyiv have escalated after Russian President Vladimir Putin officially recognized the independence of two separatist regions — Luhansk and Donetsk — on February 21 and ordered his troops to march towards south-eastern Ukraine for "peacekeeping operations".
The official recognition that ended the Minsk Agreements and pulled the plug on any further diplomacy drew widespread global condemnation. The move is being seen as the start of an invasion and has led to the West imposing sanctions on these breakaway regions as well as Moscow.
The Russian build-up on three sides and the moving of additional troops and equipment have led to fears of an imminent invasion of Ukraine.
Russia is now sending its BMPT-72 Terminator towards Ukraine, according to reports. The Terminator armored combat vehicle, which was only introduced to the military last December, appears to be on its way to the Ukrainian border area, where Russian forces, estimated to number between 150,000 and 200,000 troops, are stationed.
The BMPT-72, a heavily armed tracked battle vehicle with no Western counterpart, could be ideally adapted to a prospective campaign in Ukraine, implying that Moscow anticipates becoming involved in high-intensity combat operations in an urban context.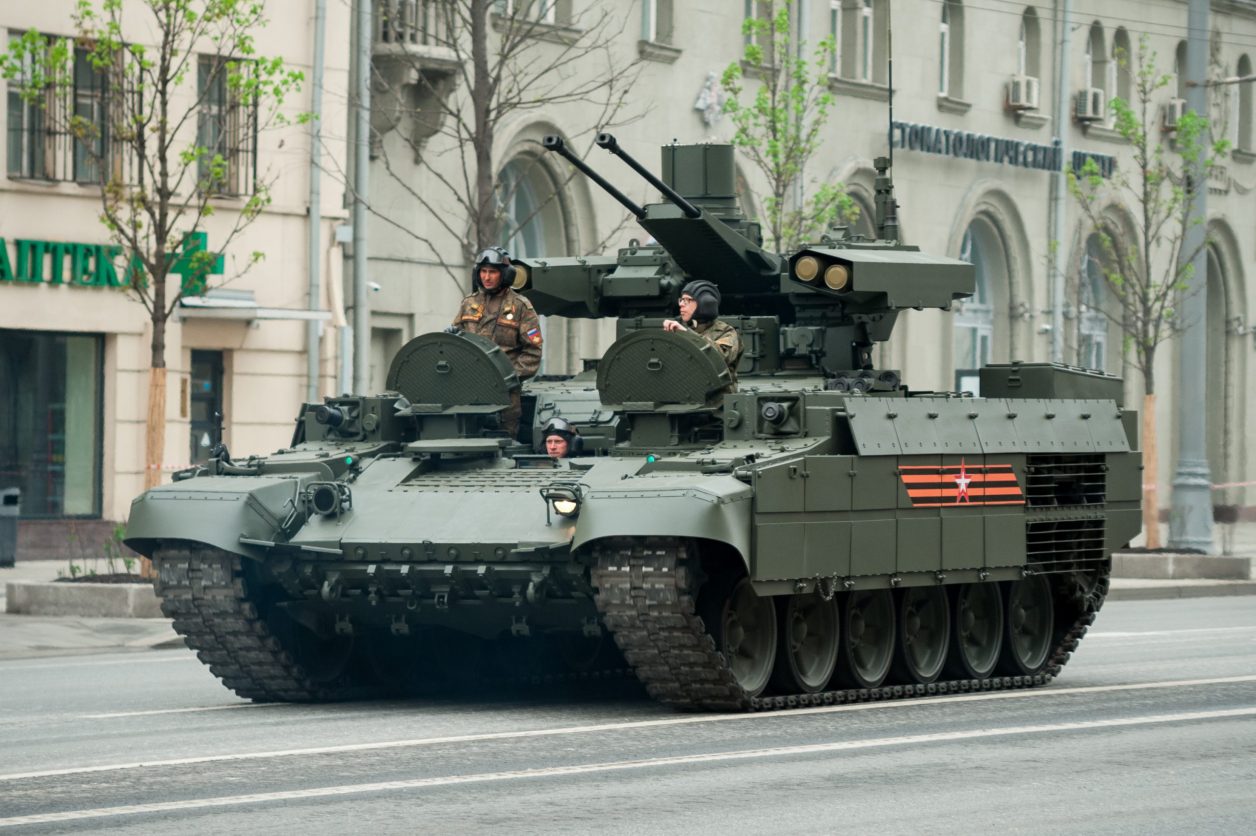 On the other hand, Ukraine and NATO are also preparing their forces for a full-scale war. Kyiv asked its citizens to leave Russia and started conscripting reservists aged between 18 and 60. While NATO cannot enter the war on the side of Ukraine, it has been strengthening its own defenses.
The Pentagon has announced the deployment of F-35A Joint Strike Fighters, as well as AH-64 Apache attack helicopters and ground soldiers, to several places along NATO's eastern border as it seeks to reinforce the eastern flank of NATO, vulnerable to attack in case of a war.
BREAKING: US Secretary of Defense orders 800 soldiers, twenty AH-64 Apache attack helicopters and up to eight F-35 fighter jets be sent to the eastern flank of NATO #News #Economy #Politics

— The Economian (@TheEconomian) February 23, 2022
US President Joe Biden announced these deployments, all of which involve components already stationed in Europe. He claimed that these actions were in response to the continuous presence of tens of thousands of Russian troops in Belarus, who, along with other forces stationed along Russia's border with Ukraine, are poised to invade that nation.
Belarus, a strong ally of Russia shares a border with Ukraine and NATO member Poland while Ukraine and Poland have their border that runs for more than 500 kilometers. Even before the tensions peaked, Belarus was accused of manufacturing a migrant crisis. The West anticipates a migrant crisis in case of Ukraine's invasion.
The Russian 'Terminator' 
A train outside of Yelets, Russia, was seen traveling west, towards the Ukrainian border, in a video that was widely shared on social media. At least two Twitter accounts dedicated to open-source intelligence geo-located the train's exact position, which put it roughly 180 miles from the Ukrainian border.
???⚡???
The BMPT-2 "Terminator" of the Russian Armed Forces is being transferred to the areas of the front line. pic.twitter.com/nFy0CzAnPT

— SAQI (@SAQI8732) February 21, 2022
Some of the BMPT-72s aboard the train have been given an improvised winter camouflage, with white panels added to block the vehicle's visual signature when operating in snowy conditions.
The BMPT-72 was designed to fulfill a specific requirement of the Russian Army for a heavy infantry combat vehicle that is suited for urban counterinsurgency warfare, such as the one which Moscow's forces faced in the two Chechen operations in the mid-1990s and early 2000s.
Rather than being built from scratch, the BMPT-72 was designed to be converted from existing T-72s. This was an appealing alternative because there were plenty of T-72s in service and in storage depots across the country, and the Terminator turret could be grafted onto an existing tank hull. Algeria and Kazakhstan have also purchased the Terminator from Russia.
This is a combat vehicle that is almost entirely absent in Western forces. Israel has a similar type called the 'Nammer'.
F-35, Attack Helicopters For Eastern flank
After Kremlin ordered troops into Ukraine, NATO members sent their assets to the Eastern European region. According to a Pentagon statement, up to eight Air Force F-35As now stationed in Germany will be dispersed to "various operating areas around NATO's eastern flank" as part of these deployments.
A contingent of 20 US Army AH-64 helicopters will depart from Germany for undetermined sites in the Baltic Sea region. Another 12 Apaches now stationed in Greece will be transferred to Poland. Finally, an Army infantry battalion task group of about 800 soldiers will be deployed from Italy to the Baltic Sea region.
"These additional forces are being repositioned to reassure our NATO allies, deter any potential aggression, and train with host-nation forces," the Pentagon's statement said. "These moves are temporary in nature, and are part of the more than 90,000 US troops already in Europe on rotational and permanent orders."
The USAF has announced the deployment of F-35A's to Spangdahlem air base in Germany today. The USAF has said it the deployment is "to bolster readiness, enhance NATO's collective defense posture and further increase air integration capabilities with Allied and Partner nations." pic.twitter.com/QYCuvwmcNM

— Intel Air & Sea (@air_intel) February 16, 2022
The US Air Force does not have any F-35A fighters permanently stationed in Germany. According to Brian Everstine of Aviation Week, these planes are from the 34th Fighter Squadron at Hill Air Force Base in Utah. Last week, a group of Hill Joint Strike Fighters arrived at Spangdahlem Air Base in Germany.
The newer Apaches have significant surveillance and reconnaissance capabilities that the Army might utilize to help monitor border areas as well as remain on standby for other eventualities. This might be particularly advantageous in Estonia, Latvia, and Lithuania, which share an eastern border with Russia and Belarus. Belarus shares a substantial border with Poland.
On the other hand, the advanced F-35s offer valuable electronic intelligence collection capabilities apart from stealth characteristics.