According to the Russian MoD (RuMoD), on the night of June 23, 2023, "Russian Aerospace Forces launched long-range, precision strike missile salvo at an AFU foreign-made hardware and weapons depot. 
"The assigned target has been destroyed. The goal of the strike has been achieved."
The Ukrainian Air Force (UAF) confirmed the strike on its Facebook page, stating that the Russian attack was directed at the Viysk airfield near the Khmelnytskyi region. According to the UAF statement, Russia used its Tu-95MS strategic bombers to launch 13 Kh-101/Kh-555 cruise missiles from over the Caspian Sea, most of which were directed toward the Khmelnytskyi region.
The UAF states that Russia additionally used two drones, one of which was of an unidentified type. During a salvo strike, Russia often mixes slow-moving drones with cruise missiles to confuse the enemy and locate air defense systems.
In quoting Ukrainian sources, Russian military bloggers stated that Russia struck targets in the Khmelnytskyi, Ternopil, Kherson, and Dnepropetrovsk regions. According to Ukrainian sources, Russia used Kh-47 Kinzhal hypersonic missiles and Kh-22 supersonic cruise missiles during the attack.
The Significance Of The Khmelnytskyi Strike
Viysk Airfield near the Khmelnytskyi region is home to the 7th Tactical Aviation Brigade flying Sukhoi Su-24 M, Sukhoi Su-24 MR, and Aero L-39C Albatros aircraft. UAF Su-24MR fighter bomber aircraft, modified to carry British Storm Shadow cruise missiles operate from the airbase near Khmelnytskyi city.
The moment the Storm Shadow missile hits the Chonhar bridge.

Quite impressive accuracy.#Kherson #Crimea #Ukraine pic.twitter.com/8yBRp4krr3

— (((Tendar))) (@Tendar) June 22, 2023
The Storm Shadows are stored at the airbase, and numerous British personnel supporting UAF Storm Shadow operations likely work at the airfield.
Earlier, on May 29, 2023, Russia had struck the airbase. According to official Ukrainian sources, five aircraft and fuel & ammunition depots were put out of action; the runway was seriously damaged.
Following the attack, there were rumors that some British personnel had to be evacuated from the airbase due to serious injuries sustained during the attack.
Following the attack, Ukraine's Storm Shadow attacks had reduced noticeably.
Ukrainian Storm Shadow Attacks On Crimean Bridges
Around 5 AM on June 22, two Ukrainian Storm Shadow missiles struck the Chongar and Sivash bridges connecting Crimea and the Kherson region. RuMoD on June 23 stated that its air defense forces intercepted five Storm Shadow cruise missiles during the day. RuMoD, for the first time, also released a video showing the interception of a Storm Shadow cruise missile by its Pantsir-S1 AD system.
This morning, Storm Shadow struck a Chonhar bridge that connects Crimea and the mainland Ukraine and has been used by the occupiers to supply their troops. pic.twitter.com/DixVQFcFQM

— Saint Javelin (@saintjavelin) June 22, 2023
The Storm Shadow missiles that struck the bridges were likely part of a saturation strike aimed at overwhelming Russian air defenses. Before June 22, RuMoD had not reported any Storm Shadow shootdown for almost a week, implying very few, if any, attacks. The pause was likely aimed at lulling Russian AD to lower its guard.
The Chongar Bridge is a double-track railway bridge and a road bridge on the E-105 highway, while the Sivash Bridge is an old unused bridge over Sivash Bay.
The attack damaged the roadway on the Sivash Bridge, leading to the suspension of traffic. The attacks didn't cause any casualties. Estimates for repair time vary from several days to several weeks.
Change In Ukrainian Tactics
The Ukrainian missile strike aimed to degrade the Russian Ground Lines of Communication (GLOC) between Crimea and the Kherson region.
It's essential to understand the reason for the massive Ukrainian Storm Shadow strike on June 22.
The much-hyped Ukrainian counteroffensive, which started with probing attacks on June 4, has failed to intensify as Ukrainian forces have not breached Russian defensive positions. Ukrainian armor and mechanized infantry have hit a veritable steel wall of steel, confronting well-organized Russian forces.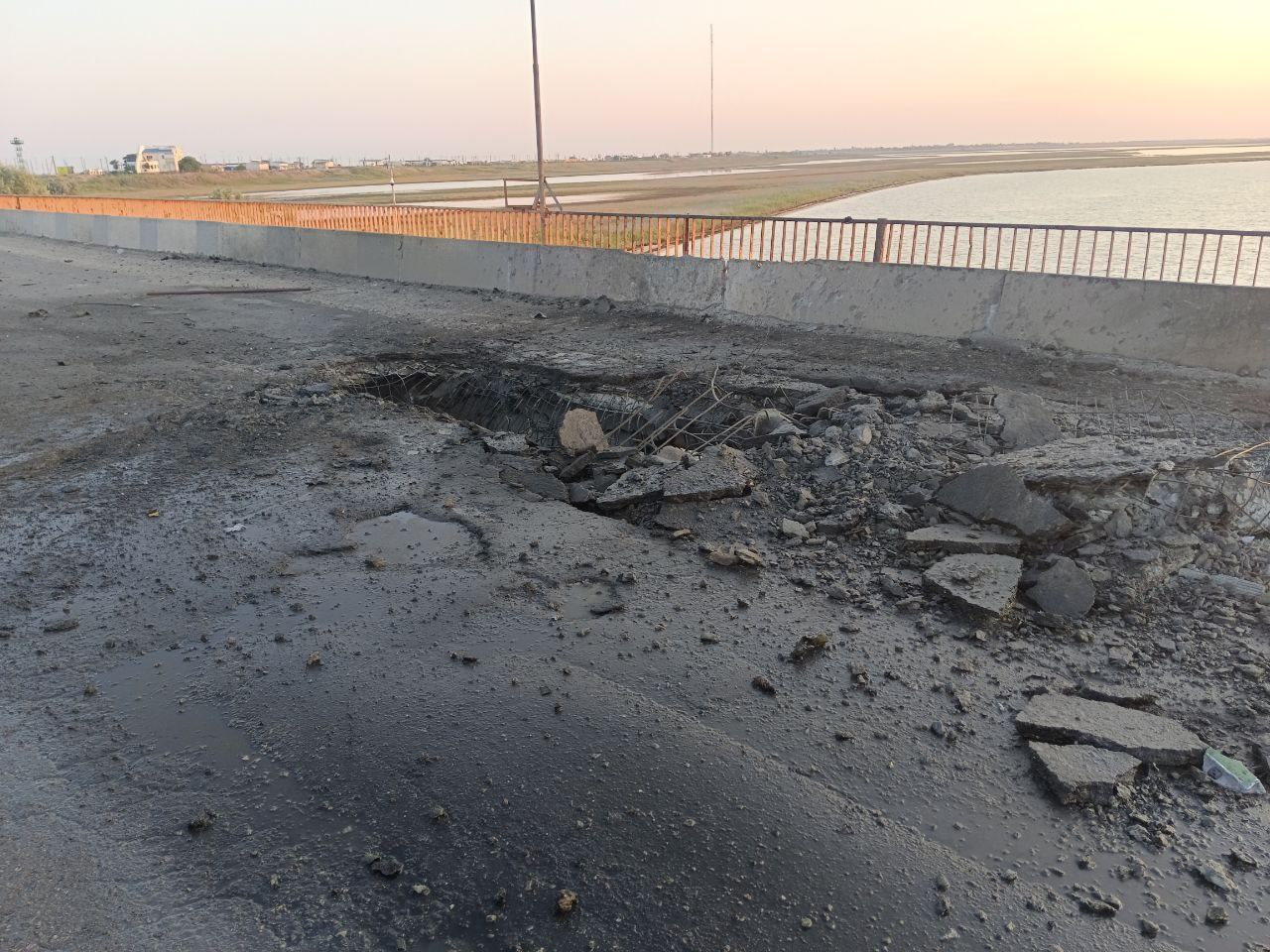 The Russian forces have laid out their defensive lines well and have extensively mined the steppe along the likely direction of attack. Russian reconnaissance drones patrol the frontier 24×7, networked to battlefield management systems that facilitate defensive fire to be laid on the intruding enemy very quickly.
Russia is leveraging its air superiority over the line of contact to deploy attack helicopters equipped with all-weather, day and night, long-range sensors and ATGMs.
Russia is reportedly remotely mining the area behind advancing Ukrainian columns after the columns painstakingly breach the minefield to progress, thereby effectively trapping Ukrainian forces in the minefield!
Since the past few days, Ukrainian forces have observed an operational pause, most likely to reevaluate their tactics. There are indications that Ukrainian forces will now change tack and revert to tactics they had earlier successfully employed in Kherson during their offensive in the Autumn of 2022.
They will focus on depriving Russian forces of their plentiful supply of fuel and ammunition through sustained attacks on Russian GLOC.
Russia's Immediate Retaliation
On June 20, 2023, Russia's defense minister, Army General Sergei Shoigu, warned that Russia would strike decision-making centers in Ukraine in case of HIMARS or Storm Shadow attacks on Russian territory. Russia considers Crimea, which acceded to Russia following a referendum in 2014, as Russian territory.
"Deployment of these particular missiles out of the special military operation zone will be regarded as direct involvement of the US and UK in the conflict and will result in immediate retaliatory strikes at decision-making centers in Ukraine territory," General Shoigu had said.
The Russian strike on Khmelnytskyi was immediately retaliatory at a decision-making center.
This night russian attack was aimed at a military airfield in the Khmelnytskyi region. The launches were carried out around midnight from the Caspian Sea from 4x Tu-95ms bombers. All 13 Kh-101/Kh-555 cruise missiles were destroyed by air defense, most of them in Khmelnytskyi. pic.twitter.com/oyVBzdvAtQ

— Ukraine Front Lines (@EuromaidanPR) June 23, 2023
Russia likely struck the Khmelnytskyi airbase with Kh-47 and Kh-22 missiles, not Kh-101/Kh-555 missiles.
Russia uses its Kh-47 and Kh-22 missiles to strike underground storage depots and command centers. The Kh-47 is the preferred weapon for precision strikes on targets such as a decision-making center, and the Kh-22 is the preferred weapon for strikes on area targets such as fuel and ammunition depots.
It's interesting to note that Ukraine claims it shot down all the 13 Kh-101/Kh-555 missiles launched by Russia. It makes no mention of the Kh-47 and Kh-22 missiles.
In an earlier analysis, we predicted that Russia would strike decision-making centers staffed by British or US personnel as retaliation for HIMARS and Storm Shadow missiles.
At Khmelnytskyi, Storm Shadow missiles are loaded and programmed to strike their targets by British personnel.
Conclusion
Having failed to breach Russian defensive lines, Ukraine likely sees no alternative to attacking Russian GLOC by attacking Crimea, which Russia perceives as Russian territory.
Russia had warned of Ukrainian Storm Shadow strikes and their consequent retaliation. As things stand, an escalation of the conflict is almost inevitable unless Russia succeeds in severely curbing Ukrainian Storm Shadow attacks through sustained counter-air strikes on Khmelnytskyi.
Vijainder K Thakur is a retired IAF Jaguar pilot. He is also an author, software architect, entrepreneur, and military analyst. VIEWS PERSONAL
Follow the author @vkthakur