Indicating the continuing relevance and utility of the F-16 fighters in even non-core combat roles, the US has awarded a US$818 million contract to maintain and modernize the US Navy's (USN) 'aggressor squadrons.'
Such squadrons train pilots in 'dissimilar combat training scenarios,' where their jets pose as enemy fighters, mimicking their tactics and technology. Private defense engineering firm Amentum announced it had secured the Contractor Logistics Support (CLS) deal last week.
While the USAF also uses F-35s as aggressor squadrons to imitate rival fifth-generation fighters, particularly the Chinese (PLAAF) J-20 'Mighty Dragon' and even the Russian (RuAF) Su-57 Felon, the F-16 acquires a distinct position as it has evolved to become one of the widely used and most advanced single-engine fighters in military aviation.
Developed in the 1970s at the height of the Cold War to rival the Russian MiG-21 following its experiences in the Vietnam War, the F-16 has developed several advanced variants and acquired highly advanced capabilities and electronics that went far beyond its intended role.
In service since 1979, the developer Lockheed Martin has delivered approximately 4,600 F-16s to over 25 countries.
Despite being judged as possibly vulnerable and less effective in war with Russia, where Ukrainian pilots are being trained, the plane is still a force multiplier.
It can perform several other roles like combat air patrols (CAP), air interdiction, and even complicated ground attack missions when used with other advanced fighters like the F-15 and European aircraft like the Eurofighter Typhoon and Dassault Rafale.
Navy's F-16s To 'Attack' & 'Fight' Own Fighters Get A Boost
According to reports, the contract is meant for the Naval Air Station (NAS) at Fallon in Nevada.
"Navy F-16 Vipers play a vital role as the aggressor in fighter combat training, and our work securing Viper modernization is key to the Navy and Marine Corps fighter squadron's combat readiness," Dr. Karl Spinnenweber, President of the Critical Missions Group, stated.
Having used the Viper since 2002, the USN's 'Viper fleet' serves an "aggressor-training role with simulation capability of current threat aircraft in fighter combat mode."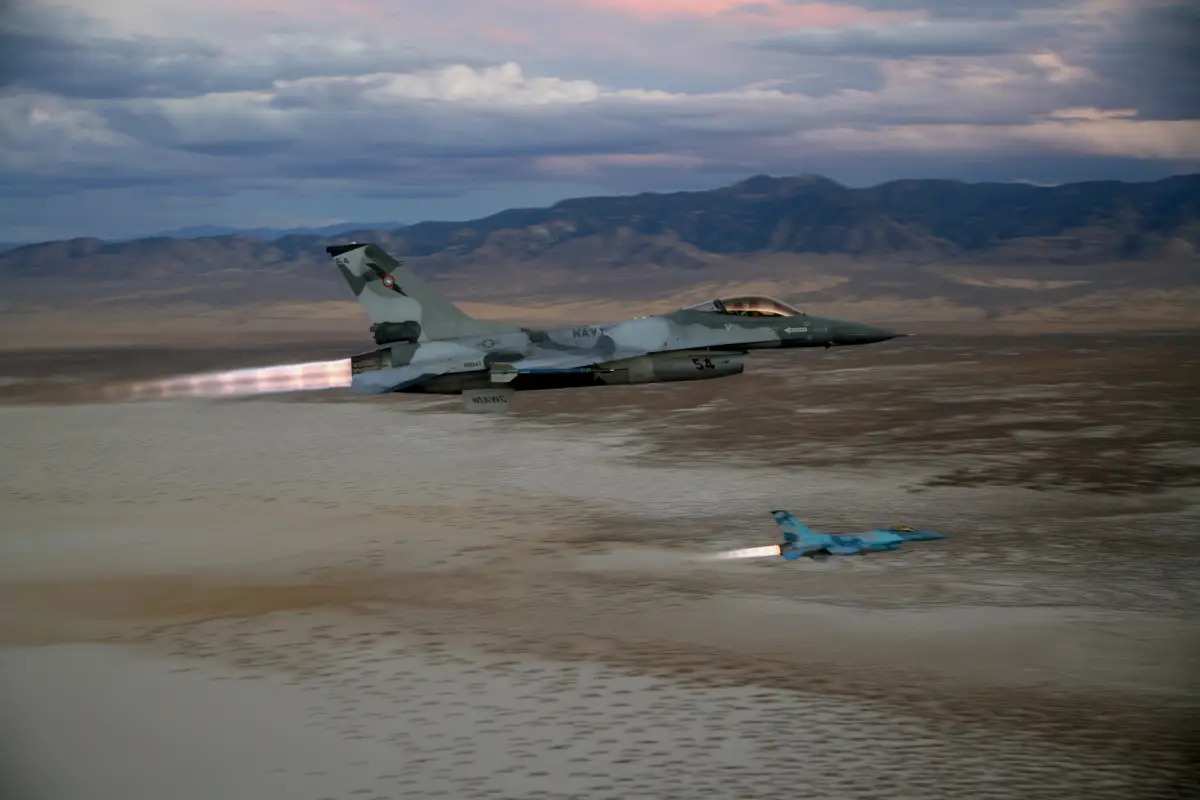 The Navy's Viper fleet, which comprises F-16C/D fighters, replaced F-5N Tiger 2s last year when it received 20 single-seat Block 32 F-16Cs and six two-seat Block 25 F-16Ds from the USAF, as it retired them in line with a divestment scheme that plans to phase out 124 F-16s by 2026.
The latter aims to have more F-16s that are Block 40 and above for its aggressor (AGR) squadrons.
The USAF has four such units used for 'red air' operations. It replicates adversary air forces by closely working with its military and national intelligence services to gather up-to-date information on Russian and Chinese military aviation.
The 65th AGRS that employs F-35As, after flying F-15C/Ds until 2005, based at Nellis Air Force Base (AFB) in Nevada; and the 64th, 706th (Nellis) and 18th AGRS (Eielson AFB, Alaska) that also employs F-16C Vipers.
Under CLS, Amentum will maintain F-16 A/B/C/D aircraft and provide full system maintenance and supply chain support to ensure continuous flight operations and help the USN to grow its F-16 'adversary fleet' across all sites.
Lockheed Martin has suggested that the F-16's structural and capability upgrades "ensure the international F-16 fleet can operate to 2060 and beyond."
F-16s Here To Stay
GlobalData forecasts global spending on F-16 A/B variants to grow from US$87 million to US$115 million between 2023 and 2025; the F-16 C/D will grow from US$626 million to US$1.9 billion between 2023 and 2026, while the F-16 Viper will increase from US$952 million to US$2.4 billion between 2023 and 2026.
An August 2022 Air and Space Forces report quoted USAF's Life Cycle Management Center's F-16 program manager Colonel Tim Bailey saying that they "anticipate hundreds of F-16s in active service for decades to come."
Brig Gen Dale White, program executive officer for fighters and advanced aircraft, said much of the recent service-life extension program (SLEP) work had bought years of additional life, while he's gotten no instructions to start work on its successor. The USAF has dubbed this the 'MR-F' or 'MR-X' future multirole fighter.
The MR-F first appeared in planning documents in 2021, indicating the Air Force was looking for an F-16 successor in the mid-2030s. The documents suggested the aircraft sought would not be intended as an all-up, very stealthy jet, but what Chief of Staff Gen. Charles Q. Brown Jr. characterized as a "fifth-gen-minus" fighter, for which affordability, and not necessarily high-level survivability, would be an essential requirement.
The F-16 is structurally healthy and can continue to serve, Bailey said. The service life extension program is now essentially complete, "for a few million dollars per jet; it gives you 20 years of life," Bailey said.
"The F-16 provides the capacity in our Air Force: lots of fighters to cover all kinds of combatant commander needs," he said.