On October 10, explosions were reported in major cities across Ukraine, possibly in retaliation for the blast on the sole bridge linking the Crimean Peninsula to Russia. 
The internet is awash with footage of Russian strikes on Ukraine. A video of an attack by Russian missiles on a glass bridge that passes between Kyiv's Khreschaty and Volodymyrska Girka parks has gone viral online.
The bridge is fine! pic.twitter.com/QydQmiL6OB

— Illia Ponomarenko ?? (@IAPonomarenko) October 10, 2022
The moment it was hit gets captured on the bridge's CCTV cameras. A pedestrian on Kyiv's Klitschko bridge narrowly avoided being hit by a Russian rocket. However, the attack did not cause significant damage to the bridge, as the missile narrowly missed it.
The bridge is fine! pic.twitter.com/QydQmiL6OB

— Illia Ponomarenko ?? (@IAPonomarenko) October 10, 2022
Meanwhile, Twitter users made fun of Russia for attacking the Klitschko Bridge, humorously speculating that this was Moscow's response to the attack on the Kerch bridge. The attack video was posted by a user who quipped, "Russians are trying to make it 'bridge for bridge'?" 
Several Twitter users also claimed that the EU Mission HQ, situated on the other side of the bridge, was Russia's original target and not the bridge itself. 
The bridge in the center of Kyiv, targeted by Russian forces, has no strategic significance. The Crimean Kerch Bridge, in contrast, is considered a critical project personally inaugurated by President Putin. 
Meanwhile, the Ukrainian Postal Service has also published a new set of stamps commemorating the destruction of the Crimean Kerch Bridge. Images of the new stamps and a big replica stamp depicting an artist's portrayal of the attack were issued barely hours after the Kerch bridge attack.
The stamps depict Leonardo DiCaprio and Kate Winslet's Titanic figures in their iconic pose on parts of the damaged bridge plunge into the ocean.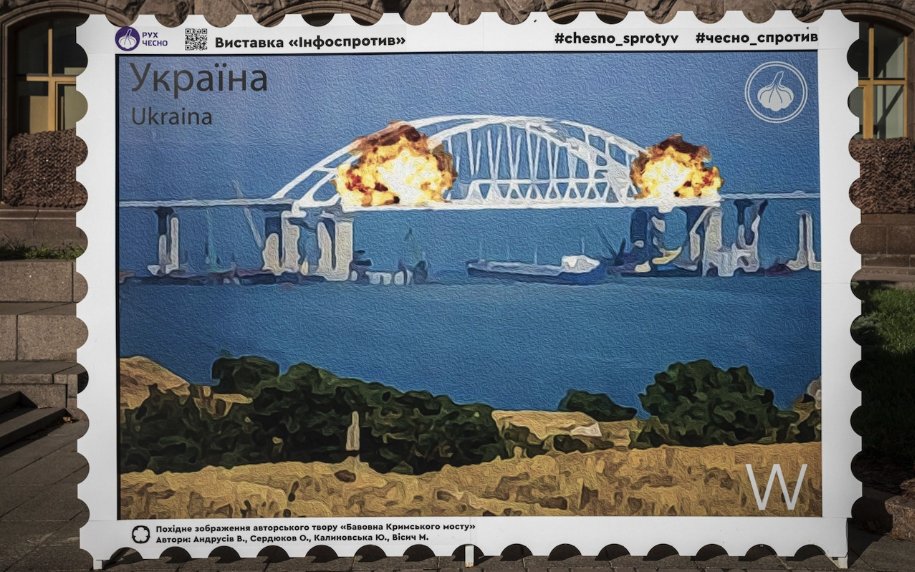 "It was decided to use a scene from a famous movie. Just as the myth of the unsinkability of the steamship spread, so Russia built the myth that the Crimean bridge is a symbol of the eternal connection of Ukrainian Crimea with Russia," the Ukrainian post office said.
Those who visit the enormous stamp can take pictures in front of the blazing bridge, and many take advantage of the chance to make fun of Russian President Vladimir Putin and the Russian military, a Ukrainian news portal wrote.
Volodymyr Zelensky, the president of Ukraine, has made reclaiming Crimea, which Russia annexed in 2014, a top priority as his army pushes Russian troops out of the country's eastern regions.
Russia Attacks Ukrainian Cities
According to Ukraine, the Russian military reportedly employed Iranian drones launched from Belarus and fired more than 80 missiles at cities throughout Ukraine.
Early on Monday, several explosions were heard in Kyiv's city center. In addition to photographs and videos of burning cars and a crater close to a playground in a local park, smoke was visible rising off of buildings.
While air raid sirens screeched in other main cities, locals were forced to seek refuge in subway stations.
Insane footage of a Russian cruise missile in Kyiv today.

H/t @echomadman pic.twitter.com/DoqdCGLkjs

— Benjamin Pittet (@COUPSURE) October 10, 2022
The explosions occurred hours after Putin first accused Ukraine of "terrorism" following a massive blast seriously damaging the Kerch bridge, dealing the Kremlin a strategic and symbolic blow. 
Putin specifically attributed the incident to Ukraine's secret services, which the Russians claimed involved a truck bomb and left at least three people dead.
In a speech to his security council, Russian President Vladimir Putin said that his military had carried out a "massive strike" on Ukraine's "energy, military command, and communications facilities." He asserted that this was retaliation for Kyiv's long history of "terrorist" activities, including the bridge explosion.
"If attempts to carry out terrorist attacks on our territory continue, Russia's responses will be tough and will correspond in scale to the level of threats posed to Russia," he said. "No one should have any doubts about this," Putin asserted.
On the other hand, the Ukrainian president said, "They are trying to destroy us and wipe us off the face of the earth … destroy our people who are sleeping at home in Zaporizhzhia. Kill people who go to work in Dnipro and Kyiv."
Amid its depleting cruise missile arsenal, Russia attacked several symbolic non-military targets in Ukraine. Experts warn that rather than forcing Ukrainians to submit, these attacks would increase pressure on Russia's missile arsenal.