In January, the Russian Ministry of Defense had announced that the Air Force was relocating Su-35 multirole fighters to Belarus as part of a review of the Union State's reaction forces. Now, as the invasion of Ukraine is in full force, these fighters are reportedly being used by Russia over Ukraine.
Despite Ukrainian President Zelensky's declaration that his country will not join NATO and that he would be willing to compromise on the issue of independence of Luhansk and Donetsk, Russian troops continue to attack the country.
In that backdrop, Sukhoi Su-35S 'Flanker-E' fighter jets of the Russian Aerospace Forces (VKS) have begun performing suppression of enemy air defenses (SEAD) missions over Ukraine in an attempt to neutralize the country's ground-based air defense network, Janes reported.
SEAD refers to military actions aimed at suppressing enemy surface-based air defenses, which include not only surface-to-air missiles (SAMs) and anti-aircraft artillery (AAA), but also interconnected systems like early-warning radar and command, control, and communication (C3) functions, as well as identifying other targets for airstrikes.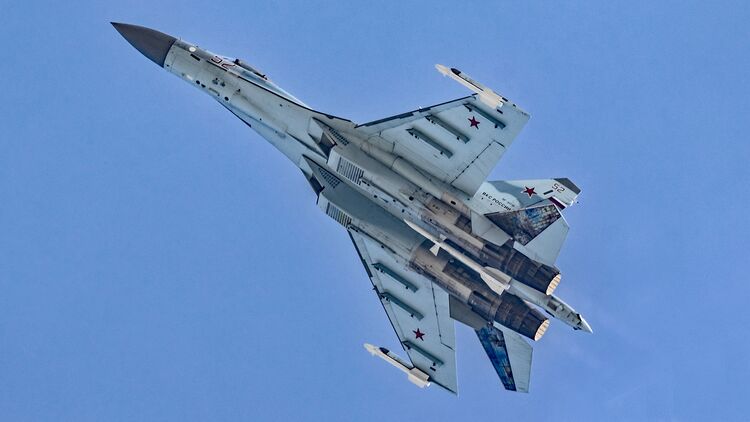 Su 35S pic.twitter.com/w7p0pOa72e

— ZOKA (@200_zoka) March 7, 2022
Russia has recently increased its airstrikes in Ukraine, destroying military targets and airfields. In order to stop the Russians, Zelensky had earlier pleaded with NATO to enforce a "no-fly zone" above Ukraine, but his request was turned down. Russia claims to have destroyed over 2,500 military sites in Ukraine until now.
A Washington-based think tank, Institute for the Study of War, concluded that Russian forces were now concentrating around Kyiv from eastern, north-western, and western directions and an attack could be launched soon. It also said that the attacking troops had almost overcome logistical hurdles and were ready to strike.
Russian forces have intensified their shelling on the outer periphery of Kyiv. Deployment of the Su-35 with lethal arms could be bad news for Ukraine despite its strong defense.
Russia used its Air Force on a limited scale when the invasion was launched. It mainly deployed its tanks and artillery units to advance the attack prompting Western analysts to speculate over Moscow's strategy. However, the situation has changed in the past few days as Russia has enhanced the role of its Air Force to conduct strikes on Ukraine.
Flankers For SEAD Missions
Russia's Ministry of Defense released visuals on March 7 showing Su-35s armed with Kh-31PM anti-radiation missiles. The jets were undertaking combat sorties over Ukraine, according to a report from the ministry's Zvezda news agency.
A pair of Su-35S jets were seen leaving for a combat air patrol, one of which was equipped with two Kh-31P weapons as well as R-77 and R-73 air-to-air missiles. Later, footage showed a Su-35S flying back to base with only one Kh-31PM attached to it.
Video of Su-24M and Su-34 aircraft taking part in the war in Ukraine. The Su-24M is carrying the new Kh-31PM anti-radar missile. https://t.co/9XGQeQQrKehttps://t.co/BVvEXBZ4Nx pic.twitter.com/vrpnfoGA4X

— Rob Lee (@RALee85) March 6, 2022
The location of the Air Force unit involved was not identified by Zvezda, but a closer look at the imagery suggests it was shot at Baranovichi airbase in Belarus, where the 23rd Fighter Aviation Regiment was deployed in January for Exercise Allied Resolve 2022 in February.
Images from Ukraine shared on social media have identified Kh-31P remains, notably at the center of Kyiv on February 24 and in the eastern city of Kramatorsk on March 6, according to Janes.
The Kh-31P is a medium-range supersonic anti-radiation missile that uses a scramjet with a built-in booster to achieve a high supersonic speed. It was designed to destroy medium- and long-range SAM systems' radars, air operations control radars, and early warning radars.
Its seeker is capable of homing in a variety of modes, including automated search and external control. The missile may undertake an evasive 10-g pull-up movement if it is detected by enemy radar.
On the other hand, the R-73 is a heat-seeking infrared missile that can be launched using a helmet-mounted sight (HMS), which allows pilots to mark targets just by gazing at them. The R-73 is a highly agile missile, and mock dogfights have shown that the R-73's high degree of "off-boresight" capability would be a considerable advantage in combat.
The R-77 is an active-radar homing missile, which means it has a small radar in the seeker that sends out radar pulses to detect the target and then utilizes that information to home in on it.  It can maneuver at greater angles of attack. This missile had earlier been spotted in Syria on Su-35S aircraft where Moscow supports Bashar al Assad's regime in the ongoing war with jihadist groups.
Further, Zvezda provided two further reports on Russian aviation activities from an undisclosed airbase in Ukraine on March 6, showing Sukhoi Su-24SM 'Fencer,' Su-34 'Fullback,' Su-25 'Frog Foot,' and MiG-31 'Foxhound' aircraft operating as part of a unified air wing.
The presence of this sophisticated and precision weaponry onboard Russia's finest combat aircraft could indicate that it remains determined to destroy all of Ukraine's ground-based air defenses and reign over the length and breadth of the country with diminished resistance.