The Russian army has received a portable infantry flamethrower called "Borodach," specifically designed for urban warfare. This was announced by Alexander Kochkin, deputy general director of the 'Tekhmash' part of the Rostec state corporation.
"MRO-A, or Borodach, is a hand-held small-sized infantry flamethrower, an analog of a rocket-propelled anti-tank grenade, only its warhead is equipped with a thermobaric composition. We can say this is a disposable grenade launcher. The Russian army has already adopted it."
The flamethrower was created for a single use. It is similar to one of the most popular RPO, "Bumblebee," developed in 1980. The "Bumblebee," also known as the RPO-A Shmel "Rocket-Propelled Infantry Flamethrower-A," is a man-portable, single-use flamethrower that uses rocket propulsion.
It was in 2014 that reports first surfaced suggesting that pro-Russian Ukrainian separatists in the Donetsk region were seen wielding Russian-made MRO-A rocket launchers.
At the time, some media reports noted that the MRO was a self-contained, single-shot, disposable 72.5mm rocket launcher similar to the heavier 93mm RPO series but lighter than the RPO.
The reports fell short of naming the weapon in use back in 2014. However, it stated that RPO and MRO series were classified as "flamethrowers" and had incendiary-type warheads.
It also noted that the MRO-A fired thermobaric warheads, penetrating buildings, and fortifications. According to unverified reports, Ukraine had also captured these flamethrowers from the pro-Russian separatists.
Ростех впервые представит на MILEX-2023 новейший малогабаритный реактивный огнемет

Огнемет МРО-А предназначен для поражения живой силы, находящейся в зданиях, оборонительных сооружениях, а также в автомобильной и легкобронированной технике. pic.twitter.com/efZNDYXFdC

— Россия №1 (@Russia_Number_1) May 15, 2023
On his part, Kochkin especially clarified to the media that the "Borodach" infantry flamethrower devise had been developed for urban combat.
Moreover, the Rostec press service explained that the MRO-A small-sized jet flamethrower was designed to destroy troops housed in buildings and defensive structures and automotive and lightly armored vehicles.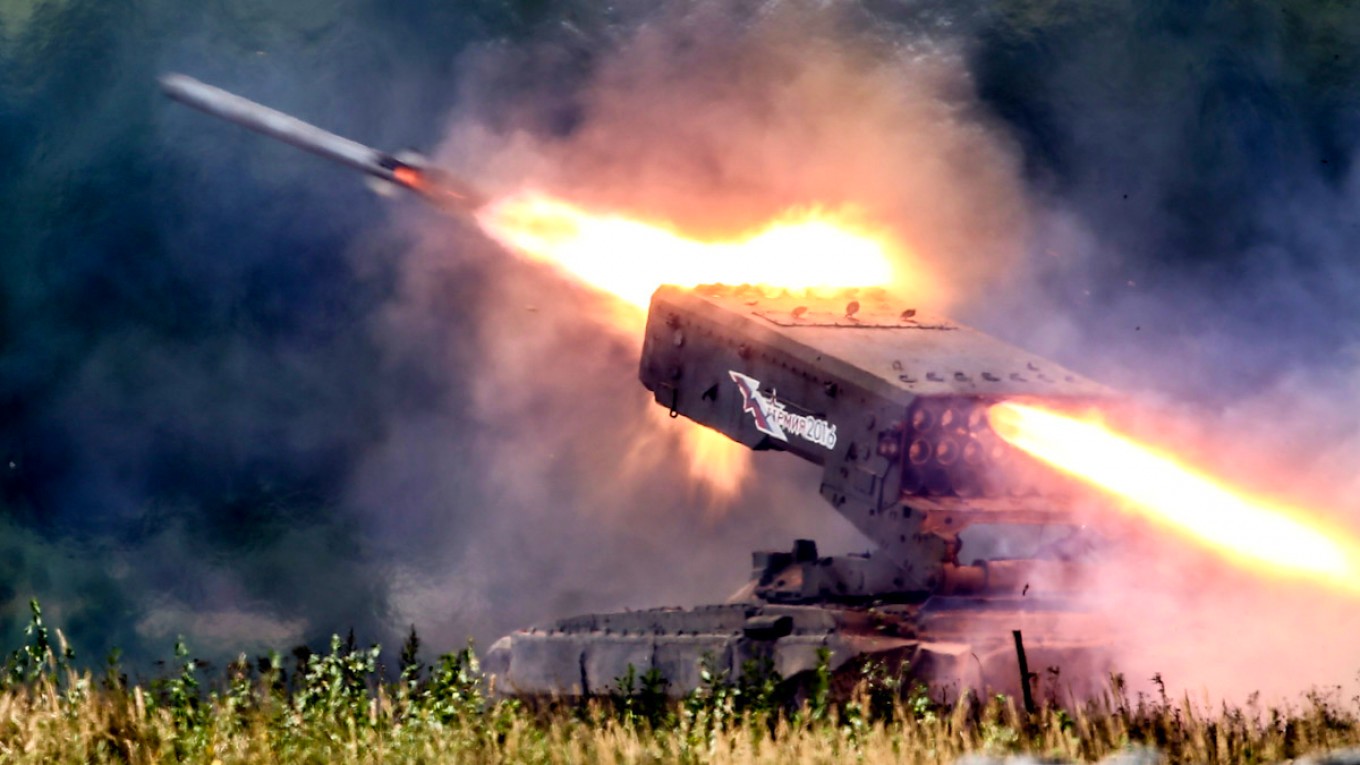 MRO-A "Borodach" was first presented at the international exhibition MILEX-2023 which opened on May 17 in Minsk, Belarus. According to reports, Moscow is showcasing over 150 military products at the arms exhibit, including the TOS-1A heavy flamethrower system, which has proven it dealt several heavy blows on Ukrainian fortifications.
TOS-1A Solntsepek Wreaked Havoc On Ukraine
Russia has widely used thermobaric weapons in its military operation in Ukraine. They are infamous for the widespread devastation they create due to their ability to tear through human organs. Russian officials swear by the combat efficacy of this system, asserting that the West does not have an alternative to this Russian weapon system.
The TOS-1A Solntsepek is a Multiple Launch Rocket System (MLRS) from the Soviet era that can launch thermobaric warheads. In the 1980s, the surface-to-surface missile was initially developed to target heavily protected sites and take out light armored vehicles.
The system's parts comprise a modified T-71A tank chassis with a revolving rocket launcher mounted on top and a BM-1 combat vehicle. It can store 24 unguided thermobaric rockets launched in up to 12 seconds. Russia has also reportedly equipped the tanks with protective cages to defend it against any lethal attacks.
The Solntsepek has reportedly been quite successful in the ongoing conflict in Ukraine by demolishing the military's strongholds. Russian officials claim that the impact of this weapon could not be avoided, even if the enemy is hiding in trenches.
It was previously reported that the Solntsepek burned the positions of the Ukrainian army close to Kremennaya in the Luhansk People's Republic. The Ukrainian soldiers were killed after 220mm thermobaric shells fired by the Russian military struck their position.
Smoked and tossed around are Kiev's soldiers in forests of Kremennaya, Lugansk Republic (ex-Ukraine), as Russia's mighty heavy flamethrower TOS-1A multiple rocket launcher sears their positions with epic fiery strikes that create a terrifying pulsating ripple upon impact.… pic.twitter.com/zg4ezG2058

— dana (@dana916) May 17, 2023
Sources in Ukraine have posted videos on the internet showing the widespread damage done to the forests in Kremennaya using the heavy thermobaric flamethrower. Several videos with large plumes of smoke over the forests have been posted by residents on social media, indicating the deadly impact of the thermobaric shells.
Russian special airborne forces also received these cutting-edge systems in April this year. Using its 220mm thermobaric shells, the Russian armed forces attacked the Ukrainian troops' position, decimating their personnel. In general, thermobaric weapons, or vacuum bombs, are a type of two-stage munition that create giant explosions.
???? The Russian Ministry of Defense reported that for the first time the heavy flamethrower systems "solntsepek" were handed over to the Airborne Forces pic.twitter.com/Ospfc0PJX1

— Sinnaig (@Sinnaig) April 3, 2023
Thermobaric bombs, also called fuel-air bombs, are far more destructive than conventional explosives. They work in two stages. When a charge is deployed, the first blast sprays a highly flammable fuel vapor throughout the surrounding area.
A second blast ignites the vapor cloud in the air, resulting in a colossal combustion, triggering a high-temperature fireball that sucks up the oxygen in the surrounding area and creates a massive blast wave that can rip through bunkers.
On its part, Ukraine has been successful in destroying and capturing the formidable Russian TOS-1A thermobaric multiple launch rocket system (MLRS). There were reports that Ukraine had employed the system against the Russian military, but that could not be independently verified. Russia has lost over half a dozen of these systems.
However, it may be noteworthy that after the massive combat success of the TOS-1A, the use of a portable thermobaric flamethrower could also prove to be an asset on the battlefield, especially as the Ukrainian troops are set to launch a counteroffensive that could see close combat between the two sides.
Contact the author at sakshi.tiwari9555 (at) gmail.com