British engineering giant, Rolls-Royce, is embarking on the construction of the largest aero engine in the world. The company said its UltraFan demonstrator would be ready by the end of this year.
Poised to help redefine sustainable air travel for decades to come, the first module for the demonstrator, called UF001, is coming up at the manufacturer's facilities in Derby. The company said the engine's first test run will be conducted using wholly sustainable aviation fuel.
"The engine is the basis for a potential new family of UltraFan engines able to power both narrowbody and widebody aircraft and deliver a 25 percent fuel efficiency improvement compared with the first generation of Trent engine," Rolls Royce said in a statement.
The company believes the gas turbines will continue to be the bedrock of long-haul aviation for many years, and it hopes the incorporation of the UltraFan engine will usher in greater efficiency and improved economics of an industry in the transition to more sustainable fuels, which are likely to be more expensive in the short-term than traditional jet fuel.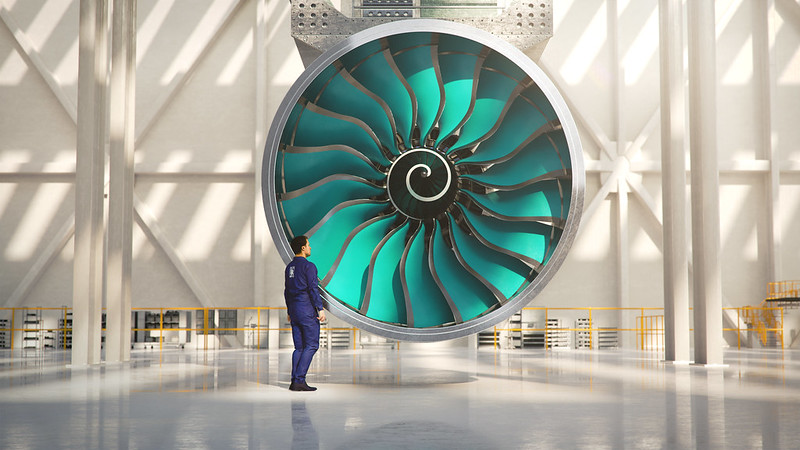 The UltraFan demonstrator is the result of significant investment by a host of Rolls Royce's partners, which include Aerospace Technology Institute and Innovate UK (United Kingdom), LuFo (Germany) and Clean Sky Joint Undertaking (European Union).
Slated to be the world's biggest aero engine, UltraFan will have a fan diameter of 140 inches, and according to the company, the key features include an advanced 3 core architecture, combined with its ALECSys lean-burn combustion system, to help deliver maximum fuel burn efficiency and low emissions.
The engine will feature carbon titanium fan blades and a composite casing that will help it reduce its weight by up to 1,500lb per aircraft. Additionally, it comes with advanced ceramic matrix composite (CMC) components that operate more effectively in high-pressure turbine temperatures. The company is experimenting with a geared design that is expected to deliver efficient power for the high-thrust, high bypass ratio engines of the future.
The company's UK business secretary, Kwasi Kwarteng, said: "The UltraFan project is a perfect example of how we are working with industry to deliver green, sustainable flight for decades to come. Backed with significant government support, this project represents the scale of ambition for Britain's crucial aerospace sector.
We've started building our very first #UltraFan demonstrator engine with technology to improve efficiency and make aviation more sustainable. Watch our video and find out more here: https://t.co/n62VeNOjVt #IntelligentEngine #AvGeek pic.twitter.com/8FcOSXBEGh

— Rolls-Royce (@RollsRoyce) March 29, 2021
"Companies like Rolls-Royce are playing a critical role as we build back greener from the pandemic and we are committed to giving the whole aerospace sector the support it needs to innovate and reach new heights."
Chris Cholerton, president of Civil Aerospace, Rolls-Royce, said this is an exciting moment at the company and this new innovation in aviation will drive sustainable ways of transportation. "It is arriving at a time when the world is seeking ever more sustainable ways to travel in a post-COVID 19 world, and it makes me and all our team very proud to know we are part of the solution," he added.
Inspired by Rolls-Royce's 'IntelligentEngine vision', each fan blade of the UltraFan will have a digital twin which stores real-life test data, allowing engineers to predict in-service performance, the company said.
"When on test at Rolls-Royce's new £90m Testbed 80 facility, data can be taken from more than 10,000 parameters, detecting the tiniest of vibrations at a rate of up to 200,000 samples per second. Data that helps us understand our engines and further improve them."
Rolls-Royce has committed to achieving net-zero greenhouse gas emissions in their operations by 2030, and joined the UN race to zero campaign in 2020, hoping to play a "fundamental role" in enabling the sectors in which the company operates to achieve net-zero carbon by 2050.
Rolls Royce has a customer base spread over 150 countries, which comprises more than 400 airlines and leasing customers, along with 160 armed forces and navies, and more than 5,000 power and nuclear customers.
Follow EurAsian Times on Google News