After a spectacular combat performance displayed by the German IRIS-T air defense system in Ukraine, the system's manufacturer, Diehl Defense, announced that it will dramatically increase its production.
The announcement was made by Diehl Defense's Chief Program Officer Harald Buschek on September 5, who said the production was being ramped up to meet rising demand brought on by Russia's war in Ukraine. He spoke to reporters at an air base in Todendorf, northern Germany.
Germany has already delivered two IRIS-T systems to Ukraine, where they are primarily used to protect Kyiv from Russian missile threats.
Berlin has promised to provide Kyiv with an additional six IRIS-T units, and it anticipates receiving the first of those six systems in October 2024 for its air force.
Bushek noted that Ukrainian air defense units had shot down more than 110 targets using the German IRIS-T air defense system since they were first deployed in October 2022.
Most of these targets, he noted, were Russian cruise missiles, especially the Kalib, with a near-impeccable kill rate of 100%, German publication Speigel reported.
"The Ukrainians are absolute professionals; they have a hit rate of 100 % in Kyiv." The company's top official also observed that at the beginning of the year, the system succeeded in repelling an attack on Kyiv by intercepting 13 Russian cruise missiles that Russia launched at the capital city simultaneously.
🧵 – Diehl revealed today interesting details about the two IRIS-T SLM systems supplied by Germany and it's own production capacities.

Since entering service in Ukraine, the two air defence systems have been able to shoot down 110 Russian cruise missiles and drones. 1/3 pic.twitter.com/Z4U7U5kRPd

— deaidua.org 🇩🇪🤝🇺🇦 (@deaidua) September 5, 2023
The official noted that the privately held company intends to build at least eight systems in 2025, up from three to four units this year. He continued by saying that the output of missiles would more than triple this year, double the following year, and reach 400 to 500 by 2024.
Buschek further told the reporters that a brand-new IRIS-T SLM system is awaiting shipment to Ukraine. This will be the third battery of the system delivered to Kyiv by Berlin, which has steadfastly provided military aid to the war-torn country since the beginning of the year.
Last month, Germany sent a fresh batch of military aid to Ukraine, which included two IRIS-T SLS air defense system launchers. The IRIS-T SLS (Surface Launched Short Range) is a short-range ground-based air defense system based on the IRIS-T air-to-air missile.
In addition, it was reported last month that Germany had acquired 200 IRIS-T SLS (surface-launched short-range) air defense missiles from Sweden to give to Ukraine. Diehl Defense is refurbishing Swedish missiles to replace IRIS-T SLM missiles fired by Ukrainian forces defending themselves from Russian airstrikes.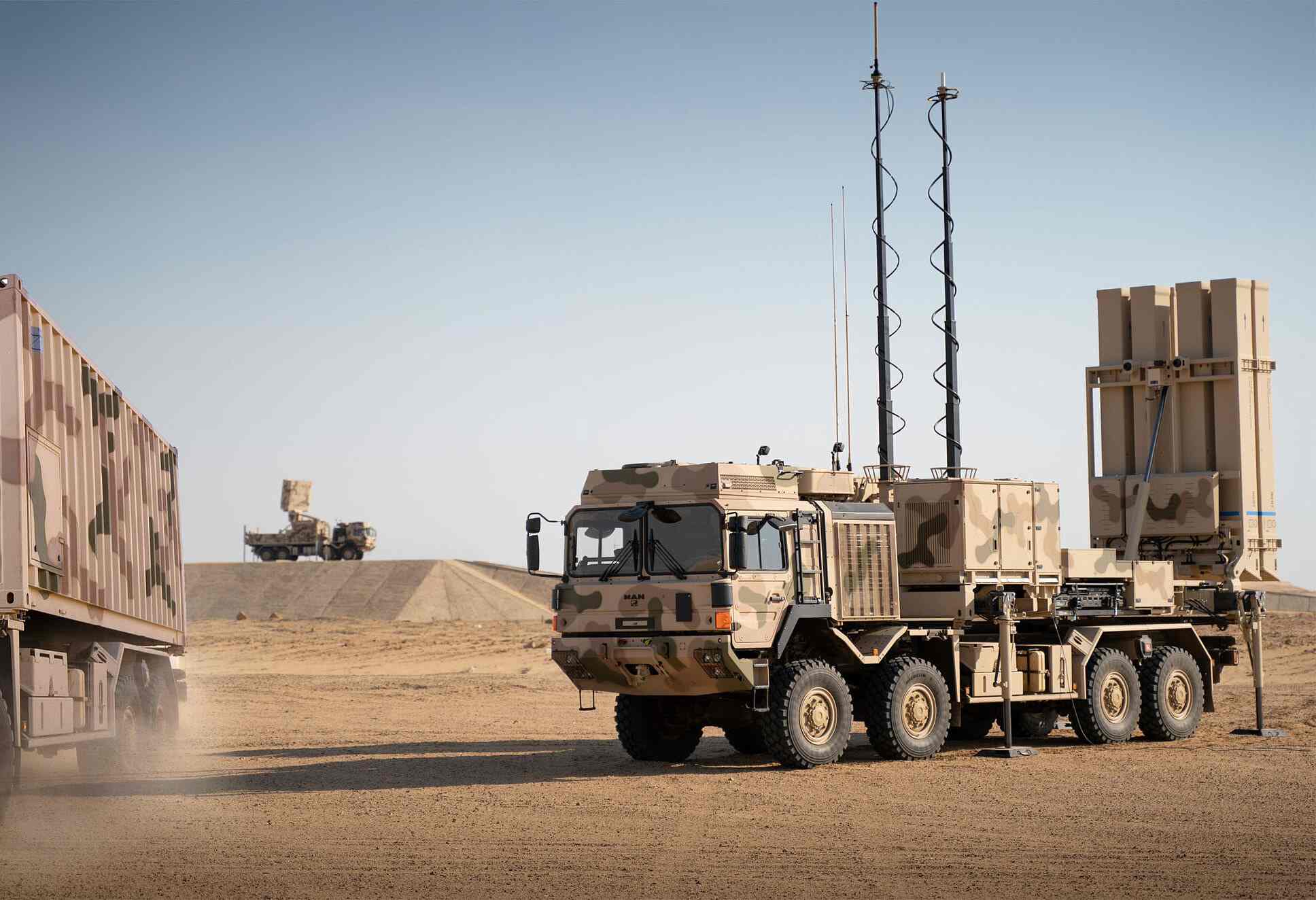 Moreover, the Norwegian Ministry of Defense said it would donate converted IRIS-T air-to-air missiles to Ukraine for use by its ground-based air defense (GBAD). The missiles, of which the type was not specified, can be launched from launchers that Sweden is providing.
Military experts believe this goes on to establish the potency of the system operating in Ukraine, working round the clock against Russian missiles and UAVs.
Only a few Western countries had earlier purchased this system before the Russian invasion of Ukraine. However, with the return of war to the European continent, several nations on NATO's eastern flank, including Estonia and Latvia, are anticipated to sign contracts for the IRIS-T in the upcoming weeks.
IRIS-T's Excellent Combat Performance In Ukraine
A typical single IRIS-T SLM system consists of three mobile launchers, a truck-mounted multi-function radar, and another truck modified into a command post vehicle.
The truck-mounted missile system is intended to take down combat aircraft, attack helicopters, drones, anti-radar missiles, cruise missiles, bombs, and drones. The multipurpose radar, for one, is tasked with tracking multiple targets at once.
Following Russia's first large-scale missile strike on Ukrainian cities in October that rattled Kyiv and the West, Germany handed over the first IRIS-T air defense system to the embattled country. The first evidence of its deployment was recorded just days after its reported delivery, with visual evidence making rounds on social media.
In the middle of April this year, Germany delivered the second IRIS-T to Ukraine. Less than a month later, on May 3, Lieutenant General Mykola Oleshchuk, head of the Ukrainian Air Force, said in a Telegram message that since October 2022, a division of the IRIS-T air defense systems had destroyed more than 60 hostile aerial objects over Ukraine.
BREAKING: Germany-supplied, Ukrainian IRIS-T Air Defence Division has successfully DESTROYED 60 AIR TARGETS since October 22

-Ukrainian Air Force claims. #IRIST #IRIS #Germany #Ukraine #Russia #Bundeswehr #airdefense #Missile pic.twitter.com/zepkiRRKFN

— EurAsian Times (@THEEURASIATIMES) May 3, 2023
A video showing the system in action was also subsequently shared by the commander. "Everyone had a great impression on the first day of using the system," said another Ukrainian military officer, nicknamed 'Jeweler,' the deputy commander of an anti-aircraft missile unit. "First of all, because they shot all (targets) down," he said.
Ukrainian operators have hailed it as a fantastic defense against Russia's ongoing drone and missile attacks ever since it was used in combat for the first time. The Ukrainian military went so far as to say that the IRIS-T effectively downed every incoming target during the country's first operational usage of the system in January, as reported by the EurAsian Times.
"The German system is modern, powerful, and effective. Even during its baptism by fire in October, it shot down all targets, mostly cruise missiles," explained an IRIS-T operator.
The former German defense minister announced that Kyiv would get at least three air defense systems in 2023. IRIS-T manufacturer Deihl claimed that coupling it with the US-made Patriot PAC-3 missile defense system with a higher maximum altitude will maximize its effectiveness.
Last month, Russia claimed to have destroyed a Ukrainian IRIS-T system. However, it has been determined that the system was a decoy instead of an actual launcher.
Contact the author at sakshi.tiwari9555 (at) gmail.com